Oscar Peterson | "A Time For Love: The Oscar Peterson Quartet – Live In Helsinki, 1987" | November 26 via Mack Avenue Records

Never Before Released Live Concert from
Oscar Peterson Quartet Set to be Issued by
Two Lions/Mack Avenue Records
A Time For Love: The Oscar Peterson Quartet –
Live in Helsinki, 1987, Available November 26
---
Performance Recorded at Final Concert
of 14-City Tour Beginning in South America and
Ending in Europe, Captures Total Synergy
Between the Band and Boisterous Audience
Remarkable Quartet Features
Joe Pass, Dave Young and Martin Drew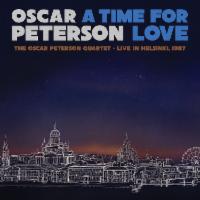 ---
For nearly 80 years, legacy has been the spinal cord of the glorious jazz tradition – but maybe never more so to its fans than during these challenging days of the pandemic. Unable to hear music in person, all of us have only been able to access new music through technology, resulting in many looking back upon what may have been missed. But when one can look back on something that is at the same time entirely new, that is a most special situation. And when that something new is coming from jazz immortal Oscar Peterson – even more so. And that is exactly what is in hand with A Time for Love: The Oscar Peterson Quartet – Live in Helsinki, 1987 from Two Lions/Mack Avenue Records.
From this perspective alone, this is a momentous album – but it is far more than that. The final gig of a long international tour that began with 4 concerts in Brazil, this date was the 14th of a European tour that took the quartet all over mainland Europe and Scandinavia. Anyone with any knowledge of jazz knows that the magic of consistent performing only makes the synergy and empathy of an ensemble – both substances this quartet has in mind-blowing quantity – better and better. That always dwarfs the fatigue factor, and sometimes results in sheer magic on a different plane. That's clearly what happened during this spectacular concert. As Kelly Peterson says: "Performing with joy and vivacity, they determined to make every concert better than the previous one. This night in Helsinki is a glorious example of that" – and a stunning addition to the continuing legacy of this beloved master of music.
With a remarkable quartet of Joe Pass on guitar and the bass/drums tandem of Dave Young and Martin Drew – all of whom at the time of this recording were about halfway through their thirty-year affiliations with Peterson – the wildly enthusiastic Helsinki audience was treated to a marvelous performance that spans gorgeously poignant lyricism to blistering intensity and every stroke in between with flawless artistry and an exuberant sense of adventurous creativity. The live performance, presented in its unedited entirety, offers the actual being there experience. It graces listeners with the sweeping breadth of Peterson's majesty as presented in the immediacy of the live concert.
The first set consists exclusively of Peterson's own compositions – an important focus in Kelly's efforts to further enhance his immortal legacy. The scope of his exceptional vision as composer is on intriguing display through these five pieces, opening with the sauntering strut of the aptly titled "Cool Walk." A pair of scorchers – "Sushi" and "Cakewalk" – vividly deliver the explosive power and consummate artistry that is so prominent in Peterson's ensembles. Defining jazz as "instant composition," he would occasionally compose a song during a performance. "Love Ballade" is one such piece, written spontaneously during an earlier concert. A mesmerizing extended solo piano opening of filigreed beauty. and an excellent guitar-like Young solo highlight this captivating offering.
A lifelong fascination with Johann Sebastian Bach inspired Peterson's stunning 20-minute "A Salute to Bach." This enchanting three-part excursion maintains full jazz integrity in its homage, allowing him to dig into his early classical training.
The second set features Peterson's enthralling exploration of time-honored jazz and songbook classics, including two virtuosic solo performances: Pass' exquisite rendition of the iconic Disney tune "When You Wish Upon a Star" and Peterson's delightful take on Bill Evans' "A Waltz for Debby."
Also included are Johnny Mandel's lovely ballad "A Time for Love," the deeply grooved swing of Benny Goodman's "Soft Winds" and "How High the Moon," a blast-off point of departure in so many of the legendary Jazz at the Philharmonic jams of Peterson's past, given a gentler, jaunty take.
The monumental climax – before the explosive encore of Peterson's "Blues Etude" – is the "Duke Ellington Medley" featuring six Ellingtonia classics – "Take the 'A' Train," "Don't Get Around Much Anymore," "Come Sunday," "C-Jam Blues," "Lush Life" and "Caravan." A solo piano and ensemble tribute to the transcendence of what Duke represents to the legacy blending elements of swing, blues, barrelhouse, stride, boogie-woogie and every other color in Duke's – and Peterson's – endlessly creative palette. This incredible adventure is the perfect symbol for this entire album, touching upon the ultimate essence of jazz expression allowing Peterson to pay homage to his own fathers: Art Tatum, Teddy Wilson, James P. Johnson and Nat Cole by weaving them into a maelstrom of brilliance that is all Oscar Peterson. The perfect definition of the living and ever-expanding legacy of this profound art form.
For those not totally aware of Peterson's importance within the jazz legacy – as unimaginable as that may be – the Canadian-born of West Indian heritage pianist held court as an ultimate master for nearly 60 years. A recipient of numerous honors and awards (including eight GRAMMY® Awards) and the subject of various documentaries, Oscar Peterson was the embodiment of the history of jazz piano. blended with a superb command of Western Classical knowledge – all of which contributed to Ellington bestowing upon him the title "the Maharajah of the keyboard." With over 200 albums of his own, Peterson's amazing ability to temper his own magnificence as a leader and soloist to be able to provide totally empathetic and subtle accompaniment to other musicians and vocalists – simply and eloquently explained by Dave Young as "he listened" – made him a contributor to hundreds of other outstanding recordings, most notably as the virtual "house pianist" for his longtime manager Norman Granz's Verve and Pablo Records. A professional since the age of 14, Peterson passed away at the age of 82 in 2007, leaving an unparalleled legacy that is as timeless as jazz itself.
A Time for Love is available in both a double-CD format and as 180-gram vinyl in a 3-LP set. Both versions are beautifully packaged and include two sets of inside-view liner notes by quartet member Dave Young, Peterson protégé Benny Green and Oscar's wife and producer of this album, Kelly Peterson. This is Mack Avenue Music Group's second collaboration with the estate, following 2017's re-release of Oscar, with Love. The release will also be available everywhere digitally.
The recording is ideally summed up by Green in his liner notes: This live concert recording of Oscar in his epic prime is a heaven-sent time capsule of beauty and serves a glorious addition to the Jazz pantheon itself, a stunning testament to the music for which he honestly, humbly and fearlessly dedicated his life as a peaceful warrior, a hero to us all for the ages. I'm thankful for the gift of this concert and that Oscar's spiritual music will play on for us today and tomorrow, as we need it more than ever before.
---
Oscar Peterson · A Time For Love:
The Oscar Peterson Quartet – Live in Helsinki, 1987
Two Lions/Mack Avenue Records · Release Date: November 26, 2021
For media inquiries, please contact:
DL Media · 215-292-4032
Maureen McFadden · maureen@dlmediamusic.com
Don Lucoff · don@dlmediamusic.com
For radio inquiries, please contact:
Groov Marketing
Mark Rini · mark@groovmarketing.com
Josh Ellman · josh@groovmarketing.com
Information and press materials (including album covers, promotional photos
and bios) on all DL Media artists can be found at our website: dlmediamusic.com
For press materials on Oscar Peterson, Mack Avenue Music Group's artists or its family
of imprints (including album covers, promotional photos and logos), please visit media.mackavenue.com
MACK AVENUE · the road to great music · mackavenue.com