Le Coq Records | LIVE in Las Vegas
   AN EVENING WITH
ANDY JAMES & JOHN PATITUCCI 
LIVE in Las Vegas!
All-Star Band Includes
Chris Potter, Terell Stafford, Alex Acuña,
Marcus Gilmore, Jon Cowherd, Michael Dease,
Bill Cunliffe, and Jake Langley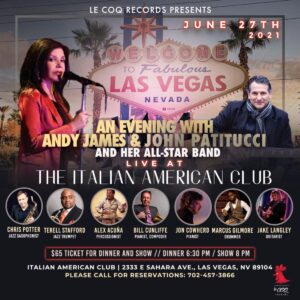 Italian American Club
2333 E Sahara Ave., Las Vegas, NV 89104
Date.  June 27th, 2021
Time. Dinner 6:30 PM, Show 8 pm
Price of the show. $65.00 (For Dinner and Show)
The Las Vegas based Le Coq Records will present a coterie of celebrated artists who participated in the label's initial four releases for the first time in a live public setting to be held Sunday, June 27 at the Italian American club. Billed as An Evening with Andy James and John Patitucci, and her All-Star Band, the label showcase will also feature: Chris Potter, Terell Stafford, Alex Acuña, Marcus Gilmore, Michael Dease, Jon Cowherd, Bill Cunliffe, and Jake Langley
"After a year of lockdown and the vaccine finally circulating, we felt it was time to get moving from a live performance standpoint," states label Co-President and Founder, Piero Pata. "We will gather in a safe environment under CDC guidelines where we can control and re-enforce public health and safety protocol. We have many recording ideas to envisage on upcoming sessions surrounding the Las Vegas event and are excited to release music from this inspiring group of musicians in the near future" concludes Pata.
If you can't attend in-person, this event will be recorded live and broadcasted at a later date. Most everything will be produced in house by Le Coq's management team. Co-President Andy James and John Patitucci will handle the structure and order of the show. CEO Josh Connolly (Studio A Las Vegas) oversees sound and recording with the aid of his Studio A Las Vegas staff, and Digital Marketing Manager Santiago Interiano of Epic Nights Media will handle video, lighting, editing and future broadcast distribution. Backline, such as piano, B3 Organ, Fender Rhodes, keyboards, drums, and percussion will be supplied from Studio A Las Vegas where much of the recorded music from the first four albums was produced.
Le Coq Records LIVE in Las Vegas
June 27, 2021
For more information on Le Coq Records, please visit:
lecoqrecords.com | Facebook | Instagram
For media inquiries, please contact:
DL Media · 267-541-2784
Don Lucoff · don@dlmediamusic.com
Candelaria Alvarado · candelaria@dlmediamusic.com
Information and press materials (including album covers, promotional photos
and bios) on all DL Media artists can be found at our website: dlmediamusic.com