Brian Jackson JID008″ | Brian Jackson, Ali Shaheed Muhammad & Adrian Younge | August 6 via Jazz Is Dead

Jazz Is Dead's Ali Shaheed Muhammad and Adrian Younge
Tap the Esteemed Brian Jackson for his
First Full Album Released in 20 Years with
Latest Jazz Is Dead Installment
Brian Jackson JID008,
Available August 6, 2021 via Jazz Is Dead
View Jazz Is Dead's Online Shop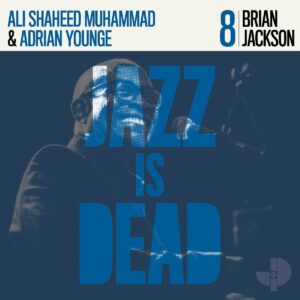 One happy thing to be grateful for during otherwise trying times is finally getting to hear and enjoy new work by a man whose music is familiar to millions even if his name is less so. Indeed, Gil Scott-Heron continues to cast such a wide shadow that even many of his biggest fans often seem to forget that there's another name next to his on the bulk of his albums, the name of a man teamed up with Gil as a teenager and proceeded to ride out the decade as his writing partner, keyboardist, arranger, and bandleader for their Midnight Band. That man's name is Brian Jackson.
His considerable backlog of unheard material reveals a still-energetic and still-vital icon of the music wing of the Black Liberation movement. Prepare to hear from a musician whose work has contributed to the enhancement of all our lives in some form or another with the latest installment of the Ali Shaheed Muhammad and Adrian Younge's Jazz Is Dead series.
"Brian Jackson is the first album we recorded for Jazz Is Dead. He set the tone for the entire label," reflects Younge. "He turned our aspirations global. We never knew what this could all be, but with his inspirational character and musicianship, he led us on the right path. We are forever indebted to this icon."
Brian Jackson JID008, available August 6, is the first full album released by the great man in 20 years (with the exception of Evolutionary Minded, an homage to Gil released eight years ago) and it's a testament to his multifaceted talents that while there are moments throughout that hint at his game-changing history and track record, for the most part it reveals a musician who pulls from lessons garnered over a 50+ year career only to keep his eyes firmly fixed on the future. "When we got together, the sounds flowed effortlessly," recalls Jackson.
"As Dru, Adrian, Adam and I were charting a course for Jazz Is Dead from outside of our imaginations to a destination of wonder and possibilities, in walks legend and fellow Brooklynite Brian Jackson," says Shaheed Muhammad. "We let the impact be our guide, fully capturing the moment in this recording. Brian's smile and free flowing style takes us to the place where groove meets chill. This is the dawning of JID recordings."
Brian Jackson JID008 serves as a masterclass in unbridled and open-minded creativity, no different from what Jackson did half a century ago. The ease and comfort with which his ideas integrate with those of musicians a generation younger than him bears this out. To listen to this album is to hear a hot up-and-coming musician who also happens to be a major jazz-funk legend.
Jackson really earned the equal billing on that string of classic Arista albums he and Gil made together because he went a long way towards keeping the musical ship of Gil Scott-Heron, Brian Jackson, and the Midnight Band's musical ship afloat. Many of the classic tracks on those albums bear Jackson's name alongside Gil's in the writing credits and his distinctive musical signature brought all of it to life. Jackson has kept a considerably lower profile over the last few decades since those halcyon days but those fortunate enough to have caught him live playing and singing the GSH/BJ classics he was so central in creating (as well as tantalizing glimpses of newer material) know that his music, chops, wisdom, and charm are fully intact and in fact even better than ever, like a bottle of fine jazz-funk wine.
"It wasn't until Ali Shaheed Muhammad, Adrian Younge and I joyfully completed the sessions at Linear Labs in February of 2019 that I remembered my favorite song of my former writing partner Gil Scott-Heron's post-70s tracks, 'Don't Give Up,' was produced by Ali," remembers Jackson. "Adrian had already made an impression on me for his soundtrack work on Black Dynamite, Luke Cage and his authentic '70s music feel."
"Nancy Wilson" is an elegiac tribute to the recently departed jazz-R&B icon, hinging on the combination of Jackson's magical flute sound and a simple-yet enchanting piano motif playing against a funky rimshot/kick drum pattern. Even devoid of lyrics, the sincerity of this tribute to the already much-missed chanteuse comes through loud and clear in every bar of this wonderful and effortlessly melodic track.
A dramatic Rhodes intro from one of the true masters of the instrument, soon joined by drums, bass and mini-Moog, heralds "Mars Walk," which is a kind of sonic equivalent of bouncing around the surface of our neighboring Red Planet in a space suit. Think of this track as a jazz-funk Rover.
"'What's this,' I inquired as I opened the case to the alto flute Adrian had laying around the studio amid the myriad other instruments he had collected," recalls Jackson. "Within minutes, I was recording with it. A few more tracks in, and I had jumped on the Minimoog to add some melodies and piano to tracks Adrian and Ali had penned. The next day, we went in and wrote a song together on the spot, with Malachi Morehead holding the rhythm down tight.
The first several bars of "Ethiopian Sunshower" simultaneously recall the essence of both post-bop and early fusion, but they quickly give way to a delicious Ethio-Jazz-inspired Afro groove on which Jackson's flute once again makes an appearance in the role of a funky snake charmer over percolating percussion. It all adds up to an album highlight sure to inspire many remixes.
"Bain De Minuit" was inspired by Jackson's wife, who happens to be French, and is the album's longest and most reflective track, reminiscent of some of the mellow-yet-deep classics he wrote or co-wrote with Gil such as "A Very Precious Time" or "A Prayer for Everybody." The influence that their recently departed close collaborator Malcolm Cecil had on Jackson's music can also be felt in some of the synth tones heard throughout the track.
"If for some reason the respect and love we have for each other is not evident in the sounds here, let me tell it straight," declares Jackson. "From the first minute, we could feel that our musical roots made us all a part of the same tree. This album is the offshoot of that notion. It is my hope these sounds also nourish the roots of your spirit."
Brian Jackson JID008 · Brian Jackson, Ali Shaheed Muhammad & Adrian Younge
Jazz Is Dead · Release Date: August 6, 2021
For more information on Jazz is Dead, please visit:
For media inquiries, please contact:
DL Media · 267-541-2784
Maureen McFadden · maureen@dlmediamusic.com
Candelaria Alvarado · candelaria@dlmediamusic.com
For the Preferred Artist
Information and press materials (including album covers, promotional photos and bios)
on all DL Media artists can be found at our website: dlmediamusic.com