Dan Siegel | "Faraway Place" Available August 13, 2021
Dan Siegel Returns on His Twenty-Second Recording
as a Bandleader with Faraway Place
Album Features Eric Marienthal,
Lee Thornburg, Allen Hinds, Brian Bromberg,
Abraham Laboriel, Dwayne "Smitty" Smith,
Lenny Castro, and Rogerio Jardim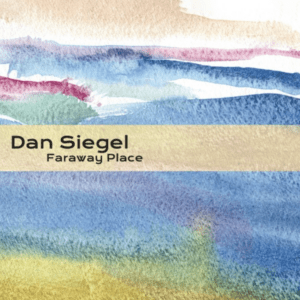 While the coronavirus wreaked havoc to a deadly extreme, the pandemic era with its heightened quarantine measures proved to swing a double-edge sword for musicians. Many were silenced, suffering the liability of limited-to-no opportunities to perform. But on the other hand, the disease aroused many to be creative in their artistic expression. Veteran contemporary jazz pianist/keyboardist Dan Siegel took that difficult challenge during the social distancing desert to remotely assemble a group to deliver his eclectic album Faraway Place on his DSM label. It's comprised of 11 originals that range from straight-up lyrical beauties to accordion-tinged grooves, to a baroque-like number with strings and horns. Remarkably, this is Siegel's 22nd recording as a leader.
"This is a different kind of album because of the pandemic," says the Irvine, California-based composer and bandleader. "After writing the music in isolation, everything, with a few exceptions, was recorded separately by musicians in their home studios." says Siegel. All of the tracks were demoed and developed rhythmically by drummers Vinnie Colaiuta, Steve Gadd at East West Studios in LA. "Those were the only sessions that I was present at," Siegel says. "They set the music into motion with their drums. Then I sent what they did to the musicians I wanted to use and asked them to lay their parts down. What they sent back was so musical and really well-played. It only required a few modifications. I also went into the studio to record piano, and I rented an accordion for four tunes. I used contrast on the arrangements. They started sparse but then built with layers in the mix, always keeping in mind the song underneath it all. The way I see it is that I'm a composer first and I perform piano second" says Siegel.
Also joining Siegel on the album are saxophonist Eric Marienthal, trumpeter/trombonist Lee Thornburg, guitarist Allen Hinds, acoustic bassist Brian Bromberg, electric bassists Abraham Laboriel and Dwayne "Smitty" Smith, percussionist Lenny Castro, and on two tracks Brazilian vocalist Rogerio Jardim.
The recording of Faraway Place was arduous at stretches. The genesis of the title track speaks volumes on the omnipresent ordeal. "It was all about being in a faraway place removed from reality," Siegel says. "It's been a pretty tough year and a half. There were times when I thought about leaving planet earth to escape all the nonsense and craziness and then to top it off, the pandemic" says Siegel. The tune started out as an improvisation that he played into his recorder as he was walking. It opens on a reflective note then moves into a swing. He transcribed it and handed it off to Colaiuta. "Vinnie got the essence of the song on the first take. How did he know where this song was going? I was so moved. It was as if he knew this tune his entire life. I asked him about the details he played into the song and he said, 'Sometimes the music tells me what to play.' This is my favorite tune on the album. It's so spontaneous" Siegel says.
Faraway Place is something of a trilogy. There are songs that are more accessible, Siegel says. The lead-off tune "Old School," started out with a soulful Ramsey Lewis vibe twisted together with Lee Morgan's "Sidewinder" hit that he made into a lyrical tune with his piano bathed in a horn wash. "I went for a retro sound that takes left turns harmonically," he says. His original concept for the catchy number "Tried and True" came from his love for Steely Dan. "I'd had been walking a lot and was listening to Steely Dan on Spotify," he says noting that's not recognizable in the tune that has its own beat and hooks. The grooved "Curves Ahead" speeds with a backbeat dance-floor spin that is nonetheless "a classic example of high-calories harmony." He adds that Lenny Castro improvised a cowbell stroke on every quarter note to fully color the piece. "Looking Up" has an indelible melody that accentuates a degree of happiness in life.
The second part of the album has a more straight-ahead jazz tone, similar to his past recordings. "These tunes started out ECM-like with more of a groove," he says, then cites four songs: the organ-fueled "Tried and True," the accordion-tinted "Something You Said," the sweet "Bluebird" with Jardim taking a soaring flight of wordless vocals, and the end song, "Once Again," that moves from relaxed percussion to playful piano runs.
The third tier of the trilogy features two songs that bring a unique vitality to Faraway Place—something that Siegel admits won't be commercial radio-friendly but certainly may turn heads and opens ears. "Some Time Ago" is supported by Hinds' strummed guitar and Siegel's accordion flavors that fully opens with a hymn choir (Siegel, Hinds and Tom McCauley). "It certainly is an out-there tune like a chapter in a book of poetry," Siegel says. "Your Smile" was an unnamed composition that Siegel was struggling to complete. "Originally it sounded like Vivaldi," he says. "It was piano, guitar and bass with every bar and every beat different. It was hard to play with its shifting tonalities. But then my engineer reminded me that I had been thinking of orchestrating the tune." Siegel wrote parts for strings (violin and cello) and horns (English horn and bassoon). Then Jardim added in wordless vocals. The baroque quality of the performance makes it a wonderful standout. "I titled it 'Your Smile' based on Rogerio's voice reminding me of someone smiling when the sun comes out." Siegel says.
With all the distractions and isolation, Dan Siegel acknowledges that Faraway Place was difficult to finish. "I questioned myself, yet I felt a burden of the times. I kept writing, working on music from different angles, creating what I didn't even know what it was. But I knew I needed to get this music out, even with those tunes that come from left field. I got through it all, even though it wasn't easy, and I'm pleased with what we came up with." Siegel says.
Dan Siegel · Faraway Place
Independent · Release Date: August 13, 2021
For more information on Dan Siegel, please visit:
dansiegelmusic.com | Facebook | Twitter
For media inquiries, please contact:
DL Media · 267-541-2784
Don Lucoff · don@dlmediamusic.com
Candelaria Alvarado · candelaria@dlmediamusic.com
Information and press materials (including album covers, promotional photos
and bios) on all DL Media artists can be found at our website: dlmediamusic.com