Blaque Dynamite – "Killing Bugs" – November 10 on Ropeadope
Drummer Mike Mitchell Reinvents Himself as
Blaque Dynamite, Encourages and Embraces the
Unorthodox on Hydra Rock/Hip-Hop/Jazz Debut Record
Killing Bugs, Available November 10 on Ropeadope
Release Celebration November 13 at NuBlu
(151 Avenue C, New York, NY)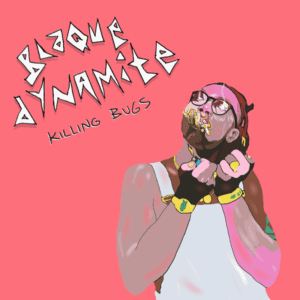 In a world of constant repetition and formulaic goals, there stands one young man's quest to exist however he wants, in any manner he deems fit. The mundanities of life hold back the true potential of this creative genius until he reinvents himself as a boundless force to be reckoned with: Blaque Dynamite. He is a guy who makes things come to life. He is a verified badass: "You gotta look badass. If you don't look badass, it's going to be hard for you." He is that guy.
With his debut album Killing Bugs, the drummer/vocalist/producer cleans out his closet and defeats the "insects" that plagued him in order to present to the world a worthy adversary keen on fighting off the transgressions of his own life: past, present, and future. But like many of the crusaders that preceded him, the tale begins with self-reflection, before Blaque Dynamite (a.k.a. Mike Mitchell) was fully realized and evolved into a more mature state of being. "I was a dick. No one else but me."
It is that admission of self-awareness which sets him apart from the rest of the crop: those who are unable to recognize their destructive qualities and grow from such realizations. With the advent of this reinvigorated spirit, Blaque Dynamite creates the same way he lives, by opening his heart and his ears to allow the unorthodox to happen. The man and the music are inseparable, with no clear beginning or end to the way he lives or crafts an album.
"For me personally, when I listen to recordings with two or three things in a row that sound similar, I get bored. To keep my attention, it needs to be changed," he explains. "The way I record is not for me to make an album for people, I'm making an album to explain to people where I come from musically. There are billions of people on earth, so there should be billions of different ways to express music."
The drummer cast the album as if it were a visual movie, with each song serving as its own scene. He's joined by special guests including vocalist/keyboardist Jon Bap, flautist Elena Pinderhughes, emcee Lord Byron, and guitarist/keyboardist Ben Hixon alongside longtime collaborators including vocalist Marissa Caggiano, keyboardist King Jojo, saxophonist Jonathan Money, guitarist Rami Ackerman, bassists Gax Merl and Matt Ramsey, and percussionist Ethan Worland. Now, envision a road trip were no one actually leaves the city limits, with many different personalities within the same vehicle battling for control but not one prevails.
The music presented on Killing Bugs has its own inner conflict to deal with. Instead of many personalities battling for control of the same vehicle, a vast array of musical genres — spanning rock, hip-hop, jazz, and more — compete for their own recognition in an unexpected harmonious statement. The songs themselves are the individual heads of the Hydra, and the album is its inscrutable body.
The complexity of the songs and the differences of emotions they bring from track to track demand undivided attention, much like the focus needed to defeat the many headed beast of mythos. "From song to song, everything goes from style to style," Blaque Dynamite explains. "If you continue to listen, you get more comfortable with it. Things happen in waves."
About Blaque Dynamite:
Blaque Dynamite is the pseudonym for award-winning drummer Mike Mitchell, born November 12, 1994. He began playing drums at just two-years-old, and by age 11 he already had a number of endorsements from various drum companies; and then he went on to attend Booker T. Washington High School for the Performing and Visual Arts in Dallas, TX, a school that also fostered the talents of Norah Jones, Erykah Badu, and Roy Hargrove. Mitchell began touring the world with legendary bassist Stanley Clarke (a role which he retains) before he graduated high school, and has now toured the seven continents of the world with the likes of Erykah Badu, Derrick Hodge, Christian McBride, Christian Scott, and others, and even performed on a global stage at the 2012 International Jazz Day performance with Herbie Hancock.  
Blaque Dynamite · Killing Bugs
 Ropeadope Records · Release Date: November 10, 2017