"João Donato JID007" | João Donato, Adrian Younge & Ali Shaheed Muhammad | June 4 via Jazz Is Dead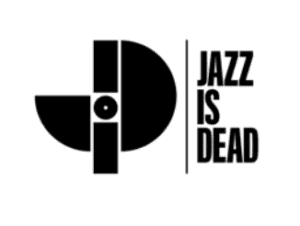 Jazz Is Dead's Adrian Younge and Ali Shaheed Muhammad
Collaborate with João Donato: An Innovator of Brazilian
Bossa Nova, Jazz Fusion and Funk from the Golden Era
João Donato JID007,
Available June 4 via Jazz Is Dead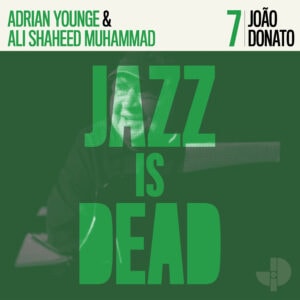 Where's João Donato? It's a frequently asked question, referring simultaneously to the physical location and the musical moment he inhabits. A sampling of some of his more descriptive song titles suggests Donato's comfort with musical hybrids: "Bluchanga," "Sambolero," and "Sambongo," to name just a few. Lacking a formal genre for his style of music, Donato's is a distinct sound, immediately recognizable from the first few bars of any of his compositions. He was funky back when "funk" was a bad word (listen to either of his 1960s Brazilian LPs, Sambou, Sambou and The New Sound if Brasil, for proof). His compositions are deceptively simple, while his arrangements are harmonically complex, revealing their intricate details upon repeat listening.
Today, Donato brings this flavor, now near synonymous with his name, to a new album in the Jazz Is Dead series with Adrian Younge and Ali Shaheed Muhammad: Joāo Donato JID007. "Donato is one of the greatest Brazilian composers from that golden era. His signature style, simple melodies combined with colorful chordal progressions, establishes a new lane for Jazz Is Dead," explains Younge. "João is one of the most innovative Brazilian jazz composers of the last century. Creating with and learning from this maestro was one of the greatest experiences of my career."
On the first day of recording, João Donato was so flattered that to learn Younge and Muhammad had crafted some tunes for him to grace that on the second day, the maestro showed up to the studio with a composition in honor of his new musical partners: "Adrian, Ali and Gregory." Gregory (aka Greg Paul) delivers an effortlessly buoyant rhythm to support Donato's whimsical and wistful Fender Rhodes. Younge and Muhammad added the flute melody after the sessions, a perfect tribute and compliment to this master arranger, sweet and melancholic at the same time.
Building off a sinister interlocking drum and bass pattern, Donato, Younge, Muhammad, Paul and vocalist Loren Oden, assemble a swaying and swirling tune with a romantic mantra, "Nāo Negue Seu Coraçāo," which translates to "Don't Deny Your Heart." Aspirational saxophones dance among cascading monophonic synths, a churning Hammond B3 and cutting fuzz guitar while Donato's subtle and slinky Fender Rhodes leads the way through the musical maelstrom. Delivered in Portuguese, Oden sings the song's emotional energy into existence.
If Jon Lucien made a fusion album, it would have sounded something like "Forever More." Oden's vocals capture the longing and romanticism of the title, while the rhythm section harkens back to the last album Donato recorded in Los Angeles in 1970, a jazz fusion fore-runner full of pulsing polyrhythms and urgent melodies. "You guys made me like L.A. again," Donato told Younge and Mohammad towards the end of his 2019 trip to record this album and perform at the Jazz Esta Morto series.
João Donato deserves a place among the legends of Brazilian music, alongside Antonio Carlos Jobim, João Gilberto, Dorival Caymmi, Ary Barroso, and select few others. Ironically, his constant experimentation with different genres – the very essence of his greatness – make him a challenge to classify and perhaps held him back from becoming the household name some of his peers became. Asked how he would describe his own work, he says, "It's my style of music, the way I think about [music]. I don't even think about it, it's just the way I do things. I don't know if it even has a name."
Donato has finally received long overdue accolades for his contributions to date. An archetypal "musician's musician," Donato's stepped out of the shadows more recently, recording at an unprecedented rate and collaborating with a variety of musicians, from Brazil and beyond, old and young. Still going strong at over eighty years old, the late praise and recognition is finally coming for the artist who Claus Ogerman offered to arrange an album, who Antonio Carlos Jobim called a genius, and who no other than João Gilberto claims invented the bossa nova beat.
"Has the day unfolded without a smile landing on you? Then follow the road to a João Donato song, you are sure to find one there," says Muhammad. "João, one of the founding fathers of bossa nova has opened his magical melodious spirit to us here at Jazz Is Dead. Together we found beleza na música."
About João Donato:
João Donato was born in 1934 and spent his early years completely landlocked in the Amazon wilderness of Acre, a state that borders Peru and Bolivia. By eight, he was playing accordion and even wrote his first song, "Indio Perdido," which he would later re-record as "Lugar Comum" thirty-three years later with lyrics courtesy of tropicalist pop star, Gilberto Gil. Donato's family moved to Rio de Janeiro when he was sixteen and he started hanging out with other jazz-obsessed teenagers in the suburbs of Rio. By 1958, at the age of twenty-four, Donato was one of the most respected musicians in Rio, but what he wanted to play was not what local audiences wanted to hear, so he spent the next 15 years bouncing between Los Angeles, San Francisco and New York City. Upon his return in 1973, he'd been forgotten by the general public, but had become a legend to a younger generation of musicians, including: Marcos Valle, Caetano Veloso, Gal Costa & Gilberto Gil.
João Donato JID007 · João Donato, Adrian Younge & Ali Shaheed Muhammad
Jazz Is Dead · Release Date: June 4, 2021
For more information on Jazz is Dead, please visit:
For media inquiries, please contact:
DL Media · 267-541-2784
For the Preferred Artist
Information and press materials (including album covers, promotional photos and bios)