AVAILABLE NOW: Brasuka | "A Vida Com Paixão" | Outside In Music
AVAILABLE NOW via Outside In Music
Brasuka Delivers a Compelling Debut Recording
Rooted in Brazilian Fusion, Taking the Listener
on a Culturally Diverse Journey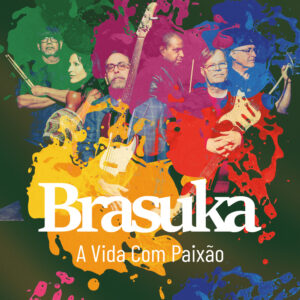 ---
Over the past year and a half, music experienced a dark and dismal outlook of pandemic doom. If you want to learn more about music and  learn to appreciate it,
you can find out more
here. But in demanding times, musicians keep us grounded. They call up the strong, beautiful parts of our spirits. If you are a music enthusiast, you can
check over here
to find the best virtual music lessons.
Welcome Brasuka, the hopeful and spirited ensemble that offers a healing outlook. Based in Dallas, the sextet's compelling debut recording, A Vida Com Paixão, captures the joy and beauty of its translated name, A Life With Passion. Inspired by different styles of Brazilian music with spices of reggae, classical, jazz improvisation, folk-styled melodies, Uruguayan candombe, and splashes of rock, the six-member band along, with special guests, delivers a sublime album with every tune a pure delight of lyricism and percussive rhythms. It is released on trombonist Nick Finzer's Outside in Music label.
The 10 songs (9 original) work together as a culturally diverse journey of a group formed a decade ago, originally as a Sergio Mendes tribute spearheaded by percussionist Ricardo Bozas. "After many years of playing music by artists like Sergio Mendes and Ivan Lins, the band evolved. After a few personnel changes and some brainstorming, we shifted our focus to original music. We started writing songs together as a group and loved it." says Eckert.
Eckert likens the band to a collective. "There is no one leader. There are six leaders, and we're all invested. The biggest challenge has been finding the time to rehearse and write, given that we all have so many other musical jobs and groups. But we believe in this band and devote ourselves to it, planning rehearsals weeks in advance. Rehearsals are often day-long events where we eat together, write, arrange, eat some more. We also split up into smaller groups for writing sessions." she says.
Brasuka stands as a solid band with a firm undergirding influenced by their shared love of Brazilian music. The multi-ethnic ensemble features Mexican-American Eckert on vocals and keyboards, Uruguay-born Bozas on percussion and vocals, Cuba-born Denny Robinson on keys and piano, Tom Burchill from South Dakota on acoustic and electric guitars, Dallas-born Brian Warthen on bass and percussion, and Puerto Rico native Jose Aponte on drums and percussion. Guests include Colombian co-producer Daniel Pardo on flutes and melodica, Drew Zaremba on flute and tenor sax, and Jeff Robbins on tenor saxophone.
Written by Eckert especially for the band, the opening track of A Vida Com Paixão, "Samba Jiji," delivers with welcoming percussion and her captivating wordless vocals. "I think this song best represents the band. We arranged it with a partido alto groove which is a different kind of samba that is modern and funky. It's danceable, and like many of our songs, it has a big sing-along at the end." she says.
The ebullient "Road to Hermeto" was the first tune the group wrote all together. It was inspired by innovative Brazilian composer Hermeto Pascoal who often writes complex and whimsical melodies. The band channeled Hermeto's style with harmonic twists and turns and exciting eighth-note rhythms. Other tunes are credited as Eckert/Bozas collaborations. "Marakandombe," sparks as a hybrid of two grooves: Uruguayan candombe and the Brazilian maracatu. There's an interchange of gentle majesty and march-like military with a nod to rock with Burchill's scorching guitar solo. On "Deusa Do Meu Carnaval," dance is central to the theme of the song's evolution, from a gentle samba sung by an admirer about a beautiful samba dancer to a rousing street carnival party with Pardo conjuring up flute and melodica joy.
Eckert and Bozas also combine to shape the cheerful "Praia Felix" about the percussionist's paradisal visit to Felix Beach in Ubatuba in the São Paulo state. "Ricardo wrote the melody and a lyric about his trip, and I added the chords as I imagined he heard them. He wanted to help people understand the story, so we sang in both Portuguese and English. And of course, there's a big beach party at the end!" Eckert says.
Other songs include Eckert's original "Reina's Song" accompanied by Burchill on classical-styled acoustic guitar. It's the most sobering moment on the album, inspired by Eckert's aunt grieving the loss of her husband. "I had written the melody as a school assignment twenty years prior, and it finally found a home with Brasuka." she says.
Written and sung by Robinson, inspired by the biblical story of the fig tree, "La Higuera" goes on a shape-shifter trip. It opens with a candombe groove that develops into a quiet zone with Warthen's mellowed bass solo. It then erupts into another signature Brasuka sing-along party, this time influenced by the keyboardist's Cuban heritage. Aponte's "Confundido," meaning "confused," is just that: a chaotic atmosphere that comes to order with a gentle melody.
At the end of A Vida Com Paixao the band delightfully digs into the only cover of the album: "Sgt. Pepper's Lonely Hearts Club Band," arguably one of the Beatles' least renditioned songs. It works perfectly with Brasuka's rhythmic approach. "We're trying to create happy music. We want to tell uplifting stories, get people dancing, and bring people together. Hopefully our passion comes through." Eckert says.
---
Brasuka | A Vida Com Paixão
Release Date:
October 8, 2021
For more information on Brasuka, please visit:
For media inquiries, please contact:
DL Media · 267-541-2784
For the Preferred Artist
Information and press materials (including album covers, promotional photos