Israeli Guitarist Tomer Cohen Makes Auspicious Debut with "Not the Same River" | Available February 17 on Hypnote Records
Israeli Guitarist Tomer Cohen Makes
Auspicious Debut with Not the Same River
Featuring Drummer Obed Calvaire
and Bassist Matt Penman
Available on February 17 on Hypnote Records
---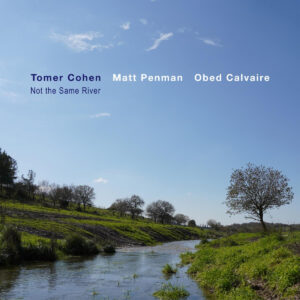 ---
---
A new face on the New York jazz scene, 25-year-old guitarist-composer Tomer Cohen makes his auspicious debut as a leader with Not the Same River, an album that resonates with the same kind of startling originality as Pat Metheny's Bright Size Life registered 46 years ago.
The album title, Cohen explained, relates to an expression by the Greek philosopher Heraclitus: No man ever steps in the same river twice, for it's not the same river and he's not the same man. "That's the sentence that encompasses all the compositions on the album," he said. "We are constantly in motion, we're always changing, and we just need to accept that."
Accompanied by the highly interactive rhythm tandem of drummer Obed Calvaire (a ubiquitous figure on the NYC scene and currently a member of the Jazz at Lincoln Center Orchestra with Wynton Marsalis) and stalwart bassist Matt Penman (formerly with the SFJAZZ Collective and sideman on over 100 recordings), Cohen demonstrates his unique fingerstyle-and-pick technique on eight thoughtful compositions that reflect his pastoral upbringing, from age 4 to 21, on a kibbutz in Israel. "The kibbutz is located in the countryside and has a strong sense of community," he recalled. "I used to play outside with my guitar, watching the fields and the blue sky. I believe some of that vibe is reflected in some of the tunes on this record."
From the wistful title track to the odd-metered, Middle Eastern flavored "Connecting Dots," the meditative "Hithadshut (Regeneration)" and the intricate, briskly moving "Empty?," Cohen distinguishes himself as a fresh new voice through his affecting compositions and considerable six-string skills. Other tunes like "Pastures" and "Sunrise" show his unique ability to evoke a sense of place in a composition, while the energized groover "Probably More than Two" and the sublime ballad "First Laps" each harken back to more personal memories for the composer. The extraordinarily sensitive and complimentary playing of Calvaire and Penman throughout Not the Same River only serves to elevate the proceedings from track to track.
Cohen's wholly intuitive technique of playing single notes with a pick between his thumb and forefinger while simultaneously chording and playing counterpoint with his three remaining fingers allows him to run glistening arpeggios and beautiful melody lines while comping for himself. This process is particularly evident on challenging pieces like "Pastures," "Connecting Dots" and "Sunrise." As he explained, "I've never actually studied fingerstyle playing, but I have tried to develop my own thing based on whatever I wanted to hear. Sometimes I want to hear two parts together, which you can do as a fingerstyle player."
Cohen began playing guitar on the kibbutz in seventh grade, but it wasn't jazz that he was interested in then. "Back in the day, I had friends that played guitar and they first taught me how to play Metallica and Led Zeppelin. I was really intrigued by it." It was in a three-year high school music program that he was introduced to some theoretical and historical studies as well as jazz appreciation.
"During that time, my awareness of music just grew," he recalled. "And every time I was fed with more information, my love for music would grow. I didn't know exactly how to play jazz back then because I was coming from a rock-ish background. But that's when I began listening to it, analyzing it and understanding the language behind it, which was so fascinating to me. I had a band and we played shows in school and festivals. By 11th grade, I knew that I had something to say with music. At that point I thought, 'OK, that's the thing that I want to do with my life.' And it all began with a fascination and love for seeing the music coming out of my hands. It's unbelievable still."
After he graduated from high school, Cohen did his required three years in the Israeli army while continuing to study music. "During my time in the Army, I've spent two years in the Israeli Conservatory of Music in Tel Aviv. There I studied jazz by the book and I really dug into it, practicing five or six hours a day for almost two years straight. I don't think I missed a day. That program really opened me up for jazz."
The first jazz guitarist that he ever studied was Charlie Christian, quickly followed by the likes of Wes Montgomery, Pat Martino and Jimmy Raney. "And then I turned to more modern players like Pat Metheny and Bill Frisell," he recalled. "I think you can always hear their influence in my playing." At the same time, Cohen was intrigued by the complex lines of bebop icons like Charlie Parker, Bud Powell and Dizzy Gillespie as well as sax titans Sonny Rollins and John Coltrane. "I would transcribe every one of their solos that I could find," he continued. "Every week I would transcribe a different solo and then play it until I could make it."
Cohen ultimately received a two-year scholarship to The New School in New York, where he studied with drummers Ari Hoenig and Mark Guiliana as well as trumpeter and fellow Israeli Avishai Cohen. In addition to his exposure to these seasoned players on the scene, Tomer mentioned that just the prospect of living in New York City has elevated his art. "I saw that there are so many talented musicians in NYC that I understood that I have to be myself to become a unique one. Having good technique and a good time-feel is not enough. Exploring the music that I want to hear from my heart is the key for making unique music."
Tomer chose an unorthodox path in launching his career, starting immediately as a leader. As he explained, "I felt that the music was right and I was ready to start this journey, so after I've graduated, I started to plan the recording of my debut album." Regarding his choice of rhythm tandem on Not the Same River, he said, "I knew Obed and Matt a bit from the scene, and I could hear them playing my music. Matt and Obed are unbelievable players, super-musical and always in-the-moment. So, in this trio, each one of us is an individual. Everything is really detailed, while everybody has an equal voice in the music. They're not just giving me the space to solo, we all solo together. It feels very organic."
He points to the tune "Pastures" as one example of offering a sense of place on the record. "I'm trying to get the listener to see the place where I wrote the song," he explained. "And in the studio, I described to Obed and Matt the picture of the place to understand the vibe for this composition. Basically, I'm saying to the listener: 'Close your eyes and imagine that you're sitting on a high hill. You see the green fields and you can see the wind move them like the waves in the sea. Above you only cloudless blue skies. Far back you can see two rivers, one is a bit bigger than the other. On your right you see a green forest with some white birds flying above the trees.' That's the image I'm trying to convey in that piece. That's exactly what I was trying to do on this record, trying to connect some stories, images and life philosophies that I have into one thing."
Cohen added, "I think the record is quite a unique combination of some folk, Israeli music and jazz. I think we combine it in such a way that it's not a defined thing. We're all jazz players playing on the record but it's not necessarily a traditional jazz guitar trio record. And that's what I was going for. I wanted to make my own sound." And he succeeds in grand fashion on this auspicious debut.
---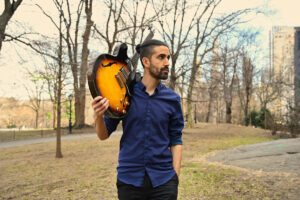 Photo Credit: Liri Agami
---
Tomer Cohen · Not the Same River
Hypnote Records · Release Date: February 17, 2023
For more information on the Tomer Cohen, visit:
For more information on Hypnote Records, visit:
For media information, please contact:
DL Media · 347-489-5894
Public Relations for the Preferred Artist
Information and press materials (including album covers, promotional photos
###