Jazz Is Dead Releases New Single "No End" off of Tony Allen JID018 Produced by Adrian Younge

Jazz Is Dead Releases New Single "No End" off of Tony Allen JID018 Produced by Adrian Younge
Tony Allen JID018 will be
Available July 7 via Jazz is Dead
---
"The Jazz Is Dead series has done a lot to become gateway drugs for younger listeners
to these pivotal '60s and '70s jazz icons…" – NPR Music
"No End" #2 on Spotify's State of Jazz Playlist
"No End" on Apple Music's Jazz Currents Playlist
"No End" on Amazon Music's The Pocket
---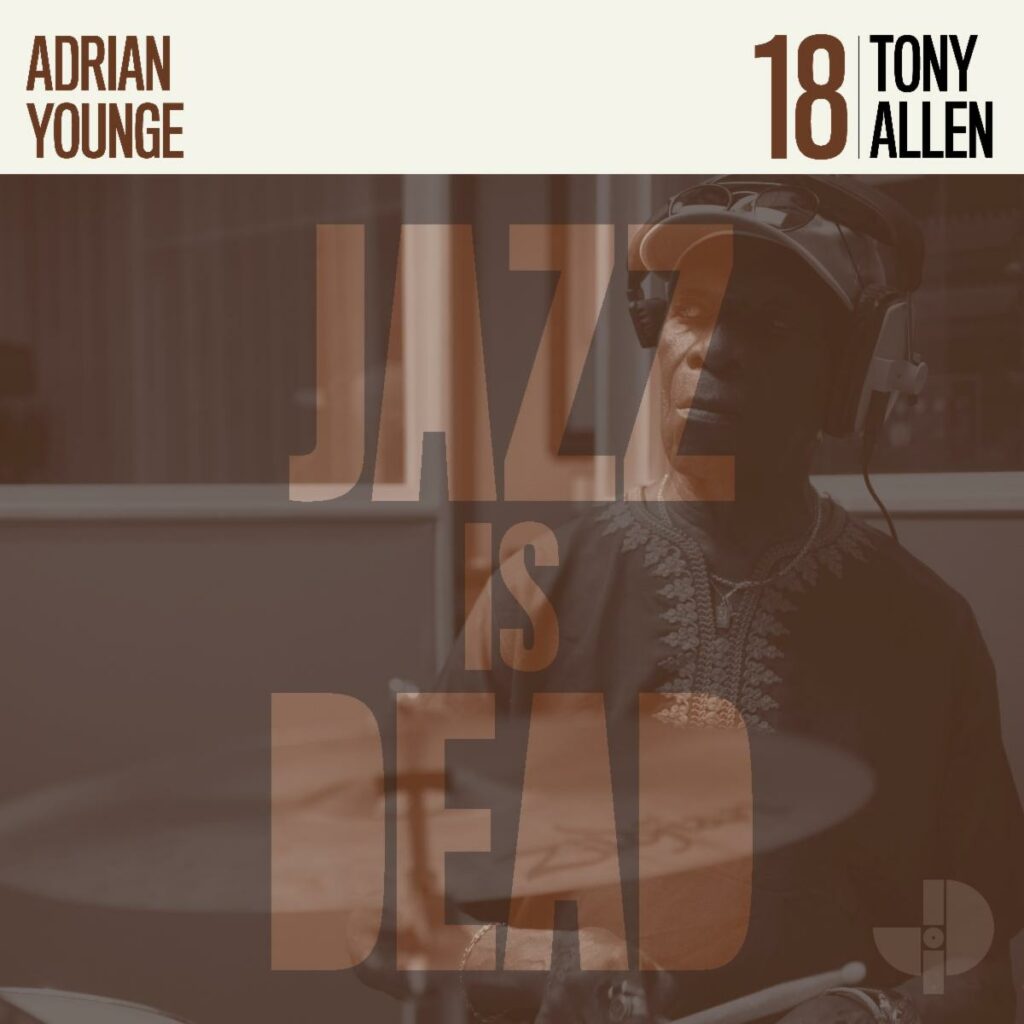 ---
Jazz Is Dead, the label co-founded by Adrian Younge and Ali Shaheed Muhammad that issues top-shelf recordings, will release Tony Allen JID018 on July 7. Today, the label has revealed "No End," the final single prior to the album's release.
The genius that is Tony Allen departed this mortal world in April of 2020, but not without leaving an unmatched legacy that crossed oceans and borders, bridging cultures and forging a sound that changed music. As the drummer for Fela Kuti's revolutionary Africa 70, Allen's polyrhythmic drumming defined Afrobeat, combining American jazz and Nigerian highlife to animate one of the most iconic performers of all time. Over the course of Allen's tenure with the group, and later as a solo artist, he would continue to relentlessly innovate, incorporating new sounds and working with scores of contemporaries. His contributions as an artist and cultural ambassador left an indelible impact on every genre of popular music, from techno to jazz to rock and hip-hop. Allen's music stands as an ongoing testament to the interconnected musical relationships and dialogues across the African diaspora, and their lasting influence on how we listen.
"No End" epitomizes the impact Allen had on musicians and music lovers from all walks of life that transcends his time on Earth. Of the release, Younge states, "For me, "No End" is a song that represents Tony's legacy. His pocket is like no other, and he will continue to inspire more and more generations with the spirit of his music."
Speaking to the Tony Allen JID018 album release, Younge continues, "First of all, to be able to work with somebody that helped pioneer the sound of a new genre, a genre that is kind of sort of an international style of funk, which is Afrobeat; it's Black American music going back to it's birthplace, Africa," Younge says. "Tony Allen represents that foundation. When I got the chance to work with this legend, I wanted to create an album that harkened back to the dawn of this music. This album focuses on early to mid-'70s African funk. I wanted to pull a lot of that out of Tony."
While Allen was in the studio, Younge asked the drummer to make random beats and sometimes Younge might say, "get more crazy here." "Like on 'Makoko,' I wanted to do something that felt more like jazz and Afrobeat were coming together in a unique way," Younge adds, "I asked myself, 'How would that sound? And that's what we did there."
Aside from traditional Yoruba Juju music, Allen was enamored with jazz, particularly the recordings of Art Blakey, Max Roach, and Elvin Jones, musicians who had begun to experiment with West African rhythms and musical concepts. At the time, Nigeria's immensely popular Igbo highlife music was incorporating influences from jazz formulating what became known as Afro-jazz, connecting the American genre back to its roots.
These early cross-cultural dialogues pushed Allen to develop a drumming style that fused highlife and jazz. In the mid-1960s, Allen met Fela Kuti, and the two formed the group Koola Lobitos, which would later grow to become the legendary Africa 70 band. Nigerian audiences did not immediately take to this new sound, but following a trip to the United States, Kuti was exposed to James Brown and the Black Panthers. Allen began to incorporate the sounds of Black American funk and soul. By the 1970s, the group morphed their influences into Afrobeat, the sound of post-colonial Africa, making music that was concerned with economic and political liberation and Pan-Africanism.
The nearly 30 records which Allen appeared on with Africa 70 contain some of the most innovative drumming of all time. Throughout his time with Fela Kuti and Africa 70, Allen introduced the world not only to Afrobeat, but to an entirely new way of conceptualizing rhythm.
In his post-Fela career, Allen moved to Paris and continued to be a vanguard. He experimented with dub, electro, and hip-hop. He was a willing mentor, collaborating with several generations of musicians inspired by his vernacular. French pop artists, such as Sebastien Tellier, Air, and Charlotte Gainsbourg, called upon Allen to help shape some of their most well-known work, such as Tellier's song "La Ritournelle" and Gainbourg's album 5:55. His collaborations with Damon Albarn of Blur and Gorillaz formed the bands The Good, the Bad, and the Queen and Rocket Juice and the Moon, where rock stars like Paul Simonon and Flea were eager to enter conversation with a musician Brian Eno once called "perhaps the greatest drummer who has ever lived."
On some of his last recordings, Allen returned to his love of jazz, while reminding listeners of the ongoing influence and legacy of the diaspora. Recording with Blue Note, he released a tribute to his hero Art Blakey, along with an album of original material and collaborating with the South African trumpeter Hugh Masekela. In 2018, Allen and techno pioneer Jeff Mills released Tomorrow Comes the Harvest, an EP that fused Afrobeat, jazz, and techno. On 2021's aptly titled posthumous recording There Is No End, Allen worked with hip-hop artists such as Danny Brown and UK grime star Skepta. Allen remained a constant innovator, absorbing sounds that had derived from West African music and conversing with new generations, passing on the ideals of Pan-Africanism. For Younge, it is no small honor to share new music recorded with Allen.
"I've always loved Afrobeat and wanted to make an Afrobeat album," Younge says, "and this is my first foray into the genre. I had the honor of working with arguably the person that developed the rhythm for the entire genre, which is Tony Allen. The sad thing is that he never got a chance to hear the finished album, so I hope that in heaven he's bobbing his head to what everybody else is bobbing their heads to, which is the sound of Tony Allen."
---
Tony Allen JID018 · Tony Allen & Adrian Younge
Jazz is Dead | Release Date: July 7, 2023
For more information on Jazz is Dead, please visit:
For media inquiries, please contact:
DL Media · (303) 522-4724‬
Leah Concialdi · leah@dlmediamusic.com
Don Lucoff · don@dlmediamusic.com
For the Preferred Artist
Information and press materials (including album covers, promotional photos and bios)
on all DL Media artists can be found at our website: dlmediamusic.com
# # #