Jazz Is Dead Announces New Releases by Lonnie Liston Smith and Tony Allen, Hermeto Pascoal Spring Tour

Jazz is Dead Announces New Releases by
Lonnie Liston Smith and Tony Allen
Jazz is Dead is Presenting Hermeto Pascoal's Spring Tour
---
"The Jazz Is Dead series has done a lot to become gateway drugs for younger listeners
to these pivotal '60s and '70s jazz icons…" – NPR Music
---
Jazz Is Dead, the label co-founded by Adrian Younge and Ali Shaheed Muhammad that issues top-shelf recordings, paying tribute to past legends and new school torchbearers alike, released Lonnie Liston Smith JID 017 on April 28, and will release Tony Allen JID018 on July 7. In addition to the record releases, Jazz Is Dead is producing the legendary Brazilian multi-instrumentalist and composer Hermeto Pascoal's spring tour. Pascol's tour will be followed up by a string of summer concerts with performances by Joyce e Tutty Moreno e João Donato and Kamaal Williams at Lodge Room in Highland Park, CA; Garrett Saracho as part of the Grand Performances concert series, and a four-city tour with Brazilian composer and singer Arthur Verocai.
"The vision for Jazz Is Dead programing is the same for the albums as it is for the concerts," says Jazz is Dead co-founder Andrew Lojero. "The idea is to work with the maestros who have musically inspired us. Presenting these artists and contextualizing them in a way a younger audience could appreciate them. The goal is to identify the cross-cultural, intergenerational and international intersections and create an exchange between the maestros and next guard of musicians. This is one of the great joys in doing this work."
"Adrian and Ali have been through masterclasses in working with all of these greats that they've admired, that they've sampled, that they've crate-dug and listened to for the last 30 years. As for our show's setlist, a lot of times the maestros don't understand what the young audience loves about them in their repertoire. Us getting being able to curate a cratedigger's delight is really what makes these concerts over the top special."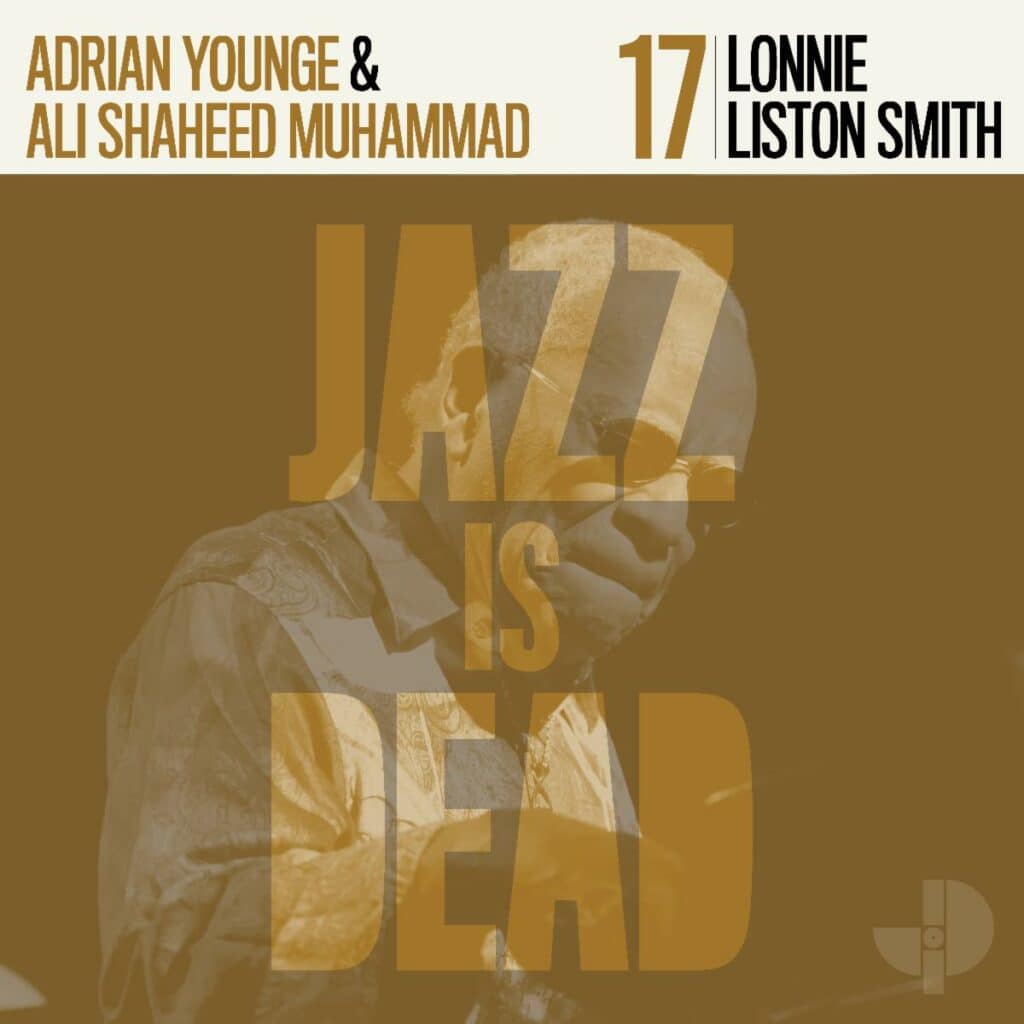 One of the most recognizable electric piano players of all time, Lonnie Liston Smith is a crucial figure in the ongoing pollination of jazz for over fifty years. Having worked and performed with some of the genre's biggest innovators, he is responsible for some of the genres' major stylistic shifts and taking Jazz-Funk into exciting new directions. His notable turns as sideman for heavyweights like Max Roach, Art Blakey, Gato Barbieri, Miles Davis & Rahsaan Roland Kirk, along with his output as a leader of his own group stand as some of the most creative keyboard work of all time. He is revered by generations of musicians and continues to be a presence in shaping contemporary sounds.
"It's great to have the privilege of working with Lonnie Liston Smith," Younge says. "I remember when I first started DJ-ing, the kind of jazz funk records I was looking for were those that fell into the "Blue Note, Donald Byrd, Mizell Brothers, Bobbi Humphrey" land. But also in that land was Lonnie Liston Smith. It's his use of the Fender Rhodes with the wah-wah pedals, delays, and all that; it was a new representation of jazz that was soulful and something that made me want to dance, but also some of that made me just want to listen and really get into this mystic musical world that he was creating the mid-seventies alongside other groups like Tarika Blue or Roy Ayers Ubiquity."
Muhammad says it was an honor working with Smith. "The sessions with him taught me a lot about grace and remembering the blessings that we have and the gifts that the Creator has given us and to strive to do the best we can with these gifts," Muhammad says. "There are many times when in the recording process everyone is striving to do their best and we all handle those ideas and that responsibility in different ways.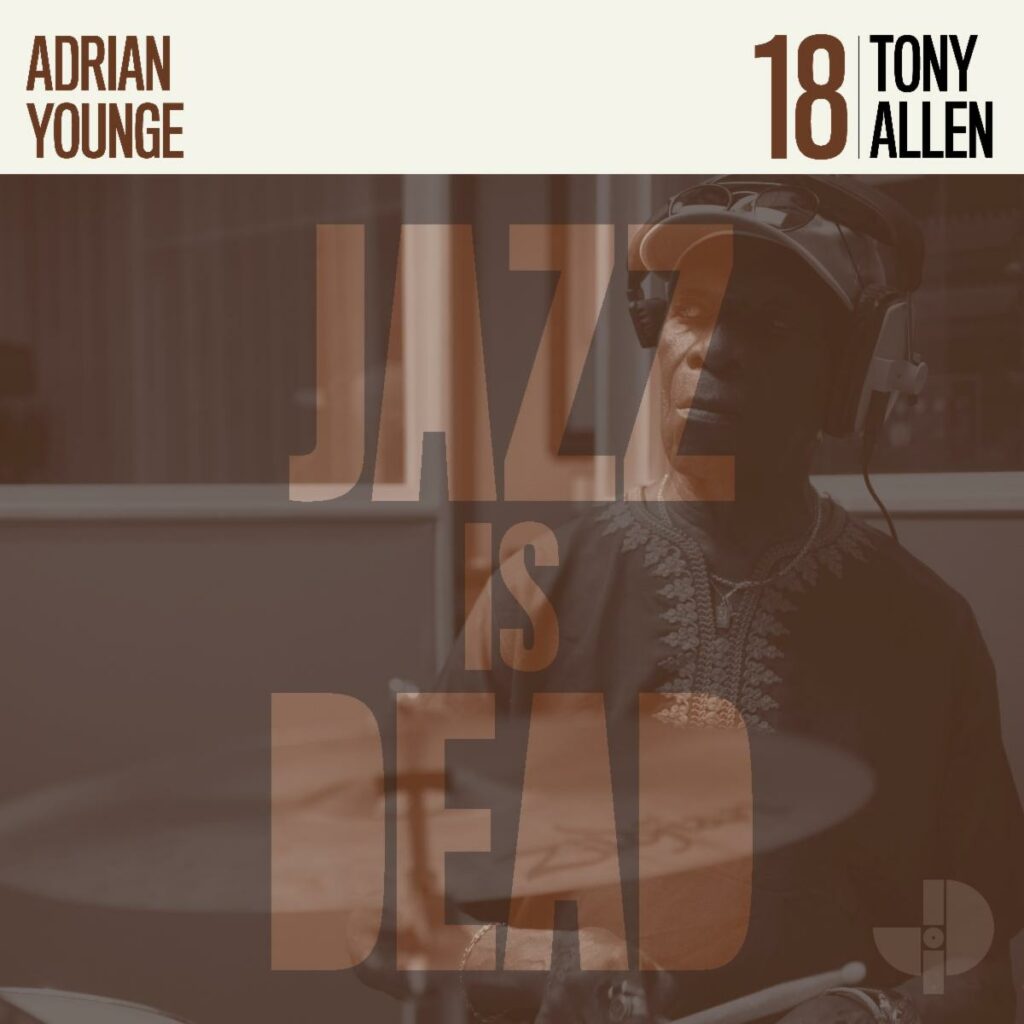 The genius that is Tony Allen departed this mortal world in April of 2020, but not without leaving an unmatched legacy that crossed oceans and borders, bridging cultures and forging a sound that changed music. As the drummer for Fela Kuti's revolutionary Africa 70, Allen's polyrhythmic drumming defined Afrobeat. His contributions as an artist and cultural ambassador left an indelible impact on every genre of popular music, from Techno to Jazz to Rock and Hip-Hop. Tony Allen's music stands as an ongoing testament to the interconnected musical relationships and dialogues across the African diaspora, and their lasting influence on how we listen. For Jazz Is Dead producer Adrian Younge, it is no small honor to share new music recorded with the drummer revolutionary Tony Allen.
"The Tony Allen album is a very, very special album," Younge says. "First of all, to be able to work with somebody that helped pioneer the sound of a new genre, a genre that is kind of sort of an international style of funk, which is Afrobeat; it's Black American music going back to its birthplace, Africa. Tony Allen represents that foundation."
"When I got the chance to work with this legend," Younge continues, "I wanted to create an album that harkened back to the dawn of this music. This album focuses on early to mid seventies African funk. I wanted to pull a lot of that out of Tony. When he was here I would just ask him to do random beats, just random drums. Sometimes I would say something like, 'get more crazy here.' Like on 'Makoko,' I wanted to do something that felt more like jazz and Afrobeat were coming together in a unique way. I asked myself, 'How would that sound?' And that's what we did there."
---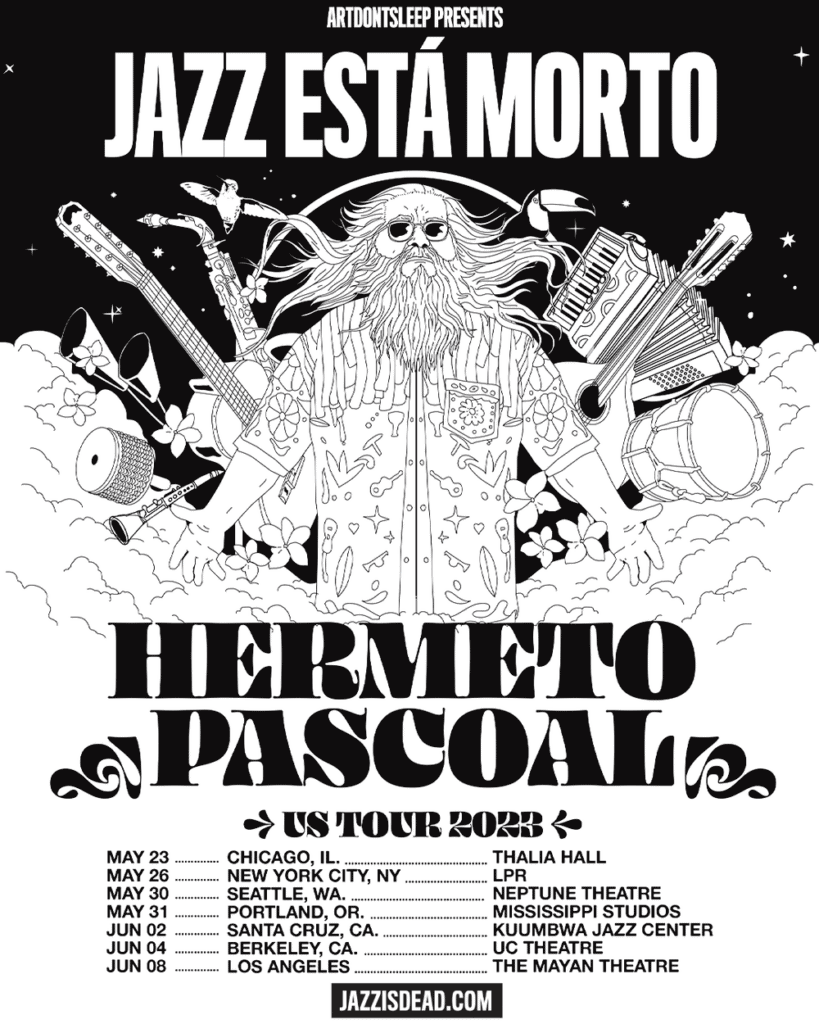 Few musicians have ever reach the stature of Hermeto Pascoal. A true maestro and a cultural icon, he represents the highest level of musical evolution; as a multi-instrumentalist, as a composer and as an arranger. Pascoal is a Brazilian legend. He has worked with the greatest of the greats, such as: Milton Nascimento, Tim Maia, Caetano Veloso, Gilberto Gil and countless others. He first gained public attention in 1971 after performing and recording with Miles Davis on the Live-Evil album, of which Miles said, "Hermeto is one of the most important musicians on the planet." There is good reason (beyond his Gandalf-like appearance) why he is known as "O Bruxo" (the Wizard). Long before Miles, he was performing and collabing with the likes of Edu Lobo and Elis Regina. Later collaborations involved fellow Brazilian musicians Airto Moreira and Flora Purim. From the late 1970s onward, he has mostly led his own groups, playing at many prestigious venues, such as the Montreux Jazz Festival in 1979.
"Hermeto Pascoal is a such mystical character. You don't even believe that he's real. Until you see him in the flesh, maybe he's just this figment of all of our imaginations. I think that's what he wants to be, an improvised figment of all of our imagination. How that fits into the Jazz Is Dead world is that it inflects such a diverse point on the musical spectrum.
"Our concerts are a part of our growing legacy, even though there's no artifact left from them. Each is its own volume. Hermeto represents us going to a great length in Brazilian music and jazz that complements everything that we are doing."
Lojero says he's known Arthur Verocai since 2008, when ArtDontSleep booked him for Timeless, all the way through 2019, "when we booked him for the inaugural Jazz Está Morto series through to now. Just being in this man's home and sitting with this many different points of the world, and learning from him and, and just being able to experience like his slice of Brazilian music history. It's like the apex and the pinnacle point of what we're trying to do with Jazz Is Dead in telling stories.
"Arthur's story resonates just as strongly, if not more, than anyone else on the label. He is effectively the embodiment of the Jazz Is Dead movement. Verocai, with a 30 piece orchestra is the apex and the pinnacle point of what we're trying to do with Jazz Is Dead. Not only are we taking him on tour for his first time in the U.S. or any kind of tour, but the audience has grown so much for him: performing for 3,000 people and in New York City, a 1,000-person venue in Chicago, a 1,500-person venue, in the Bay Area, and two nights at a 1500-person venue in Los Angeles. It's like this man has now officially carved himself a spot in the music psyche. It's fascinating that in the twilight of his life, he's finding everything he ever dreamed of."
HERMETO PASCOAL SPRING US TOUR
May 23 – Chicago, IL Thalia Hall
May 26 – New York City, NY LPR
May 30 – Seattle, WA, Neptune Theatre
May 31 – Portland, OR, Mississippi Studios
June 2 – Santa Cruz, CA, Kuumbwa Jazz Center
June 4 – Berkeley, CA, UC Theatre
June 8 – Los Angeles, CA, The Mayan Theatre
ARTHUR VEROCAI AUGUST US TOUR (with a full orchestra)
August 6 – The Mayan, Los Angeles, CA (sold out)
August 7 – The Mayan, Los Angeles, CA
August 11 – Summer for the City, New York, NY
August 15 – Thalia Hall, Chicago, IL
August 19, UC Theatre, Berkeley, CA
Joyce e Tutty Moreno e João Donato June 18, Lodge Room, Highland Park, CA
Garrett Saracho – July 15, Grand Performances at California Plaza, Los Angeles, CA
Kamaal Williams – September 14, Lodge Room, Highland Park, CA
---
Lonnie Liston Smith JID017 · Release Date: April 28, 2023
Tony Allen JID018 · Release Date: July 7, 2023
Jazz is Dead
For more information on Jazz is Dead, please visit:
For media inquiries, please contact:
DL Media · (303) 522-4724‬
Leah Concialdi · leah@dlmediamusic.com
Don Lucoff · don@dlmediamusic.com
For the Preferred Artist
Information and press materials (including album covers, promotional photos and bios)
on all DL Media artists can be found at our website: dlmediamusic.com
###