Enrico Rava & Fred Hersch | "The Song Is You" | ECM

The Song Is You Documents the Inspired Meeting Between Italian Trumpeter Enrico Rava and
American Pianist Fred Hersch
"As one listens, the warm Rava has the role of an extrovert while the more detached, but ever-detailed Hersch is his introverted foil. They are a winning combination by any measure." — Glide Magazine
"A seemingly unlikely duo at first glance, trumpeter Enrico Rava and pianist Fred Hersch prove to be an intuitive pairing on their first collaboration…"
"Given the warmth of each instrument, a flugelhorn/piano matchup seems tailor-made for ballads, and the pair certainly shines in that regard."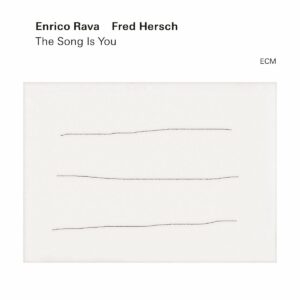 The Song Is You documents the inspired meeting of two master improvisers. Italian trumpeter and flugelhornist Enrico Rava and US pianist Fred Hersch share a love of the music's history and together explore standards including Jerome Kern's "The Song Is You," Thelonious Monk's "Misterioso" and "'Round Midnight," Jobim's "Retrato em Branco e Preto," and George Bassman's "I'm Getting Sentimental Over You." They also play their own tunes, Fred's "Child's Song" and Enrico's "The Trial," and create music freely together. It's a subtle and far-reaching performance: when jazz reaches this level of understanding and interplay, a performance becomes less about the material – however distinguished it may be – than what the interpreter brings to it. Rava and Hersch bring vast experience and a finely honed sense of jazz improvisation as a storyteller's art.
Enrico Rava has recorded for ECM since the 1970s, beginning with The Pilgrim and the Stars, now regarded as a modern jazz classic. The Song Is You is Fred Hersch's first for the label, following albums as a leader with Nonesuch, Palmetto, Sunnyside and others. Throughout his long career as a player, Hersch has returned very often, to duo instrumentation. In his memoir Good Things Happen Slowly, Hersch reflects upon his preference for the format: "The duo suited my ability to use the entire keyboard to do multiple things at once. It also let me orchestrate the music instead of just playing block chords with the left hand… I indulged my love of spontaneous counterpoint – two or more independent melodic lines going on simultaneously. I can go from roaring loud to pianissimo instantly. It's collaborative and also intimate. You have to be compatible but also different enough for each musician to offer something unique." (Enrico's discography also includes some notable duos, including The Third Man with Stefano Bollani).
The November 2021 recording of The Song Is You followed just a handful of Italian dates earlier that year. But from first of these it was evident that something special was happening. Fred Hersch: "One of the things that I really liked from the beginning was that Enrico doesn't feel like he has to be soloing. It's not as clearly defined. We make things together," Fred told interviewer Nicola Ferrauto. "He lets me get in there and push him a little bit. Other times I might give him a lot of space. The best duo partnerships are the ones where you don't have to talk about it too much. You just play. And I'm getting the feeling this is going to be a long partnership. It's really very simpatico, and Enrico's a great master."
*
Born in Trieste in 1939, and growing up in Turin, Enrico Rava came early to jazz, inspired by Miles Davis and Chet Baker among others. Active in the international free jazz milieu of the 1960s, he contributed to historically important recordings including Steve Lacy's The Forest and the Zoo, Carla Bley's Escalator Over the Hill and Manfred Schoof's European Echoes. From the outset it was clear however that Rava's concept of musical freedom would always embrace lyricism as one of its key components and this has been a constant though all his artistic adventures. Now acknowledged as the most important representative of Italian jazz, Enrico Rava has been the recipient of many awards including the Jazzpar, Europe's biggest prize for jazz musicians. In 2011 Rava published the book Incontri con musicisti straordinari, with reflections on fifty years of music-making.
Recent ECM releases with Enrico Rava have included two live albums: Roma, a collaboration with Joe Lovano, and Editione Speziale; both albums also feature pianist Giovanni Guidi, one of many younger players who consider Enrico a mentor.
*
Fred Hersch was born in Cincinnati in 1955, and studied at the New England Conservatory with teachers including Jaki Byard and Joe Maneri. In 1977, he moved to New York, where he soon found work with Art Farmer, Joe Henderson, Stan Getz and others. His first recording as a leader, 1984's Horizons, introduced his trio with Marc Johnson and Joey Baron, and established Hersch as an independent and original voice on the piano. His affinity for duo playing has led to collaborations with Anat Cohen, Bill Frisell, Julian Lage, Chris Potter, Avishai Cohen and Miguel Zenon. His solo playing is widely celebrated: in 2006 he became the first artist to play a week-long engagement as solo pianist at New York's Village Vanguard.
Hersch has also been acclaimed for his compositions, including Leaves of Grass, his 2003 settings of Walt Whitman's poetry, the 2010 multimedia project My Coma Dreams, and his Variations on a Folksong, which was premiered by Igor Levit at Carnegie Hall in January 2022. Fred Hersch's memoir Good Things Happen Slowly was voted Book of the Year by the Jazz Journalists Association, one of many awards the pianist has received.
*
The Song Is You was recorded at Auditorio Stelio Molo RSI in November 2021, and produced by Manfred Eicher
---
Enrico Rava & Fred Hersch  · The Song is You
ECM Records · Release Date: September 9, 2022
For more information on ECM, please visit:
For media inquiries, please contact:
DL Media · 610-420-8470
For the Preferred Artist
Information and press materials (including album covers, promotional photos
###