Chucho Valdés Touring in Support of "La Creación," the Cuban Pianist's Most Ambitious Work to Date
Cuban Pianist, Composer & Arranger Chucho Valdés Touring his Opus "La Creación"
His Most Ambitious Work To Date
John Beasley & Hilario Durán
Musical Directors
---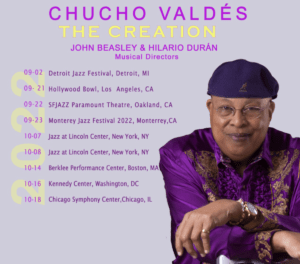 ---
Winner of six GRAMMY® and three Latin GRAMMY® Awards, Chucho Valdés is the most influential figure in modern Afro-Cuban jazz. Over Labor Day Weekend at the Detroit Jazz Festival, Valdés, along with musical directors John Beasley and Hilario Durán launched the US tour for La Creación, Valdés' career-spanning masterwork rendered with the vibrant sonic sounds he forged in the Cuban jazz fusion band Irakere with sacred Yoruba chants, Afro-Cuban rhythms, post-bop harmonies and what Valdés describes as "an atmosphere in the style of Miles Davis' Bitches Brew. Valdés reached out to Beasley and Durán to arrange one part each of the three-part suite.
The tour's next stops will be California, New York, Boston, Washington DC and Chicago. Valdés' Yoruban Band includes Marcus Strickland, Etienne Charles, Brian Lynch and drummer Dafnis Prieto leading a five-piece percussion section. John Beasley's MONK'estra big band will be joining Valdés on stage for the California Tour.
"Chucho Valdes musically expresses the history of rhythm from west Africa thru Cuba and on to America via his expansive personal experience as only he could imagine," Beasley says.
In 2018, Valdés received a Lifetime Achievement Award from the Latin Academy of Recording Arts & Sciences™ in a ceremony held during Latin GRAMMY week in Las Vegas. He was also inducted in the Latin Songwriters Hall of Fame, and received a DC Jazz Festival Lifetime Achievement Award, his name joins an illustrious list that includes Kenny Barron, James Moody, Ellis Marsalis, George Wein, and Dave Brubeck.
Born into a family of musicians in Quivicán, Havana province, Cuba, on October 9, 1941, Dionisio Jesús "Chucho" Valdés Rodríguez, has distilled elements of the Afro-Cuban music tradition, jazz, classical music, rock and more, into an organic, personal style that has both, a distinct style and substance.
His first teacher was his father, the great pianist, composer and bandleader Ramón "Bebo" Valdés. By the age of three, Valdés was already playing the melodies he heard on the radio at the piano, using both hands and in any key. He began taking lessons on piano, theory and solfege at the age of five and continued his formal musical education at the Conservatorio Municipal de Música de la Habana, from which he graduated at 14. A year later, he formed his first jazz trio and in 1959 he debuted with the orchestra Sabor de Cuba, directed by his father. Sabor de Cuba is considered one of the great orchestras in modern Cuban music history.
---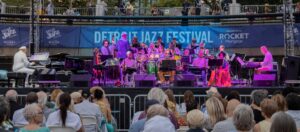 Chucho Valdés La Creación – Photo by Takehiko Tokiwa
For more information on Chucho Valdés, please visit:
For media inquiries, please contact:
DL Media ·‭ (610) 420-8470‬
For the Preferred Artist
Information and press materials (including album covers, promotional photos and bios)
###