AVAILABLE NOW: Barre Phillips & György Kurtág Jr. | "Face à Face" | ECM

Barre Phillips, Grandmaster of Improvised Bass, and György Kurtág Jr., Electronics-Playing Son of Hungary's Great Contemporary Composer, Collaborate on Face à Face
"With its loose relationship to structure and untraditional compositional spontaneity, Face à Face isn't the kind of record you can listen to all the time. But when you do need this kind of experience, nothing else will do."
---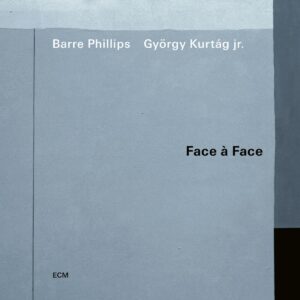 Barre Phillips's End to End album, released in 2018, brought the documentation of his music for solo bass to a profound conclusion. Now Face à Face returns the emphasis to collaborative work, to dialogue and shared creation, in improvisations with György Kürtág Jr.
The Hungarian composer and improviser, last heard on ECM on the album Kurtágonals in 2009, describes his musical relationship with Barre as "one of the most important of my life" and on Face à Face it is immediately that the two musicians share an advanced understanding. It is an understanding patiently built up over the years. They have been developing their duo project – featuring double bass, synthesizers and digital percussion – since 2014, and it is texturally and dynamically absorbing, fascinating to follow.
"The first image that comes to me to characterize the way I play with Barre is architectural," says Kurtág in the album's liner notes. "I am dealing with a musician whose playing and phrasing changes constantly and in the most unpredictable ways possible. To be in relation with his music I think of it as an individual on the move and I build rooms of both time and space around him. Rooms that are themselves in constant evolution. I could also say that I create a shadow, the shadow of Barre's double bass, of his playing…but it is a dynamic shadow in which I place 'attractors,' that is to say, leads, directions, which are followed or not, but which contribute to maintaining the intensity of the dialogue between us."
Their musical points of origin are far apart, with San Francisco-born Barre roving the extremes of new jazz in the 1960s, from Archie Shepp's band to the Jimmy Giuffre 3 to Chris McGregor's Septet, while Kurtág Jr., son of composer György Kurtág and pianist Márta Kurtág, was growing up in a house full of music in Budapest.
Early in Phillips's biography there are indications of an interest in electronics as a source for new sonorities. His recording Unaccompanied Barre (1968), was originally intended to provide material for electronic transformation by composer Max Schubel. Aquarian Rain (1992) was a collaboration with electroacoustic composers James Giroudon and Jean-François Estager, juxtaposing Barre's bass with tape collage. And Mountainscapes, Barre's 1976 masterpiece, includes sensitive duets with synthesizer player Dieter Feichtner, which one could view as a foretaste of the sound-world of Face à Face.
Moreover, although Phillips first came to wider recognition as a 'jazz' player his musical passions were always broader. "I was equally as excited by Bartók, Schoenberg and Stravinsky as I was by Duke Ellington, Charlie Parker and Ornette Coleman," he has said. "The two influences were about 50/50 in my mind." Barre's long history with ECM began in 1971 with duos with Dave Holland on Music From Two Basses, and has since embraced collaborations with, among others, Terje Rypdal, John Surman, Paul Bley, Evan Parker, Joe Maneri and others.
György Kurtág Jr. left Hungary for France in the early 1980s, to undertake research at IRCAM in Paris where he had the opportunity to work with Peter Eötvös, Mauricio Kagel, Tod Machover, David Wessell, George Lewis and many others. In this period, his interests gradually shifted from a contemporary composition perspective to a wider view that incorporated instrument building and improvisation.
He has continued to work on many fronts. Together with his father György Kurtag Sr. he created the "electronic hybrid" composition Zwiegespräche for string quartet and synthesizer, subsequently realized with the Arditti and Keller quartets.
The ECM New Series album Kurtágonals, released in 2009, recontextualized pieces written by Kurtág Jr. over a 30-year period. In 2010 Kurtág Jr.'s trio Sc.Art (science and art) won the Hungarian Classic Contemporary Album of the Year award for its recording The Well-Tempered Universe.
In 2015, Barre Phillips established the Centre Européen Pour l'Improvisation (CEPI) in Puget Ville, Provence, to explore creative approaches to music making. György Kurtág Jr. interacted constantly with Barre in this context, eventually taking over the leadership of the association, and playing with the bassist also in a large ensemble, the Cepi Nomads, drawn from its members.
On Face à Face, György Kurtág Jr.'s electronic set up incorporates Yamaha DX7 IIFD, Korg T3 and Roland JD800 synthesizers, augmented by Roland Handsonic digital percussion, locating and projecting sounds to engage with Barre Phillips's endlessly creative bass playing. There is a tactile quality to the encounter, vividly brought out in Manfred Eicher's transparent mix and production, which encourages the listener to follow the music in all its unfolding detail.
György Kurtág Jr. continues to compose and research in France's Bordeaux region. Early in 2022, Barre Phillips returned to the United States after more than 50 years in France. He is currently based in New Mexico.
---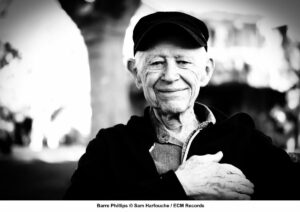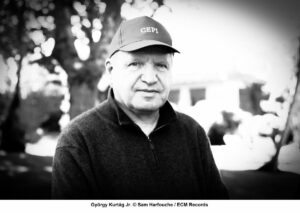 ---
Barre Phillips/György Kurtág Jr. | Face à Face
ECM Release Date: August 19, 2022
For more information on ECM, please visit:
For media inquiries, please contact:
DL Media · 610-420-8470
For the Preferred Artist
Information and press materials (including album covers, promotional photos
###