Jacob Young | "Eventually" | ECM

On Eventually, Norwegian Guitarist Jacob Young Offers a Broader View of His Compositional Pallet While Presenting His First Pass at the Guitar Trio Format
Featuring Bassist Mats Eilertsen and Drummer Audun Kleive
---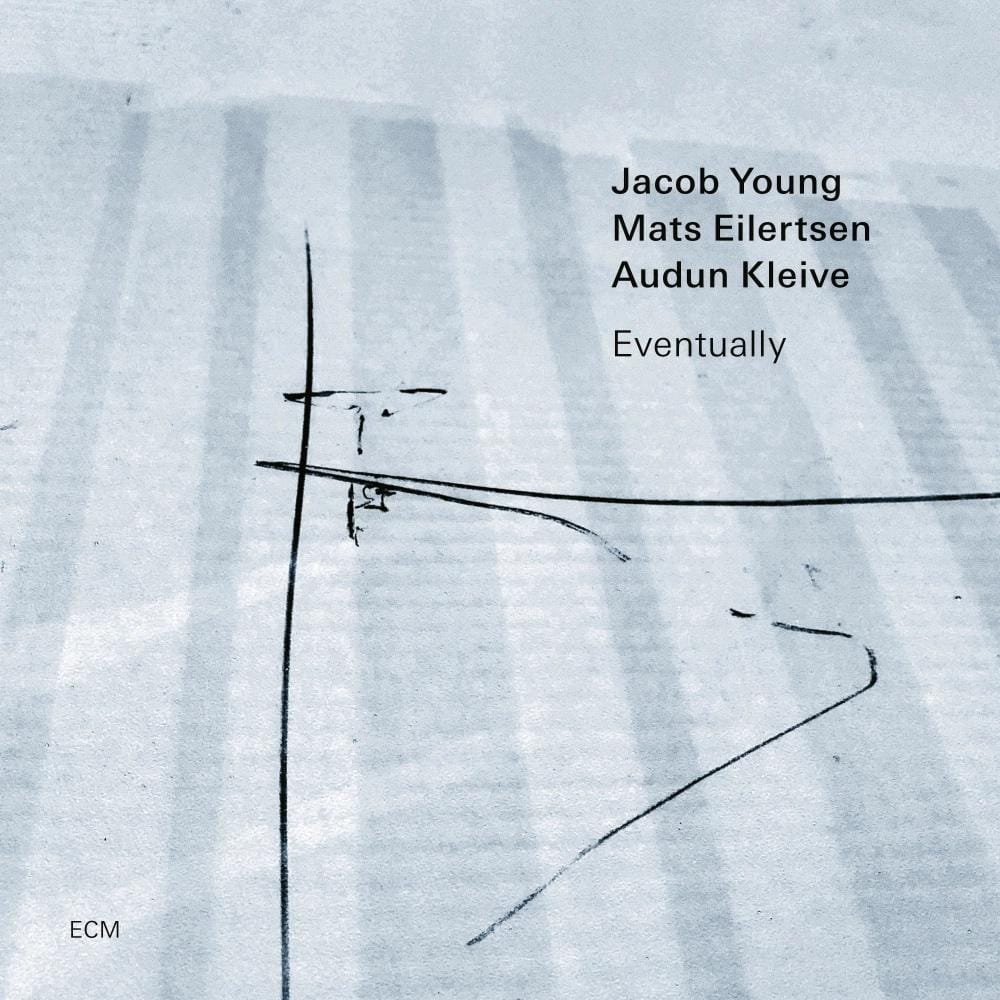 Jacob Young's fourth leader-recording for ECM not only presents the guitarist's first pass at the guitar trio format, but moreover offers a broader view of his compositional pallet, as he, bassist Mats Eilertsen and drummer Audun Kleive explore a wide variety of pulsations, temperaments and styles, all tied together by Jacob's always melodic embrace. On his last effort, 2015's Forever Young, the guitarist was joined by Trygve Seim and the Marcin Wasilewski Trio, performing what The Guardian called, "a set full of undemonstrative surprises and contrasts", where "the quality of the composing matches the formidable powers of the band." Eventually continues that record's gentle lyricism, while Audun Kleive's percussive injections add counterpoint to Jacob's in turns balladic and more rhythmically overt elaborations, lending this set its sharp edge.
"Young often plays quietly and obliquely, but he likes grooves," The Guardian has noted and these qualities are ever-present here, organised in constant juxtaposition with each other throughout the set. Long-time partner Mats Eilertsen, who appeared on Jacob's label debut Evening Falls (2004) and Sideways (2007), contributes a confident foundation, simultaneously complementing and challenging his colleagues in a vivid, contemporary jazz programme.
Jacob: "It took quite a while to make a new album after Forever Young, because I had to get older. I had to dare to just play with bass and drums – no piano or horns. When Mats and Audun agreed to do this recording with me in the classic guitar, bass and drums trio format, it was important for us not to go ahead and make 'just another guitar-trio record', but to make it sound fresh, like something we've never done before."
Part of the freshness here comes from the fact that Jacob doesn't draw from obvious references to or quotes of the past guitar-greats he admires, but instead concentrates on developing his own voice as a composer and guitarist – one defined by subtle chord-melody harmonisations. Jacob: "When I am the only chordal instrument it gives me more freedom playing these harmonically dense pieces, because when playing single lines during an improvisation and only having the bass beneath more notes are available. Then I can throw in a chord that sounds good with the bass without having to adjust to a piano's voicing and sound, or any other chordal instrument."
Jacob also emphasises the significance of his sidemen in the process of making the album: "We treated the material like equals. I was the leader in the sense that I composed the music, but more than anything, it's about the interplay with these two masters. Mats and Audun make improvising easier for me – it's one of their mutual abilities. To make other people sound better."
Whether it's in the descending lines of the title track "Eventually", the underlying groove of "I Told You In October", the subtle balladry of "Moon Over Meno" or the more robust approach taken on bluesy "One For Louis" – Jacob calls the song his "personal take on 'Rollover Beethoven'" – there's indeed a particular, electric friction at play between the three musicians as they search for (and find) fresh modes of expression across nine inventive new originals by the guitarist-composer.
*
Jacob Young has previously released three recordings as a leader for the label: Evening Falls (2004), Sideways (2007) and Forever Young (2014), recorded in the company of ECM stalwarts like late drummer Jon Christensen, saxophonist Trygve Seim, Marcin Wasilewski and more. He was also part of Manu Katché's group on Third Round (2010) and the drummer's compilation album Touchstone for Manu (2014).
Besides his role as an esteemed and in-demand sideman for numerous ECM projects – among them albums by Bobo Stenson, Tord Gustavsen, Mathias Eick, Trygve Seim or Wolfert Brederode –, Mats Eilertsen has released his own acclaimed leader-albums for the label, in quintet on Rubicon (2016) and trio on And Then Comes The Night (2019).
Audun Kleive too shares history with ECM, going back to Terje Rypdal's Chaser from 1985. He has appeared on over a dozen other recordings, often with Terje but also on Mathias Eick's The Door (2008), Arve Henriksen's Cartography (2010), with Jon Balke's Magnetic North Orchestra on Further (1994) and Kyanos (2002) Marilyn Mazur's Small Labyritnhs (1997) and more.
---
Jacob Young · Eventually
ECM · Release Date: May 12, 2023
For more information on ECM, please visit:
ECMRecords.com | Facebook | Instagram | Twitter
For media inquiries regarding other ECM titles, please contact:
DL Media · 347-489-5894
Jon Solomon · jon@dlmediamusic.com
Don Lucoff · don@dlmediamusic.com
For the Preferred Artist
Information and press materials (including album covers, promotional photos 
and bios) on all DL Media artists can be found at our website: dlmediamusic.com
###