Gard Nilssen Acoustic Unity | "Elastic Wave" | ECM

On Elastic Wave, Norwegian Powerhouse Trio Gard Nilssen Acoustic Unity Address Fiery Anthems and Poignant Ballads with Equal Panache and Conviction
Available July 15 via ECM Records
---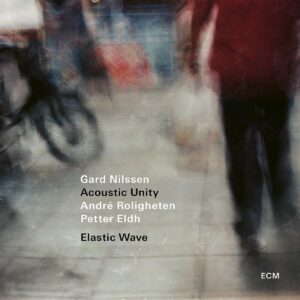 Gard Nilssen is one of Europe's most creative improvising drummers, with a fresh approach to rhythm and freedom. On ECM, he has appeared on acclaimed recordings with the Maciej Obara Quartet (Unloved, Three Crowns) and with Mathias Eick (Skala). Now Elastic Wave presents the Norwegian musician's powerhouse trio, Acoustic Unity. Dynamic interaction, a swinging sense of pulse and boldly etched themes – all three players contribute compositions – are among the defining attributes of a group that addresses fiery anthems and poignant ballads with panache and conviction.
The group's stylistic flexibility is rooted in shared experience. Nilssen and saxophonist/clarinetist André Roligheten grew up together in their hometown of Skien in Norway's Telemark region. In 2005 they encountered Swedish bassist Petter Eldh inside a "Nordic large ensemble for young musicians" directed by Django Bates, and found an immediate rapport. In 2014, after diverse collaborations, Nilssen, Roligheten and Eldh came together as a trio, and have since toured widely. Elastic Wave is the trio's fourth album, following releases on Clean Feed and Odin.
Many influences flow into their music. Roligheten's early role models included Ornette Coleman, John Coltrane and Archie Shepp, but his big sound draws inspiration from multiple sources. "The Other Village," for instance, on which Roligheten plays tenor and soprano saxophones simultaneously, takes its impetus from a memory of the skirling of Mediterranean bagpipes. "Influx Delight" has a lithe, dancing Ornette-on-tenor bounce to it, but moves over a rhythmic feeling with elements of Brazilian samba, or in Gard's view, "the way Charlie Haden and Paul Motian play Latin music." This broad view of modern jazz history is characteristic for the trio. On "The Room Next To Her," Roligheten plays the bass saxophone with a ritualistic power, while "Dreignau" features his elegant clarinet playing.
Eldh has been heard on ECM in contexts including Django Bates's trio Belovèd (The Study of Touch, 2016). A musician of omnivorous musical taste, channelling idioms from bebop to hiphop to free improvising, Eldh recently received the SWR Jazz Prize 2022, the jury praising his "energetic and empathetic double bass playing", attributes evident throughout Elastic Wave. The album opens with Eldh's tune "Altaret" – its title, meaning "the altar" in Swedish, references the view in Gard's Oslo practice room, adorned with a portrait of Coltrane. It's a freely contrapuntal piece opening the door on the trio's concept of independence and togetherness in the improvising.
Gard has cited the impact of hearing Tony Williams, Elvin Jones, Ed Blackwell, Roy Haynes and Jack DeJohnette as formative for his individualistic drum style. But he has also been touched by Jon Christensen's waves-of-sound approach to jazz drumming. To underline the drum traditions of ECM he brought one of Christensen's cymbals with him to the Elastic Wave session, integrating it into the total sound of his kit as a second ride cymbal. Nilssen's tune "Lokket til Jon, og skjerfet til Paul" also alludes to a scarf once left at the La Buissonne studio by Paul Motian, used here to take the edge off the bass drum's ringing overtones.
Some other titular allusions: the happy-go-lucky and confident "Spending Time with Ludvig" is for Gard's young son, and the pretty ballad "Til Liv" for André's daughter. "Acoustic Dance Music," which also has a Coleman-esque full-throttle feeling, is titled by Nilssen as a small protest against the encroaching world of electronic dance music, whose ponderous machine beat he views as the death-knell for creativity; in contrast, Acoustic Unity proposes its malleable, lively sense of drive.
Elastic Wave is issued in time for appearances at this year's Jazzfestival Saalfelden, where Gard Nilssen is artist-in-residence, appearing with Acoustic Unity and with his large ensemble the Supersonic Orchestra (which also has the trio at its core, and its material arranged by Nilssen and Roligheten) and other formations. This autumn will see touring by both the large and small groups.
Meanwhile, the word continues to spread, beyond Europe's borders. "Ask me to name a killer working band that most American jazz listeners still don't know," wrote Nate Chinen on his WBGO blog, "and there's a good chance I'd land on Gard Nilssen Acoustic Unity. Based in Oslo and led by Nilssen, an excellent drummer on that scene, it's an acoustic trio that can veer from abstract expressionism to hard, barreling swing." These qualities are much in evidence on the present recording.
Elastic Wave was recorded at Studios La Buisssonne in Pernes-les-Fontaines the South of France in June 2021. Further ECM recordings with Gard Nilssen are in preparation.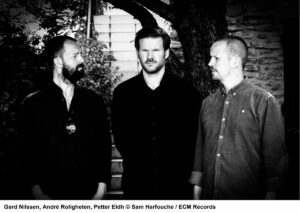 Gard Nilssen Acoustic Unity | Elastic Wave
ECM Release Date: July 15, 2022
For more information on ECM, please visit:
For media inquiries, please contact:
DL Media · 480-272-2991‬
For the Preferred Artist
Information and press materials (including album covers, promotional photos
###