Jimmy Greene – "Flowers – Beautiful Life, Volume 2" – Available April 28
AVAILABLE NOW on Mack Avenue RecordsSaxophonist Jimmy Greene Further Memorializes
the Life of Late Daughter with Groove-Filled Release,
Flowers — Beautiful Life, Volume 2
Ana Márquez-Greene was One of Many Victims of
Sandy Hook Elementary Shooting in December 2012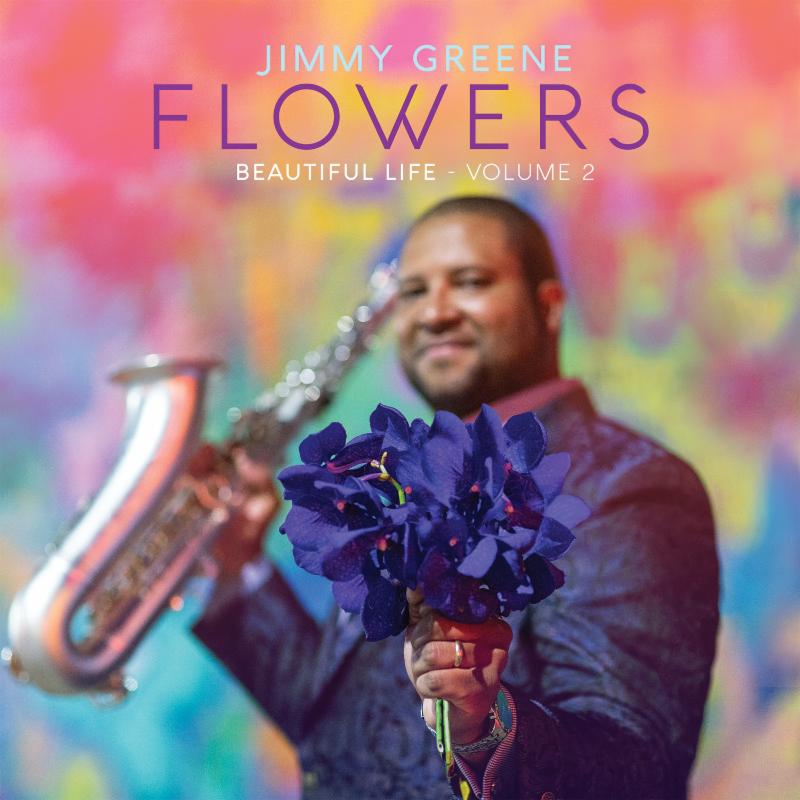 Upcoming Jimmy Greene Performances:
April 27 – April 30 | Jazz Standard | New York, NY
May 5 | The Hamilton Live! | Washington, DC
May 25 | Scullers | Boston, MA
June 21 | Winnipeg Int'l Jazz Festival | Winnipeg, MB
August 4 | Newport Jazz Festival | Newport, RI





Stream Tracks from Flowers — Beautiful Life, Volume 2
GRAMMY® Award-nominated saxophonist, composer, and arranger Jimmy Greene wrote and recorded an album three years ago that no parent should ever have to make — Beautiful Life celebrated the life of Ana Márquez-Greene, his 6-year-old daughter who was murdered along with 19 other children and six educators on December 14, 2012 at Sandy Hook Elementary School in Newtown, Connecticut. Now, Greene continues to honor and memorialize her spirit with Flowers — Beautiful Life, Volume 2, his second release for Mack Avenue Records.
As on his acclaimed Mack Avenue debut, Beautiful Life, a poignant, reflective recording that honored his daughter's love of singing with a program combining jazz, spirituals, contemporary Christian music and ballads, Greene again fulfills his stated imperative of "reflecting the way that Ana lived." Here, Greene hones in on Ana's love of dance with a kinetic, groove-filled program comprising ten original compositions–including two Greene-penned lyrics–and his arrangement of the "new standard," "Something About You."
Feeding the fire on six tracks is Jimmy Greene's Love In Action, a unit comprising veteran all-stars Renee Rosnes on piano and Fender Rhodes, bassist John Patitucci and drummer Jeff "Tain" Watts, with Rogerio Boccato on an array of percussion instruments, and, on three selections, next-generation guitar hero Mike Moreno. Raising a joyful noise on the other five pieces is Greene's quartet, with first-callers including keyboardist Kevin Hays, bassist Ben Williams, and drummer Otis Brown, III. Greene himself solos on tenor and soprano saxophone with melodic focus, harmonic ingenuity and soulful authority.
"For this new recording, I wanted a different sound and feeling than what we achieved on Beautiful Life. I've been close to Otis for many years, and love his deep sense of groove combined with an ability to make things feel explosive and loose. Ben makes everything feel great–he can process anything, and make it his own. Kevin's open ears and expansive vocabulary lets him go anywhere the music takes you.
"Renee, John and Tain were my heroes when I was developing as a young musician," Greene continues, recalling that they first convened as a unit in May 2013 at Hartford's Artists Collective, soon after he began to work through his grief by focusing on the Beautiful Life project. "Rogerio is a master of all kinds of Brazilian rhythms. I thought the different sounds and textures he can create would work well with Tain."
The centered yet open-ended quality of the proceedings has much to do with the raw materials provided in Greene's well-wrought originals. He credits doctoral studies at Manhattan School of Music–where he matriculated in the fall of 2013, after most of the music for Beautiful Life had been recorded–as facilitating his growth as a composer. "Although I've done a lot of writing, I'd never stepped back and studied it in a directed way," he says. "I needed something to focus on other than my grieving process–some musical goal to work towards."
He vividly recalls a comment by Horace Silver, a frequent employer during the late '90s, that, although he liked the music on Brand New World, Greene's first commercial release, he "wanted to hear more songs that people can tap their foot to, that have a more danceable groove." He continues: "So the idea of making something drum- and dance-centered was brewing for a while, and the fact that Ana loved music you can move to was a huge motivation."
Jimmy Greene · Flowers — Beautiful Life, Volume 2
Mack Avenue Records · Release Date: April 28, 2017
For more information on Jimmy Greene, please visit: JimmyGreene.com
For media inquiries, please contact:
DL Media · 610-667-0501
Maureen McFadden · maureen@dlmediamusic.com
For press materials on Jimmy Greene, Mack Avenue artists or its family of imprints
(including album covers, promotional photos and logos), please visit media.mackavenue.com
 
MACK AVENUE · the road to great music · mackavenue.com
#  #  #