AVAILABLE NOW: Mathias Eick & Marcin Wasilewski

Two New Albums 
Available Now via ECM
---
Norwegian Trumpeter and Composer
Mathias Eick Returns to Musical Storytelling
with When we leave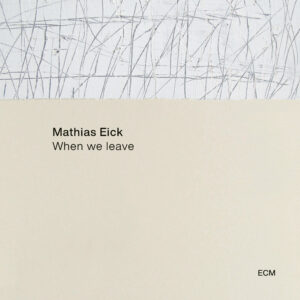 ---
Mathias Eick is among the most immediately recognizable soloists to have emerged from the Norwegian jazz scene, and his wistful trumpet sound and strongly melodic compositions have met with a positive response around the world. When his ECM leader debut The Door was issued in 2008, US magazine JazzTimes described the trumpeter's tone as "plaintive and spare," while emphasizing that, "like all good bandleaders, his focus is on the interaction of his musicians. The contrast of his restraint and the energy around him constitutes the album's driving tension."
Over the years, Eick has focused and strengthened his approach on both fronts, as soloist and ensemble leader, with concepts for the band adjusted to meet the needs of each project, as well as what The Guardian has described as "a cinematic interest in musical storytelling."
Skala (recorded 2009 and 2010), for instance, introduced the two-drummer format, latterly a hallmark of much of Eick's work. Midwest (2014), a meditation on the voyage of Norwegian music to North America, brought violin into the ensemble sound along with colours and textures from folk music. Ravensburg(2017) turned the spotlight on Eick's own biography, looking, with affection, at his Norwegian and South German family roots. The full group heard on Ravensburg returns for When we leave, augmented by Stian Carstensen's pedal steel guitar – last heard in an Eick context on The Door – and the saga continues.
Mathias Eick sees When we leave as "a natural continuation of Ravensburg, almost a Ravensburg 2. More of everything." Where its predecessor drew portraits of friends and family and sketched some personal interactions, the new album follows its protagonists through a troubled year. A sense of narrative could be drawn from the interplay of titles and musical atmosphere: "The songs and titles on When we leave play upon each other, draw inspiration from each other."
Meanwhile the Eick band continues to grow in confidence and range. Violinist Håkon Aase, increasingly recognized as one of the outstanding improvisers of his generation (his ECM credits also include two albums with Thomas Strønen's Time Is A Blind Guide ensemble), augments the bandleader's solos with lines that draw upon folk traditions as well as jazz. There is mystery, too, in the way that the violin leans into the delicate swell of Stian Carstensen's pedal steel. Eick: "Stian's carpet of harmonies adds a feeling of depth – and the combination with the violin creates a special sound. I'm always searching for sounds that are unique and stand out of time."
Powerful drummer Torstein Lofthus has played in contexts from pop to free jazz (including sessions with US saxophonist Sonny Simmons) and is known also for his contributions to exploratory rock group Elephant9. When Ravensburg was released, Eick explained his decision to add a second drummer: "I wasn't trying to make the drumming bigger but rather more three-dimensional. What's going on in the area of rhythm is very much like what's happening between Håkon and myself, where a similar idea of shadowing and call and response is taking place." Co-drummer Helge Andreas Norbakken digs into the textures of the music, creatively detailing the rhythm and working freely with sound as he has on ECM recordings from the Jon Balke/Amina Alaoui project Siwan to the "percussion think-tank" Batagraf or Jon Hassell's Last Night The Moon…, as well as Mathias Eick's Midwest.
Andreas Ulvo, a pianist of lyrical gifts, draws inspiration from classical music, in his own projects juxtaposing Satie and Rodrigo with free playing, and working across a broad range of idioms. Latterly he has been collaborating with Swiss harpist Giovana Pessi in a new project: an ECM release is in preparation. In parallel with his musical activities he is also a photographer, and has contributed images to albums by Dans les arbres and Giovanna Pessi/Susanna Wallumrød, among others.
Bassist Audun Erlien's particular groove, informed by years of playing soul and funk music, has been part of the Eick band sound since The Door. Erlien can also be heard with Nils Petter Molvaer on Solid Ether.
Mathias Eick was born into a musical family in Norway in 1979 and took up the piano at the age of five, followed by trumpet a year later. A multi-instrumentalist, he also plays vibraphone, double bass, guitar and keyboards, although the trumpet was always "the instrument closest to my heart" as he once put it. He has been the recipient of numerous awards, including the including the International Jazz Festival Organization's "International Jazz Talent" prize, the Statoil Scholarship and the DNB Prize.
When we leave was recorded at Oslo's Rainbow Studio in August 2020. It was produced by Manfred Eicher. The Eick band presents music from the album in concert at Nasjonal Jazzscene Victoria, Oslo (September 17), Collage Festival, Copenhagen (October 2), Jazzfest, Brno, Czech Republic (November 1), and Schloß Elmau, Krün, Germany (November 20).
---
Marcin Wasilewski Trio Returns
for their Seventh ECM Release
with the Imaginative En attendant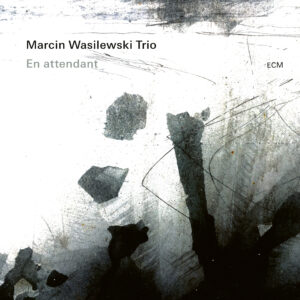 "Their years together have resulted in an ensemble with an utterly symbiotic creative flow," observed Don Heckman in the Los Angeles Times, when the Marcin Wasilewski Trio was first making its presence felt on the international jazz scene. The improvisational communication among the players has continued to deepen with the years, along with their range of creative options. En attendant pays testimony to the musicians' far-reaching imagination and to the ways in which the group's lucid musical language can integrate influence from disparate sources.
Recorded just prior to their Arctic Riff collaboration with Joe Lovano, En attendant finds Marcin Wasilewski, Slawomir Kurkiewicz and Michal Miskiewicz in thoughtful, exploratory mood. The multifaceted Polish group illuminates a characteristically wide span of music, the scope extending from Bach to group improvisation. On En attendant, collectively created pieces are juxtaposed with Wasilewski's malleable "Glimmer of Hope", Carla Bley's timeless "Vashkar", The Doors' hypnotic "Riders on the Storm" and a selection from Johann Sebastian Bach's Goldberg Variations, transformed in the context. Fluidity is the hallmark, allied to the deep listening made possible by more than a quarter-century of collaborative music-making.
The tripartite "In Motion" offers the most thorough account yet of the trio's capacity for finding forms in the moment, shaping and developing musical structures with a running sense of architectural proportion. "In Motion Part I" gives way to Variation 25 from the Goldberg Variations, a reminder that all roads lead to Bach, eventually. The trio's take on the minor key aria gently probes its atmosphere of dark passion and encircles its exquisite melody.
Paul Bley's Footloose! recording of 1963 was where many musicians first learned about Carla Bley as a composer. As Marcin Wasilewski recently noted it "opened the gates to something undiscovered", including the inexhaustible mysteries of tunes like "Vashkar," which has become one of the pieces the trio likes to revisit, always finding something new inside it.
Pop and rock cover versions have also long been part of the trio's story. Earlier recordings have found the group re-contextualising Björk's "Hyperballad", Prince's "Diamonds and Pearls", the Police's "Message in a Bottle" and more. The Doors' iconic "Riders on the Storm" now joins the list, in a subtly unconventional arrangement. While the rhythmic feel here hews to a bubbling groove close to the original, bassist Slawomir Kurkewicz is to the fore for much of the tune, soloing inside the form, while Wasilewski mines the harmonies.
Marcin's rubato ballad "Glimmer of Hope" moves like the waves, floating its glistening motive through changing tonalities over Michal Miskiewicz's detailed cymbals and drums.
Marcin Wasilewski and Slawomir Kurkiewicz (both born in 1975) have been playing in trio with Michal Miskiewicz (born 1977) since 1993. The group quickly became an important force on the Polish jazz scene, both in its own right and as three quarters of Tomasz Stanko's band.
It was with Stanko that they first came to ECM appearing on the acclaimed albums Soul of Things (recorded 2001), followed by Suspended Night (2003), and Lontano (2005). Stanko, who was also a mentor for the trio, enthused, "In the entire history of Polish jazz, we've never had a band like this one. I'm surprised by these musicians every day. They just keep getting better and better."
This sentiment was echoed in the press, with JazzTimes observing, "Marcin Wasilewski does not think like other jazz pianists. His improvisational underpinning, his sense of musical space and his aural imagery are so fresh they are initially mysterious, then get more so. …It takes nerve for a young trio to create music of such stillness, such patience. The fact that the three have played together since they were teenagers is audible in the way they trust the epiphanies they collectively come upon."
Albums by Marcin Wasilewski, Slawomir Kurkiewicz and Michal Miskiewicz on ECM include Trio (recorded 2004), January (2007), Faithful (2010), Spark of Life (2014, with Joakim Milder), Live (2016), and Arctic Riff (2019, with Joe Lovano). The trio, plus saxophonist Trygve Seim, also contribute to guitarist Jakob Young's recording Forever Young (2013). Wasilewski and Kurkuwicz appear, furthermore, on Manu Katché's albums  Neighbourhood (2004) and Playground (2007).
 Recorded at Studios La Buissonne in August 2019.
---
Upcoming Releases on ECM
October 8: Enrico Rava | Edizione Speciale 
October 8: Craig Taborn | Shadow Plays
October 29: Ayumi Tanaka Trio | Subaqueous Silence
November 5: Jorge Rossy, Robert Landfermann, Jeff Ballard | Puerta
November 11: Eberhard Weber | Once Upon A Time
---
Marcin Wasilewski Trio | En Attendant
ECM | Release Date: September 10, 2021
Mathias Eick | When We Leave
ECM | Release Date: September 24, 2021
For more information on ECM, please visit:
ECMRecords.com | Facebook | Instagram | Twitter
For media inquiries, please contact:
DL Media · 610-420-8470
Don Lucoff · don@dlmediamusic.com
Candelaria Alvarado · candelaria@dlmediamusic.com
For the Preferred Artist
Information and press materials (including album covers, promotional photos
and bios) on all DL Media artists can be found at our website: dlmediamusic.com