Andy James | Rhythm in New York | Available April 15 via Le Coq Records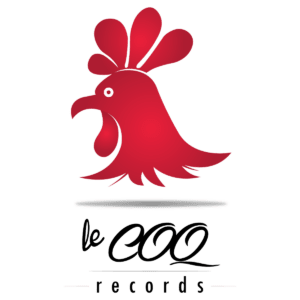 Vocalist Andy James Celebrates One Of The
Greatest Cities In The World, And The Mecca of Jazz,
On Her Wide-Ranging New Album
Rhythm in New York, Due Out April 15 On Le Coq Records, Features An All-Star Band Including John Patitucci,
Jon Cowherd, Chris Potter, Marcus Strickland,
Terell Stafford, Nate Smith, Marcus Gilmore,
Adam Rogers, Chico Pinheiro and Others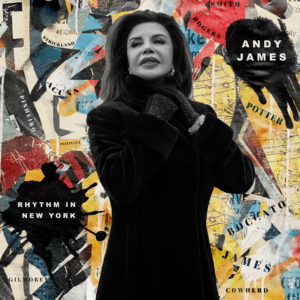 While she grew up in Australia, traveled the world as a renowned Flamenco dancer, and now makes her home in Las Vegas, vocalist Andy James has always loved New York City – whether dreaming of the Big Apple from afar or exploring the always thriving jazz scene of the city as both listener and performer.
"New York City – what a town!" James exults. "It has always held a special place in my heart. Even as a child growing up in Australia, I would see the great singers performing on the television from this special place and think, 'If only that could be me!'"
On her latest album for Le Coq Records, James captures the vibrant tempo and exhilarating thrills always unfolding in the thoroughfares of the city that never sleeps. Due out April 15, Rhythm in New York features a stunning mix of classic standards and original music inspired by life in Manhattan. As has become standard for Le Coq releases, the album boasts an unparalleled line-up of in-demand musicians, all of who have captivated audiences on the bandstands of New York and beyond.
James' key collaborator on Rhythm in New York is John Patitucci, who not only graces every track with his virtuosic bass playing but co-wrote several tunes with James and his daughter, singer-songwriter Greisun. They're joined by pianist Jon Cowherd, drummers Nate Smith and Marcus Gilmore, saxophonists Chris Potter and Marcus Strickland, trumpeter Terell Stafford, flutist David Mann, guitarists Adam Rogers and Chico Pinheiro, and percussionists Alex Acuña and Rogerio Boccato. Additionally, Cowherd and Patitucci collectively arranged all 15 songs on the album.
While Patitucci has been a key member of the Le Coq family since its launch, he and James furthered their collaboration last year with the collaborative outing An Evening with John Patitucci & Andy James, which inaugurated the singer's venture into original compositions.
"Although I've always loved the songs of the past – who wouldn't? – I thought it was time to express myself more as a writer of music on this album," James explains. "I feel it's necessary to convey my sentiments in music so I can grow further as a singer and musician. My collaboration with John Patitucci and his daughter Greisun has been an enormous pleasure for me. They are so talented and always know what I'm looking for; which I'm sure is helped by their family bond."
Speaking of family bonds, James' other co-writer on Rhythm in New York is her husband and dance partner, Le Coq founder Piero Pata, who contributed to two new pieces on the album, "Time To Think" and "Just In Time." As James explains, "Working with Piero has really been easy. Wherever I am, he seems to catch and remember the melodies that I've been casually humming around the house and later brings them to me with lyrics already attached. It makes a great start for a song. Of course, then I sink my teeth into them and change just enough to make it me."
In writing as well as selecting songs for the album, James thought back over the many memorable visits she's enjoyed to New York City, stretching back to childhood trips with her parents, who would occasionally travel to the States on business and bring their artistic daughter along. As an adult she would return often to soak in the nightlife and take in the influences that helped forge her own singing style.
"My first walk in Central Park in the snow will always be a highlight," James recalls. "I will never forget the colors of Times Square at night, the people swarming all over the place with excitement, the magnitude of the shows on offer on every street. I would wander for hours finding one exciting nook and cranny after another to enjoy musicians. Whether at Birdland Jazz Club or the Village Vanguard, there was always someone special to admire."
Rhythm in New York spotlights a wide variety of moods and styles, while showcasing the jaw-dropping musicianship of the assembled artists. James so admires her collaborators that in at least one instance – her and Pata's own "Just In Time" – she decided to remove her vocals altogether and let the band shine on their own. But throughout, from the enticing, Bossa-inflected opener "There Will Never Be Another You," through the lush original ballad "Day Dream" and the Flamenco-inspired "El Ritmo," to the wistful farewell of "I'll Be Seeing You," James finds endless inspiration in her adoration for the city.
"I tried to capture my feelings when I was younger, to convey my impressions traveling to this great city," she explains. "New York is a city of love in many ways, and its people have proved this on countless occasions. The beauty of the seasons always leaves me breathless. It has so many musical tastes for anybody to enjoy: R&B, pop, opera, musical comedy, and of course my favorite, jazz. It is one of my favorite places on Earth."
---
Andy James · Rhythm in New York
Le Coq Records · Release Date: April 15, 2022
For more information on Le Coq Records, please visit:
lecoqrecords.com | Facebook | Instagram
For media inquiries, please contact:
DL Media · 610-420-8470
Don Lucoff · don@dlmediamusic.com
Mike Amodei · mike@dlmediamusic.com
For the Preferred Artist
Information and press materials (including album covers, promotional photos
and bios) on all DL Media artists can be found at our website: dlmediamusic.com