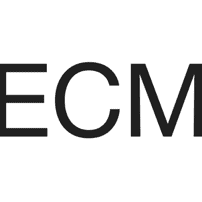 The independent record label ECM – Edition of Contemporary Music – was founded by producer Manfred Eicher in Munich in 1969, and to date has issued more than 1500 albums spanning many idioms. Emphasising improvisation from the outset, ECM established its reputation with standard-setting recordings by Keith Jarrett, Paul Bley, Jan Garbarek, Chick Corea, Gary Burton, the Art Ensemble of Chicago and many more and began to include contemporary composition – including Steve Reich's Music for 18 Musicians and Meredith Monk Dolmen Music  – in its programme in the late 1970s and early 80s.
To introduce Arvo Pärt's Tabula Rasa a sister label, ECM New Series, was launched in 1984. The New Series has since become a broad platform for a spectrum of composed music from the pre-baroque era to the present day. The label continues to issue premiere recordings of Pärt's works, and a number of these reappear in Manfred Eicher's Pärt-sequence Musica Selecta, issued on the composer's 80th birthday on September 11, 2015. Other contemporary composers regularly featured in the New Series include György Kurtág, Valentin Silvestrov, Tigran Mansurian, Erkki-Sven Tüür, Heinz Holliger,  Heiner Goebbels, Alexander Knaifel,  Helena Tulve and Giya Kancheli, whose newest album Chiaroscuro (released October 2015) brings together violinists Gidon Kremer and Patricia Kopatchinskaja for the first time, to powerful effect.
New music, improvised or notated, builds upon the strengths of earlier models, and the concept of modern music informed by older music resonates through the improvised and composed projects heard on ECM.  Amongst current and recent releases Tigran Hamasyan's  Luys I Luso  stands out, a highly imaginative recasting of Armenian sacred music for choir and improvising pianist.   Meanwhile, fellow Armenian Levon Eskenian arranges the compositions of Komitas for the folk instrumentation of the Gurdjieff Ensemble, with a blend of sonorities that can seem both archaic and experimental.   
For Liaisons: Re-Imagining Sondheim, Anthony De Mare commissioned 36 composers, from Steve Reich to Wynton Marsalis, to reconsider a music-theatre song by Stephen Sondheim as a piece for solo piano.  On Gesualdo Brett Dean and Erkki-Sven Tüür reflect on the agonized life and music of the Prince of Venosa, in a programme which also includes Gesualdo transcriptions by Tüür and conductor Toñu Kaljuste. In parallel activities, György Kurtág dovetails his radiant Bach transcriptions into the cheerful games and homages of his Jatékok collection for piano and four hands on In Memoriam Haydée, and Heinz Holliger layers the enigmatic music of Guillaume de Machaut with his own subtle variants for three violas and the four singers of the Hilliard Ensemble. 
The Hilliards realized one of the most potent blendings of old and new in their Officium collaboration with improvising saxophonist  Jan Garbarek, a combination which also packed churches and concert halls for 20 years.  In 2015 former Hilliard tenor John Potter introduced his Amores Pasados project with Trio Mediaeval soprano Anna Maria Friman and lutenists Ariel Abramovich and Jacob Heringman, singing music of John Paul Jones, Sting and Tony Banks, alongside lute songs of the 16th, 17th and early 20th centuries, to "bridge the gap between art song and pop song."
In another intriguing interweaving of musical eras, Keller Quartet leader András Keller and producer Manfred Eicher collaborated on Cantante e Tranquillo, an album made entirely of slow movements from works of composers from Bach and Beethoven to Ligeti and Kurtág, illuminating some surprising correspondences.
John Cage, whom Schoenberg said was "not a composer but an inventor  - of genius",   acknowledged an oblique debt to Erik Satie. This is one of several subjects taken up by Sarah Rothenberg and friends on the album Rothko Chapel, featuring Kim Kashkashian on the title piece composed by Morton Feldman and inspired by the deep colour-fields of Mark Rothko's paintings. 
In jazz, Pat Metheny, making his first ECM appearance in more than three decades, orchestrates the bass solos of one of his formative influences on Homage à Eberhard Weber, an album which also includes vigorous contributions from Jan Garbarek, Gary Burton and the SWR Big Band. 
Keith Jarrett's solo concert recordings have most often documented the processes of total improvisation  -  as he says, "letting the river move wherever it's supposed to move".  Creation, however, re-channels music from several concerts to build a suite of sorts, or an essay in moods and atmospheres. Jarrett is often asked how much his classical playing has influenced his improvising and vice versa. The question is never easy to answer but the improvised encore which concludes a New Series Jarrett album with music of Samuel Barber and Bartók does not seem misplaced.
In other trans-idiomatic wanderings Julia Hülsmann and Theo Bleckmann deploy the language of jazz to address Kurt Weill's American period on A Clear Midnight. Andy Sheppard  and friends improvise around Gaelic folk song melodies on Surrounded By Sea, and Nils Økland integrates Norwegian tradition with influences from jazz, church music and more on Kjølvatn. Countryman Mathias Eick traces the journey of Norwegian music to the New World on Midwest.  Athens-based lyra player Sokratis Sinopoulos  fronts a jazz-inspired quartet on Eight Winds, and singer Savina Yannatou and the band Primavera en Salonico raise the ghosts of old Thessaloniki, the 'Jerusalem of the Balkans', as they  summon up a spirit of mutual encouragement across national and religious divides once commonplace amongst the city's musicians.  Elina Duni's Dallёndyshe, with songs of love and exile, offers a report from neighbouring Albania, while Cymin Samawatie's  Phoenix pays tribute to outspoken Iranian poet Forough Farrokhzaad.
Jazz, an amalgam-form, a melting-pot music from day one, has always drawn from sources beyond itself. On Break Stuff Vijay Iyer plays Monk, Coltrane and Strayhorn, giants of the tradition, but also incorporates influence from West African drumming, South Indian mridangam playing, Brooklyn hiphop and Detroit techno, and names pieces after the birds of New York, those migrants who still cross borders with impunity. Another Bird is referenced in Chris Potter's magnum opus Imaginary Cities. Charlie Parker with Strings is a touchstone here, so too Béla Bartók and orchestras of the Arab world.
Round-number birthdays are celebrated by ECM musicians in 2015 -  with Arvo Pärt, Giya Kancheli, Dino Saluzzi, Keith Jarrett, Gary Peacock, Arild Andersen and Eberhard Weber all reaching the anniversaries considered amongst life's milestones.  It is also an anniversary year for an influential organization, Chicago's Association for the Advancement of Creative Musicians. Now 50 years old the AACM has given important impulses to jazz and new music. ECM's had a long affiliation with its players, and January releases included Made In Chicago, on which Jack DeJohnette reunited with the movement's advance guard, including Muhal Richard Abrams, Henry Threadgill and Roscoe Mitchell, with stirring results.
[ecs-list-events design="compact" order='DESC' venue="true" excerpt="true" button="Tickets" buttonlink="website"]