Terell Stafford, Tim Warfield, Dick Oatts, Bruce Barth, Mike Boone and Justin Faulkner Pay Tribute to Philadelphia's Iconic Jazz Composers on "Fly With the Wind"
Terell Stafford, Tim Warfield, Dick Oatts, Bruce Barth,
Mike Boone and Justin Faulkner Pay Tribute to Philadelphia's Iconic Jazz Composers on Fly With the Wind
Available Tomorrow on BCM+D Records, the Second Outing by the All-star Temple Jazz Sextet Features Tunes by John Coltrane, McCoy Tyner, Jimmy Heath and Lee Morgan
The Same Lineup Will Join the Temple University Symphony Orchestra, Studio Orchestra and Jazz Band to Explore an Eclectic Mix of Classical, Jazz and Crossover Music at
Jazz at Lincoln Center's Frederick P. Rose Hall
Sunday April 16, 8 p.m.
Interview with Terell Stafford on WBGO
"The group tries to convey the essence of the Philly sound, steeped with hints of soul and hints of rhythm, and blues." — Glide Magazine
---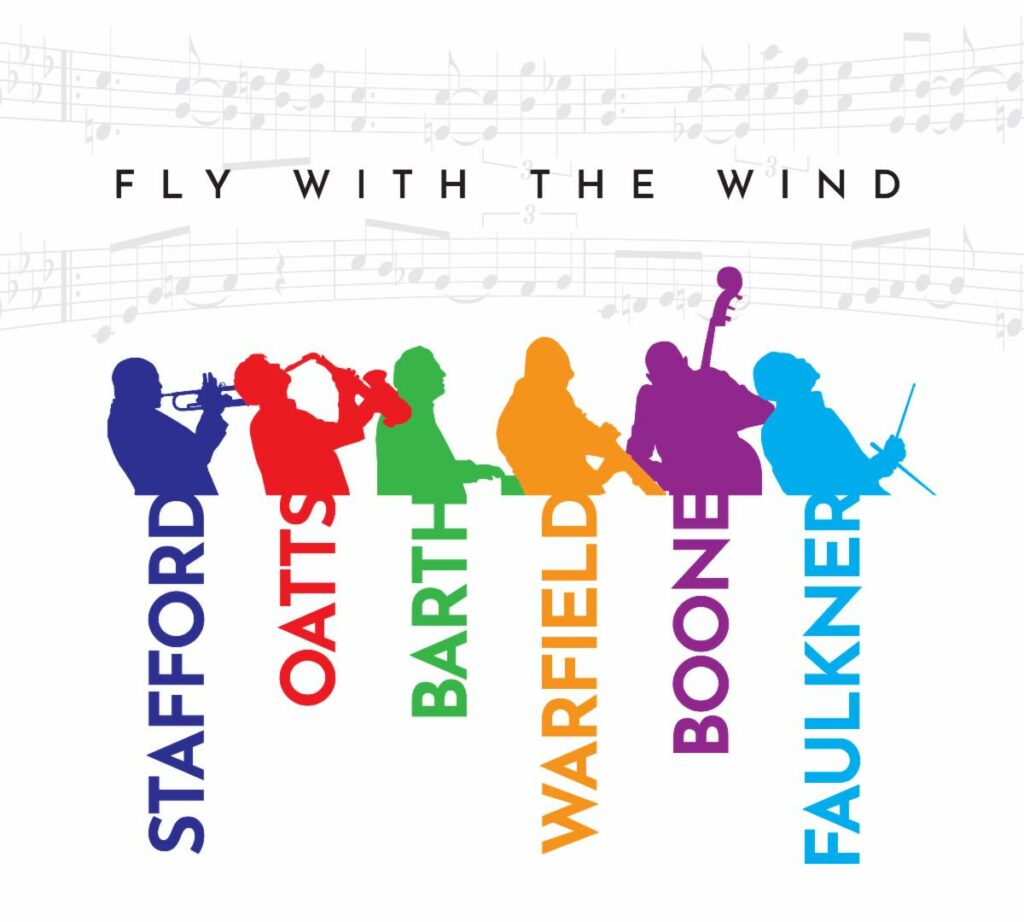 The stellar musicians that make up the jazz faculty of Temple University's Boyer College of Music & Dance take their place in the jazz lineage seriously. While their day job entails shaping the next generation of innovators, they're all renowned players, composers, and bandleaders in their own right. The membership of the Temple Jazz Sextet is such that this would be an all-star group without the renowned school's imprimatur. The fact that trumpeter Terell Stafford, saxophonists Tim Warfield and Dick Oatts, pianist Bruce Barth, bassist Mike Boone and drummer Justin Faulkner unite so vibrantly under the university's banner just goes to prove how important they deem its educational mission.
The group's second release, Fly With the Wind, is a thrilling tribute to the city and its place in that musical history. Due out April 14, 2023, the album features compositions by four of Philly's most iconic jazz figures: Jimmy Heath, John Coltrane, McCoy Tyner, and Lee Morgan. Each tune has been given thoughtful and exhilarating new arrangements by Barth and features inspired playing by all six musicians. The session offers a chance for these brilliant artists to look back at some of the key figures who have shaped their voices as well as the music as a whole.
"For me this album represents the rich tradition of songs written by Philly composers," says Barth, who selected and arranged the four compositions on Fly With the Wind. "I hope we captured the spirit of Philadelphia music. I think the Philly vibe, in terms of the deep feel for the rhythm and the blues and a certain deep soulfulness, comes through in the playing."
Named for the title track from Tyner's string-drenched 1976 Milestone debut, Fly With the Wind also allows the ensemble to bid a loving farewell to two legends close to their hearts who passed away in the last few years. Stafford in particular worked closely with both Tyner and Heath, the latter also being a dear friend and supporter of the Temple jazz program. "Their music still carries on," Stafford eulogizes, "so that helps carry us through their loss."
Heath's "All Members" was recorded by the diminutive saxophonist and his quartet on 1975's Picture of Heath. Barth's arrangement slows the piece down a touch without losing any of its robust swagger. Propelled by the lurching swing laid down by Boone and Faulkner, the tune sparks an incisive solo from Stafford, who the wordplay-loving Heath nicknamed "Staff Inflection." That's followed by Warfield's gritty honk and then Oatts with a more lithe and lyrical turn. Barth's nimble keyboard dance leads into a steely yet understated statement from Boone.
The band's take on Trane's classic "Naima" luxuriates in its languid, aching melody while enveloping it in rich, haunting new harmonies. Warfield's breathy solo may cause listeners to catch themselves holding their breaths in the face of its hushed intimacy, while Boone answers with a heartfelt, elegant beauty.
"Yes I Can, No You Can't" is reprised from Stafford's 2015 tribute to Lee Morgan, BrotherLee Love, which also featured Warfield and Barth. "Sometimes people sleep on what an interesting and sophisticated composer Lee Morgan was," Barth says. "Sure, that tune is a down home, funky 24-bar blues. But when you look closely at the melody it's just so hip and sophisticated." Barth elaborated that melody into three part harmony for the frontline, setting the groove-fueled pace for Faulkner's explosive drum feature.
At more than thirteen minutes, "Fly With the Wind" is the album's breathtaking centerpiece. Announced by a portentous fanfare devised by Barth, the song launches at a relentless pace and never lets up. The passion poured into this performance by all six members of the sextet exemplifies the esteem in which Tyner was held. Barth has long acknowledged the pianist's importance in his own development, paying homage with two earlier compositions of his own: "Blues for Mr. Tyner" on the Temple sextet's previous release, Family Feeling, and "Let's Go" on his most recent solo album, Dedication.
"McCoy played with an intensity that's hard to describe and that we all strive to get to," Barth says. "The power and the depth of his expression came through on the records, but there were a few times hearing him live where it was almost an otherworldly experience."
Barth tailored the solo sections for his bandmates, having Stafford and Oatts play over the changes but then crafting a C Minor vamp for Warfield, unleashing a blistering blowing session that gives away to a pugilistic duet between the saxophonist and Faulkner's thunderous drumming.
Having played with Tyner so often, Stafford was able to get closer to that estimable power than anyone. "To record 'Fly With the Wind' with these guys and create that same energy that I remember from playing with McCoy was unbelievable," he describes.
The camaraderie that Stafford hints at is key to the Temple Jazz Sextet and to the infectious joy that shines through on Fly With the Wind. "The choice of tunes on this album really speaks to my heart," he says, "and of course the guys that play them are all my close colleagues and friends. When you play with your boys, the music is different because you trust them and they trust you. You just want to play because it feels so good."
---
On Sunday, April 16 at 8 p.m., the Temple University Symphony Orchestra, Studio Orchestra and Jazz Band are joined by faculty artists Terell Stafford, Dick Oatts, Bruce Barth, Tim Warfield, Mike Boone and Justin Faulkner to explore an eclectic mix of classical, jazz and crossover music.
This performance features the premieres of Billy Childs' Labyrinth and Bill Cunliffe's Rainforests alongside Argentine composer Alberto Ginastera's energetic Four Dances from Estancia.
Additionally, the Temple University Jazz Band repeats Banks Sapnar's Red Braid from the performance that earned them second place at this year's Jack Rudin Jazz Championship and Stafford, Oatts, Barth, Warfield, Boone and Faulkner perform the title track from Fly With the Wind.
---
Temple Jazz Sextet · Fly With the Wind
BCM&D Records · Release Date: April 14, 2023
For more information on Temple University Boyer College of Music and Dance
please visit: www.temple.edu/boyer

For media inquiries, please contact:
DL Media · ‭(610) 420-8470‬
Don Lucoff · don@dlmediamusic.com
Information and press materials (including album covers, promotional photos 
and bios) on all DL Media artists can be found at our website: dlmediamusic.com
###