Ralph Towner | At First Light

Guitarist Ralph Towner, an ECM Artist for More Than
Five Decades, Releases His Solo Album At First Light
In Addition to New Towner Pieces, At First Light Also Includes His Personal Take on Tunes from Broadway Musicals
Available March 17 on ECM Records
"A convincing case can be made that Ralph Towner is at his finest
in a solo setting." —DownBeat
---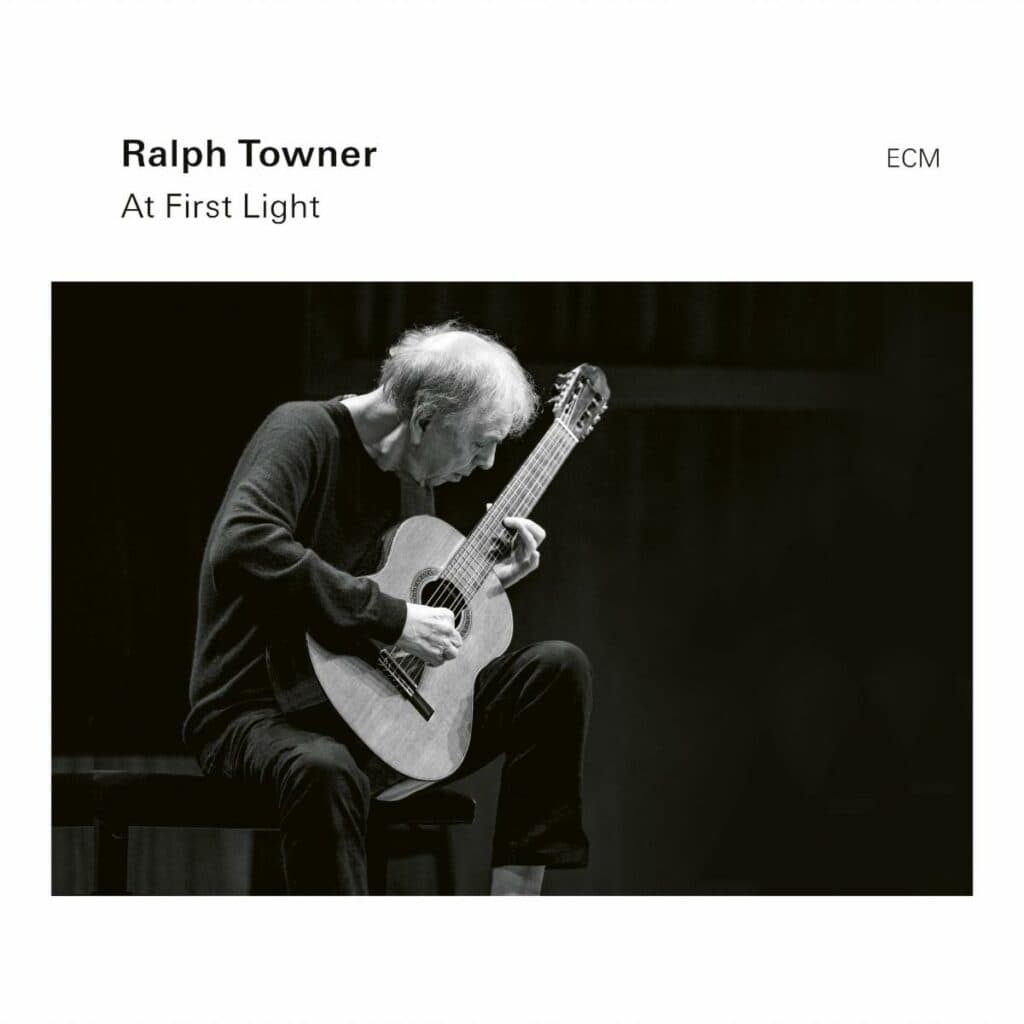 In his liner notes for At First Light, Ralph Towner writes of the singularity of having most of his life's work at one record label. He's been an ECM artist for more than fifty years, appearing in many different contexts, one of the most important being a run of solo recordings which began with Diary in 1973. At First Light is the newest addition to the solo guitar series. "My solo recordings," says Towner, "have always included my own compositions in which there are trace elements of the composers and musicians that have attracted me over the years. Musicians such as George Gershwin, John Coltrane, John Dowland, Bill Evans, to name a few. The blend of keyboard and guitar techniques is an important aspect of my playing and composition, and I feel that this album is a good example of shaping this expanse of influences into my personal music."
Repertoire this time includes, in addition to new Towner pieces, the guitarist's personal take on tunes from Broadway musicals. Hoagy Carmichael's "Little Old Lady"(from The Show Is On), and Jule Styne's "Make Someone Happy" (from Do Re Mi, a piece Bill Evans liked to play) are integrated here, as well as the much-covered Irish traditional air "Danny Boy," which Towner also makes his own. He also looks again at "Guitarra Picante," a piece from the songbook of the band Oregon.
Born into a musical family in Washington in 1940, Towner grew up immersed in classical music, jazz and the popular music of the day. A trumpet player from the age of seven, he took up piano seriously in his teens, in parallel studying composition, then embraced the classical guitar at 22. "I found that it was a very pianistic instrument, capable of sophisticated polyphony and myriad tone colours." He subsequently moved to Vienna to study classical guitar. "My studies involved much renaissance and baroque music which was to play a great part in shaping my writing and performance techniques."
As fellow guitarist Scott Nygaard has noted, "No one else plays guitar like Ralph Towner. And while his compositions often sound 'classical' (combining a fondness for baroque voice leading, Stravinskian harmonies, and odd time signatures with his own strong sense of melody) that's primarily because each piece grows organically and gracefully from an initial idea." Alongside the crucial inspirations from classical music and contemporary composition, Towner has also drawn profound influence from Bill Evans's conception of jazz and also from Brazilian music.
"Over the years I kept on adapting each of these in my own way," Towner has said. "I abstracted them and modified them until the sources were no longer recognizable, and I'd arrived almost without noticing it in an idiom of my own."
Towner's ECM solo albums include Diary, Solo Concert, Ana, Anthem, Timeline and My Foolish Heart.
His extensive discography also includes duet recordings with John Abercrombie (Sargasso Sea, Five Years Later), Gary Peacock (Oracle, A Closer View), Gary Burton (Matchbook, Slide Show), Peter Erskine (Open Letter), and Paolo Fresu (Chiaroscuro). Ensemble albums include Solstice and Sound & Shadows (with Jan Garbarek, Eberhard Weber and Jon Christensen), Batik (with Eddie Gomez and Jack DeJohnette), Old Friends, New Friends (with Kenny Wheeler, David Darling, Eddie Gomez, and Michael di Pasqua), City of Eyes (with Markus Stockhausen, Paul McCandless, Gary Peacock and Jerry Granelli), Lost and Found (with Denney Goodhew, Marc Johnson and Jon Christensen), and Travel Guide (with Wolfgang Muthspiel, and Slava Grigoryan).
Ralph Towner has also contributed to albums by Keith Jarrett (In The Light), Jan Garbarek (Dis), Kenny Wheeler (Deer Wan), Egberto Gismonti (Sol do meio dia), Arild Andersen (If You Look Far Enough) and Azimuth (Départ). Since 1970, Towner has co-led the group Oregon, whose ECM recordings include the eponymously-titled Oregon and Ectopia. Ralph's very first ECM recording, Trios/Solos, also featured Oregon members Glenn Moore, Collin Walcott and Paul McCandless.
At First Light was recorded at Lugano's Auditorio Stelio Molo RSI in February 2022, and produced by Manfred Eicher.
---
Ralph Towner · At First Light
ECM · Release Date: March 17, 2023
For more information on ECM, please visit:
ECMRecords.com | Facebook | Instagram | Twitter
For media inquiries regarding other ECM titles, please contact:
DL Media · 347-489-5894
Jon Solomon · jon@dlmediamusic.com
Don Lucoff · don@dlmediamusic.com
For the Preferred Artist
Information and press materials (including album covers, promotional photos
and bios) on all DL Media artists can be found at our website: dlmediamusic.com
###