Joe Lovano Trio Tapestry | "Our Daily Bread" | ECM

Joe Lovano's Trio Tapestry Extends its Spacious and Lyrical Approach, With Deep Listening and Intense Focus
on its Third Album, Our Daily Bread
Featuring Pianist Marilyn Crispell and
Drummer Carmen Castaldi
"Look elsewhere for swing, torrents of notes or chord changes. There is momentum to the music, however, as the trio pushes jazz forward, using silence as an instrument to build space between the players and what they play. The result is a set of tunes that float, undulating and unhurried, creating a mood of reflection but also liberation."
"Once again joined by pianist Marilyn Crispell and drummer Carmen Castaldi, Lovano doesn't so much improvise with his bandmates as commune with them, crafting songs that have the atmosphere of a dark room meditation and other times the quiet warmth of a friendly front porch conversation." — AllMusic
---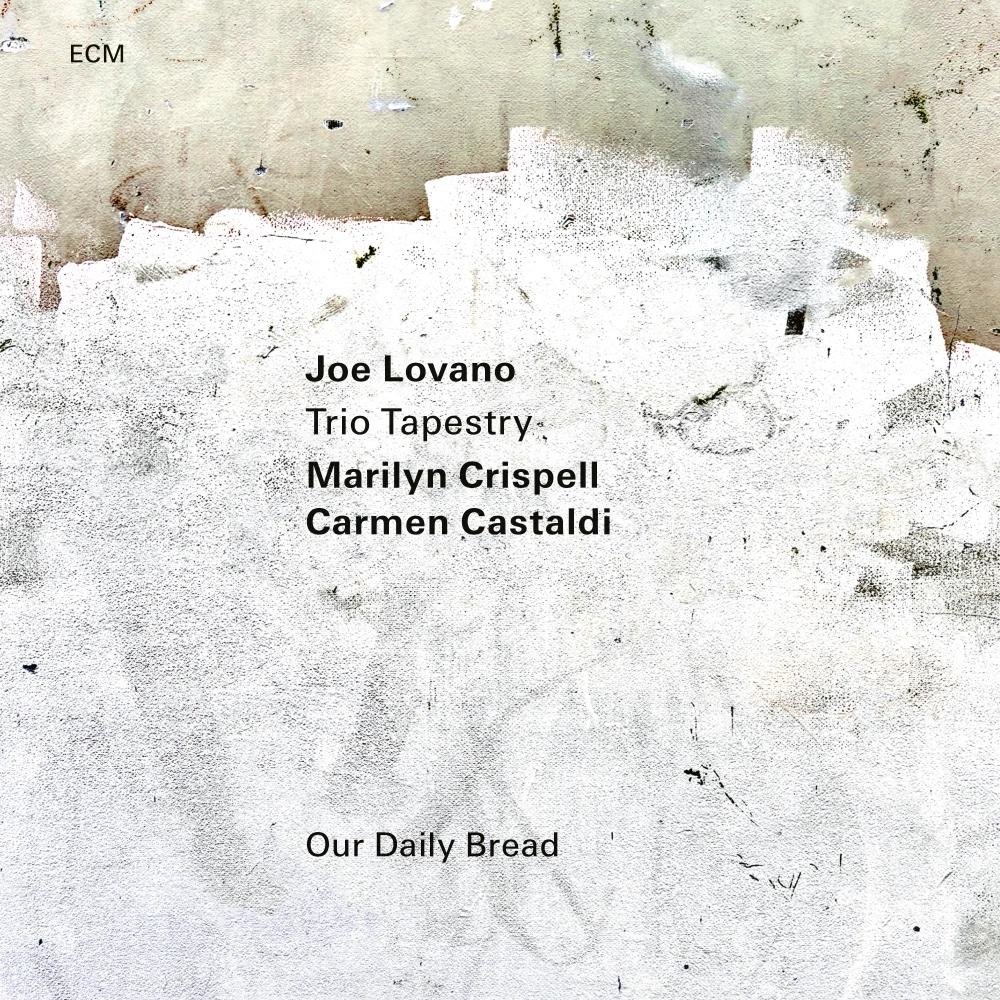 The third album from Joe Lovano's Trio Tapestry extends its spacious and lyrical approach, with deep listening and intense focus. "Our Daily Bread is fueled by the rhythm spirit of expression that projects the mysterious world of music that lies ahead," says master saxophonist Lovano in his liner note, addressing his elegantly fluid pieces and imploring ballads. In the course of his long life in jazz, Joe Lovano has addressed the full range of the music, playing in-the-tradition and beyond it. Trio Tapestry, with Marilyn Crispell and Carmen Castaldi, is a vehicle for some of his most personal work. As Joe has emphasized: "This is not a band that starts from the beat. The momentum is in the melody and the harmonic sequence. And rhythm evolves within each piece in a very free flowing manner."
"The intensity comes not from ferocity but from depth of feeling," wrote the BBC Music Magazine of the group's debut. "Lovano's themes and harmonies provide rich potential which the trio realises beautifully, exploring texture and mood as fruitfully as it develops melody and harmony."
As with the previous two albums with Marilyn Crispell and Carmen Castaldi – Trio Tapestry and Garden of Expresssion, recorded in 2018 and 2020 respectively – Lovano wrote the pieces for Our Daily Bread specifically for this trio, whose character becomes ever clearer. As Joe says, "I bring in the material, but there is an equal weight of contribution, creating music within the music…" Trio Tapestry's frame of reference is broad, the album's opening piece "All Twelve" situating the interaction within a 12-tone context. Title piece "Our Daily Bread," meanwhile, and "Grace Notes," yearning in their expression, seem to draw from the spiritual well that nourished Coltrane.
Marilyn Crispell again proves to be the optimal pianist for this music, orchestrating it as it unfolds with a sensibility attuned to both contemporary chamber music and the multiple possibilities of improvising in the post-free era. Wolfgang Sandner once wrote of Crispell, "she can linger on the beauty of a single note and develop an infinitude of melodies from a single chord." And as long ago as the 1970s Cecil Taylor predicted that Marilyn would "spearhead a new kind of lyricism in jazz," a process that she continues to redefine.
Lovano first encountered Marilyn Crispell when she was a member of Anthony Braxton's quartet, negotiating sound, space and silence in new ways. The pianist has a considerable ECM discography as a bandleader and soloist in her own right with acclaimed recordings including Nothing Ever Was Anyway, Music of Annette Peacock (recorded 1996) Amaryllis (2000), Storyteller (2003), Vignettes (2007), One Dark Night I Left My Silent House (2008), and Azure (2011).
Enigmatic drummer Carmen Castaldi, an exceptionally subtle percussionist, embellishes Lovano's pieces with his own poetic touch on cymbals and, like Joe himself, periodically draws blossoming resonances from gongs. Castaldi's association with Joe Lovano goes back to teenage years in Cleveland. In addition to his contributions to Trio Tapestry and Garden of Expression, Carmen can be heard on Joe's Viva Caruso album of 2002 (Blue Note).
Midway through the programme, Lovano delivers the bluesy "One for Charlie" as a solo tenor tribute to Charlie Haden, investing every note with meaning, as the tune's dedicatee once did. Lovano and Haden played together in multiple contexts over the years, from Charlie's Liberation Music Orchestra to Paul Motian's On Broadway formations. It was with Motian that Lovano first appeared on ECM, joining the drummer in time for Psalm in 1981 in a quintet line-up that also included Bill Frisell. With It Should've Happened A Long Time Ago (1984) the long-running Motian/Lovano/Frisell trio was established, among the many documentations of it are the albums I Have The Room Above Her (2004) and Time and Time Again (2006).
Joe Lovano, together with Danish guitarist Jakob Bro, has celebrated Motian's musical legacy and influence on the album Once Around The Room. Other recent ECM recordings with Lovano have included new collaborations, with the Polish Marcin Wasilewski Trio on Arctic Riff, and with Italian trumpeter Enrico Rava on Roma.
Our Daily Bread was recorded at Lugano's Auditorio Stelio Molo in May 2022 and produced by Manfred Eicher.
---
Joe Lovano Trio Tapestry · Our Daily Bread
ECM · Release Date: May 5, 2023
For more information on ECM, please visit:
ECMRecords.com | Facebook | Instagram | Twitter
For media inquiries regarding other ECM titles, please contact:
DL Media · 347-489-5894
Jon Solomon · jon@dlmediamusic.com
Don Lucoff · don@dlmediamusic.com
For the Preferred Artist
Information and press materials (including album covers, promotional photos
and bios) on all DL Media artists can be found at our website: dlmediamusic.com
###