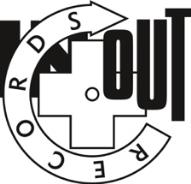 IN+OUT Records Continues its Vinyl Release Program with Reissues by Ron Carter & Richard Galliano, Larry Coryell, Roberta Gambarini and Paul Kuhn
All Four Albums, Which are Available Now, are Made with 180-gram Black Virgin Vinyl and Pressed at Germany's Premium Pressing Plant Optimal Media
Albums Include High Quality Glossy Finished Gatefold Covers and Poly-lined and Printed Inner Sleeves
Mastered at Organic Studio in Germany
by Thorsten Scheffner
Some Albums Released as Limited Audiophile Signature Edition: Original Signature by Artist, Hand-numbered, Limited to 999 or 1999 Copies Worldwide
---
Legendary bassist Ron Carter and French accordion master Richard Galliano first collaborated in 1990 on the album Panamanhattan. They teamed up again on An Evening With, where Galliano's fingers fly over the keyboard with acrobatic ease and can make the instrument weep in melancholy or rejoice with joy. The American bass wonder, whose deeply tuned strings enhance more than 2,500 recordings and are among the cornerstones of the complete
artistic works of Miles Davis, Eric Dolphy, Archie Shepp, Herbie Hancock, Aretha Franklin, Roberta Flack and Antonio Carlos Jobim.
Audiophile Edition
Ron Carter – bass
Richard Galliano – accordion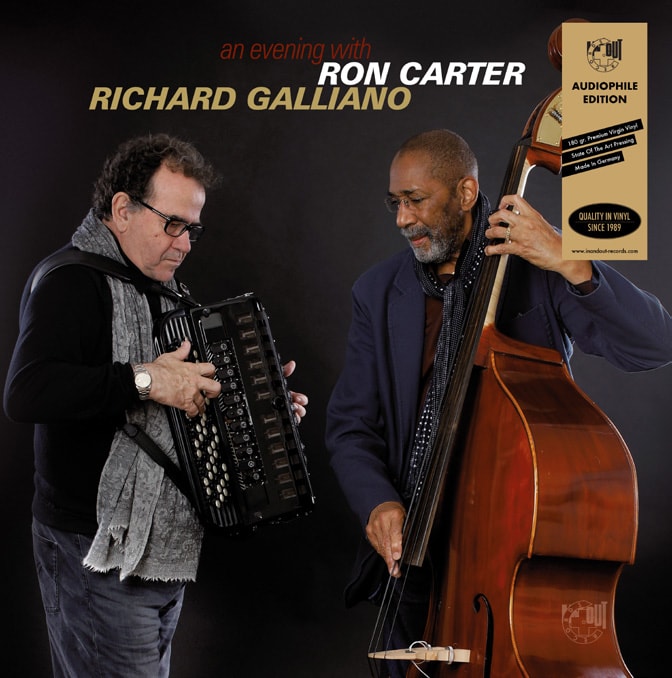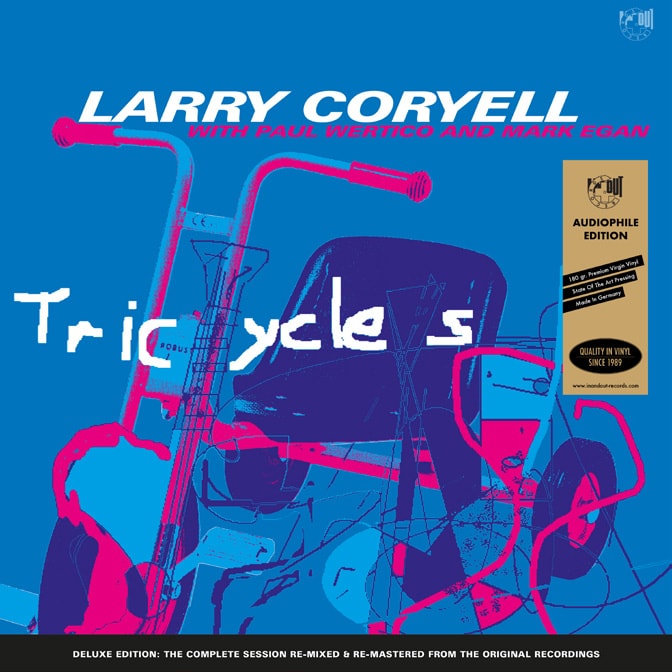 A milestone in the discography of Larry Coryell. Remixed and remastered from the original tapes exclusively for the Deluxe Edition by sound engineer Winnie Leyh, who has played a major role in the excellent sound of numerous IN+OUT releases. When a jazz trio in the worst possible physical condition manages an outstanding studio session, they must be exceptional musicians. Flu-ridden, Larry Coryell, Mark Egan and Paul Wertico completed their autumn tour of stormy Europe in 2002 and finally found themselves in a studio near Frankfurt to record this album.
Deluxe Edition was remixed and remastered from the original recordings and includes two previously unreleased bonus tracks.
Larry Coryell – guitar
Mark Egan – bass
Paul Wertico – drums
IN+OUT Records releases this masterpiece – Gambarini´s debut album – for the first time on vinyl in a Limited Audiophile Signature Edition. With a lyrical singing style which shows commitment to the heritage of Monk, Gillespie and Benny Carter, she delights us with her début album, Easy to Love, recorded in L. A.
Limited Audiophile Signature Edition is hand-numbered, artist signed, limited to 1999 copies worldwide and includes two bonus tracks.
Roberta Gambarini – vocals
James Moody – tenor sax & vocal
Tamir Hendelman – piano
Gerald Clayton – piano
John Clayton – bass
Chuck Berghofer – bass
Willie Jones III – drums
Joe La Barbera – drums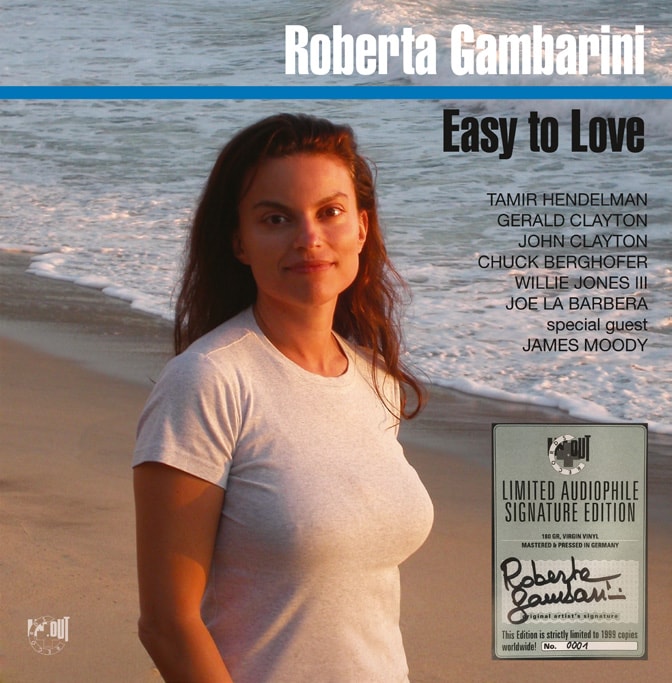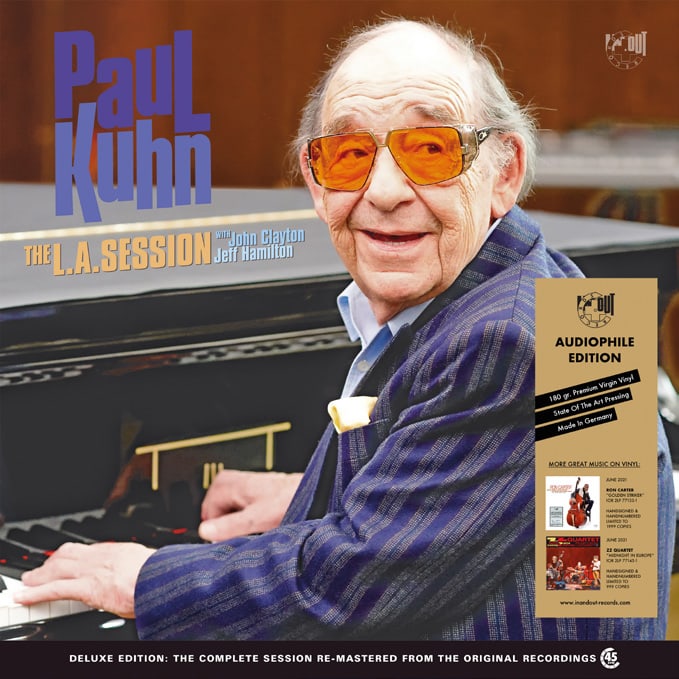 For his 85th birthday, on March 12th, 2013, Paul Kuhn granted himself the fulfillment of a long-lasting dream: In November 2011 he
travelled to the legendary Capitol studios in L.A. where he was taken care of by the sevenfold Grammy award-winner Al Schmitt, sound engineer for Henry Mancini's "Breakfast At Tiffany's" as well as for George Benson and Ray Charles, to name but a few. In this magical place, Kuhn sang into the same microphone as Frank Sinatra had once done and was backed by drummer Jeff Hamilton and bassist John Clayton, who were then working with Diana Krall.
Deluxe Edition: The Complete Session re-mastered from the original recordings.
Paul Kuhn – piano, vocals
John Clayton – bass
Jeff Hamilton – drums
IN+OUT RECORDS
One of Germany's most enterprising and acclaimed Independent Jazz Labels, IN+OUT RECORDS, has an exemplary reputation as a producer of jazz recordings of the highest musical and technical quality.
The objective of the label, which was founded in the university city of Freiburg in 1988, is to produce sound and video recordings of innovative contemporary jazz music using state-of-the-art technology. The company, was named after a 1964 Blue Note album by Joe Henderson, for which IN+OUT managing director, Frank Kleinschmidt, has an abiding affection. IN+OUT aims high and, to judge from the critical response to its output to date, both in terms of the sound quality of its recordings and the musical content, it is succeeding in achieving its aim.
AUDIOPHILE EDITION
IN+OUT Records is one of the few record companies today still producing high quality vinyl albums as a special service to LP enthusiasts. These state-of-the-art audiophile pressings are produced in a limited edition and pressed on premium vinyl – 30% thicker than the regular LP disc. Costing a little more than ordinary vinyl LPs, these audiophile recordings are being released in response to the significant number of jazz record collectors who retain a preference for the traditional LP format while expecting the highest standards of reproduction quality. These unique LPs are specially manufactured for IN+OUT Records by companies in Germany which have a peerless reputation for excellent quality, built up over half a century.
MVD ENTERTAINMENT GROUP
Exclusive distribution in North America by the MVD Entertainment Group. MVD is a full service music and movie distribution firm, exclusively representing thousands of audio and visual products for DVD, Blu-ray, CD, vinyl, and digital rights, worldwide.
---
For more information on IN+OUT Records, please visit:
www.inandout-records.com | Facebook
For media inquiries, please contact:
DL Media · 610-420-8470
Don Lucoff · don@dlmediamusic.com
For the Preferred Artist
Information and press materials (including album covers, promotional photos and bios)
on all DL Media artists can be found at our website: dlmediamusic.com
###