GIG ALERT: Jazz Guitar Virtuoso Pasquale Grasso Performs with Singer Samara Joy in Denver on August 5

Guitar Virtuoso Pasquale Grasso Performs with
Rising Star Vocalist Samara Joy at Dazzle on August 5
Grasso Pays Tribute to Bird and Diz on His New Album, Be-Bop!, which Includes "A Night in Tunisia," "Shaw 'Nuff," "Ruby, My Dear," "Quasimodo" and "I'm in a Mess," Featuring Samara Joy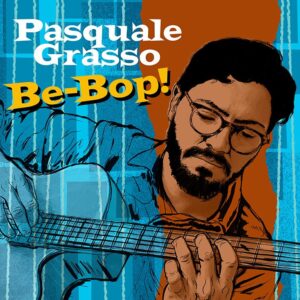 ---
Guitar virtuoso Pasquale Grasso and his trio perform with vocalist Samara Joy, who won the Sarah Vaughan International Jazz Vocal Competition in 2019, at Dazzle in Denver on Friday, August 5. Performances are at 7 and 9:30 p.m.
Following the extraordinary success of
Grasso
's digital showcase series, which launched in 2019 and includes 
Solo Standards
, 
Solo Ballads,
Solo Holiday
, and tributes to jazz royalty Thelonious Monk, Charlie Parker and Bud Powell, Sony Music Masterworks released 
Be-Bop!
, a brilliant new tribute to be-bop pioneers Dizzy Gillespie and Charlie Parker – 
available now
.
Be-Bop!
kicks off in exhilarating fashion with Dizzy's quintessential composition, "A Night in Tunisia," originally composed in 1942 when he was a member of Benny Carter's band and which marked the beginning of Gillespie's unique blending of Afro-Cuban rhythms with American jazz. Grasso achieves an astonishing balance of technical wizardry and swing, sounding like two guitarists coming out of the gate on the challenging head on top of the syncopated Latin rhythm. And his fleet-fingered solo break at the 1:03 mark is in the breathtaking tradition of Charlie Parker's famous alto sax break from his 1946 Dial recording of the tune. Pasquale's stream of single notes that follows for the next two minutes in his solo is even more astounding, brimming with rare facility and abandon to match his fertile imagination. Roland also turns in an animated bowed bass solo here while Balla engages in some slick trades with the leader near the end of the piece. Finally, catch Grasso's brief dazzling quote from one of Paganini's Caprices (the extremely difficult No. 24 in A minor) in the coda.
Listen here
.
Backed by his working trio of bassist Ari Roland and drummer Keith Balla, the trio is in sync through super-up-tempo, challenging fare like "Groovin' High," "Cheryl," "Ornithology," "Be-bop" and "Shaw 'Nuff."
Special guest vocalist Samara Joy, who has been collaborating with Pasquale since 2020, appears on one track, the jivey mid-tempo swinger "I'm in a Mess" (originally sung by Joe Carroll on Gillespie's 1951 album, School Days). "She's incredibly talented and I'm happy to perform with her night after night," Grasso said. "We're having a lot of fun together."
ABOUT PASQUALE GRASSO
Born and raised in Ariano Irpino in Southern Italy's Campania region, Grasso relocated to New York City in 2009 and has since been wowing audiences with regular appearances at Mezzrow, Smalls and The Django, where he has showcased his tremendous command of the fretboard by freely moving between single notes, chords and independent bass lines while flashing Art Tatum-esque filigrees with uncanny speed and precision. "Since I was a little kid, I always had this sound in my head, then slowly it's coming out," he explained. "I was never too much influenced by guitar players, for some reason. I grew up listening to Art Tatum, Bud Powell and Thelonious Monk. Those were my guys. For guitar, I always liked Charlie Christian and Oscar Moore, but I never really listened to too much guitar players. Of course, when I hear Barney Kessel and Chuck Wayne and Jimmy Raney, I love them. They're all great artists but they never really got me when I was a kid. I was more into Bird and Bud, Dizzy Gillespie, Roy Eldridge and Louis Armstrong. So I was always more influenced by horn players and piano players than guitar players."
In 2015, Pasquale won the Wes Montgomery International Jazz Guitar Competition in New York City, including performing with guitar legend Pat Martino's organ trio. Grasso was subsequently signed to an exclusive deal with Sony Masterworks, which led to his initial series of digital releases in 2019. Working with the simpatico rhythm tandem of Roland and Balla again, the great guitarist takes things up a notch on Be-Bop!
"Obviously, I think the older you get the more you understand," Grasso said. 'When you're in your twenties, you just want to play everything you know. But over time, you realize that music is not about that — it's about telling a story and making somebody feel certain emotions. I love Lester Young for that. That's the beauty of music."
BE-BOP!
TRACKLIST –
1. A Night in Tunisia
2. Be-Bop
3. Ruby, My Dear
4. Shaw 'Nuff
5. I'm in a Mess – featuring Samara Joy
6. Cheryl
7. Ornithology
8. Quasimodo
9. Lamento Della Campagnia
10. Groovin' High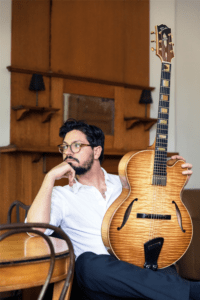 APPROVED PRESS SHOT (CREDIT STEFANIA CURTO)
Sony Music Masterworks comprises Masterworks, Sony Classical, Milan Records, XXIM Records, and Masterworks Broadway imprints. For email updates and information please visit www.sonymusicmasterworks.com/.
---
Pasquale Grasso | Be-Bop!
Sony Music Masterworks | Release Date: June 17, 2022
For more information on Pasquale Grasso please visit:
For more information on Sony Music Masterworks please visit:
For media inquiries, please contact:
DL Media · ‭(610) 420-8470‬
For the Preferred Artist
Information and press materials (including album covers, promotional photos
###