Eric Reed | "Black, Brown, and Blue" | Available March 10 via Smoke Sessions Records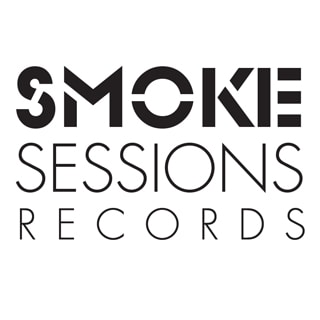 Pianist/Composer Eric Reed Celebrates the Music of Black and Brown Composers on His Deeply Personal
New Album Black, Brown and Blue
The Album, Due Out March 10, 2023, on Smoke Sessions Records, Features a Brilliant New Trio with Bassist
Luca Alemanno and Drummer Reggie Quinerly
---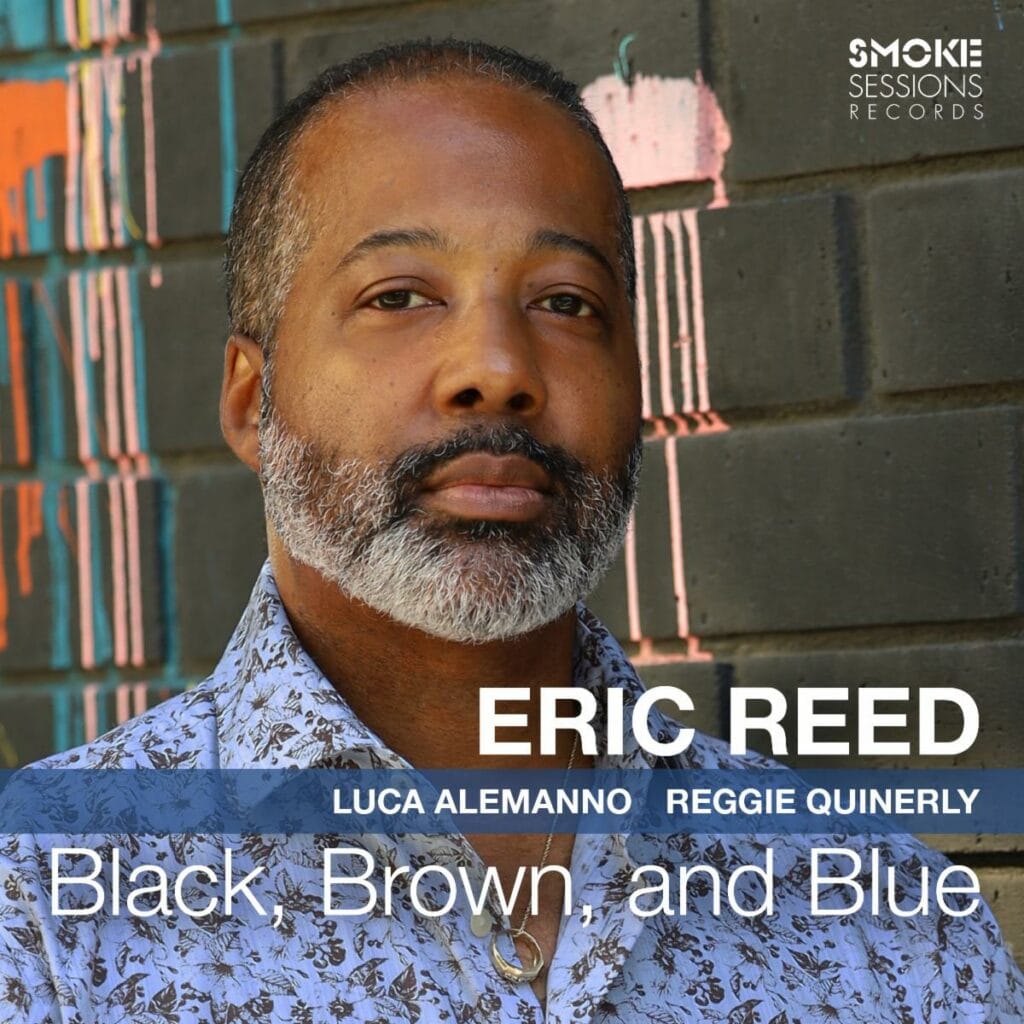 Stream Tracks from Black, Brown, and Blue
---
Think of the songwriters whose work comprises the canon of jazz standards, and names like George Gershwin, Richard Rodgers, Irving Berlin, and Cole Porter immediately come to mind. On his new album, Black, Brown, and Blue, pianist/composer Eric Reed argues for a revision of that canon to focus on Black and Brown composers, songwriters whose work originates within the jazz realm rather than on the Broadway stage.
Due out March 10, 2023, via Smoke Sessions Records, Black, Brown, and Blue features music written by jazz masters like Duke Ellington, Thelonious Monk, McCoy Tyner, Wayne Shorter, Benny Golson, Horace Silver, Buddy Collette, and Buster Williams, along with jazz-conversant pop/R&B songwriters Stevie Wonder and Bill Withers. In addition, Reed and his bandmates on this thrilling session – bassist Luca Alemanno and drummer Reggie Quinerly – each contribute a new piece of their own.
"Historically, many of the contributions and works of Black and Brown people have either been destroyed, devalued, or appropriated," Reed writes in his liner notes. As he elaborates, "There has been a back-and-forth battle with regard to who controls the music, who runs the music, who sells the music, and what it should sound like. It basically comes down to a lack of representation."
Reed points to the early stages of his own career when he was a member of that highly touted generation known as the "Young Lions." Without dismissing the music created during that period, which he acknowledges was executed by a staggeringly talented group of artists, he regrets the narrow stylistic vision and the carefully controlled image that he was "coerced" to present to audiences. "There was an agenda to create a narrative around jazz that was far too often skewed and extremely antagonistic," he says.
"When I first started my path in this music, it was under a different, very revisionist type of energy. Where I am now in my life, I'm only concerned about conveying the most personal and heartfelt ideas through my music. I've found myself becoming so much more open."
That openness extends beyond the realization of Reed's musical choices and into his personal life. Black, Brown, and Blue marks the first album that he has recorded while being completely open about his bisexuality, resulting in what he calls his most "autobiographical" release to date.
"It's time for me to just go ahead and be completely authentic in every aspect of my life," he insists. "That includes, but is not limited to, being more open about my sexuality and proactively moving into spaces connected with the LGBTQ+ community. I think that would have happened in spite of the political climate in this country and the pandemic, but it's been hurried along.Those aspects of my life were becoming more bold and more broad, and I could no longer keep them on the margins."
There's nothing about the choice of material or the performances on Black, Brown, and Blue that mark it explicitly as a "coming out" record or a political manifesto. What shines through on these performances is the deep well of emotion and feeling that Reed mines in his playing, his expression, and his ability to communicate on a profound level with his new trio.
Reed points to the example of Art Blakey, Betty Carter, and Elvin Jones, all jazz giants who also took seriously their roles as mentors, as models for his new band with Alemanno and Quinerly. "Working with my peers is wonderful," the pianist says. "But after a certain point, just like in any relationship, the growth begins to diverge. Art constantly moves, and I know that if I invest my time in younger musicians, they'll be able to absorb that experience and carry it further."
Reed's solo improvisation "Black, Brown, and Blue" opens the album of the same name, providing a free-flowing thesis statement that touches on myriad aspects of the tradition from which the pianist draws while being a lively depiction of his singular voice. Despite his complicated relationship with the church in which he was raised, Reed had scripture in mind while playing the piece – specifically, Hebrews 12:1, which alludes to "such a great cloud of witnesses."
"As I was playing I was envisioning that cloud of witnesses looking down and cheering me on," Reed explains. "I could see my family and neighbors, and all the people I've admired: Art Blakey, Betty Carter, Gerald Wilson, Dexter Gordon, Harold Mabern, my good friend Mulgrew Miller. My father. I could see their faces and I could feel their validation. I could sense themseeing me and encouraging me to keep on going."
Reed's roots in the gospel church also come to the fore on two vocal pieces on the album, both of which feature acclaimed gospel singers. Bill Withers' "Lean on Me" features veteran minister and vocalist Calvin B. Rhone, a mentor to Reed whom the pianist met while still a teenager. David Daughtry, whose soaring voice graces Stevie Wonder's classic "Pastime Paradise," is a singer of traditional and contemporary gospel, actor, and worship leader at West Angeles Church of God in Christ in Los Angeles.
It was important to Reed that Alemanno and Quinerly be represented as composers as well as musicians on the album, scorning the term "sideman" as reductive. The bassist contributes the tender "One for E," while Quinerly provides the yearning ballad "Variation Twenty-Four."
The remainder of the album comprises jazz favorites given Reed's own individual twist. Monk's "Ugly Beauty" takes on a fox-trot feel, while Wayne Shorter's "Infant Eyes" shifts to a gospel-inflected dirge. Ellington's "I Got It Bad and That Ain't Good" wallows in the deepest of blues feeling and Benny Golson's "Along Came Betty" is brisk and optimistic. Buddy Collette's "Cheryl Ann" and Smoke Sessions labelmate Buster Williams' "Christina" offer two gorgeous and wistful portraits. Reed pairs McCoy Tyner's "Search for Peace" with Horace Silver's "Peace," quoting Ornette Coleman's own "Peace" at the conclusion of the latter to complete a triptych of hope for the future.
Reed calls Black, Brown and Blue, "the culmination of my life thus far. I'm freer than I've ever been in my personal life, and I'm freer than I've ever been in my music. I'm accepting who I am. I love who I am. And as I continue to evolve – my artistry, my sexuality, and my overall humanity – my music will continue to become more and more personal."
---
Eric Reed · Black, Brown, and Blue
Smoke Sessions Records · Release Date: March 10, 2023
Catalog Number: SSR-2302
For more information on other Smoke Sessions Records releases, please visit:
SmokeSessionsRecords.com | Facebook | Instagram
For media inquiries, please contact:
DL Media · ‭(610) 420-8470‬
Don Lucoff · don@dlmediamusic.com
Roberta Lawrence · roberta@dlmediamusic.com
For the Preferred Artist
Information and press materials (including album covers, promotional photos and bios)
on all DL Media artists can be found at our website: dlmediamusic.com
###