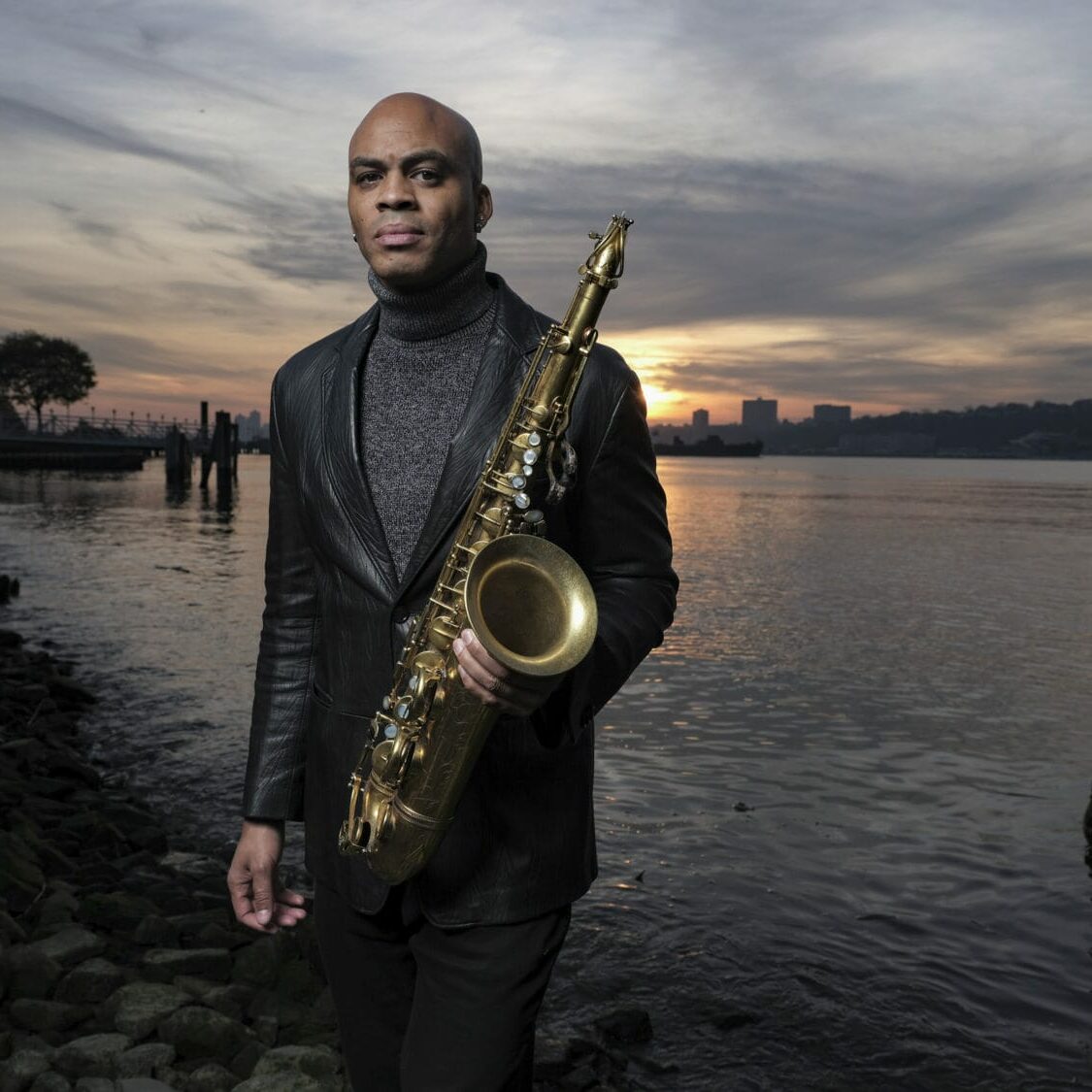 Saxophonist Wayne Escoffery is renowned for his fiery, muscular and virtuosic tenor playing, but his explosive sound is paired with a soft-spoken and thoughtful demeanor off the bandstand. In many cases both of those aspects of his personality can be credited to the same inspirations, giants of the music who paired estimable talents and imagination with rock-solid integrity.
On his latest album, The Humble Warrior, Escoffery pays homage to those figures with his most ambitious and wide-ranging set to date. While Escoffery himself strives to represents the tenets of a Humble Warrior, it would be easy for him to act otherwise given his stand-out career and ample accolades. A Grammy Award and DownBeat Critics Poll winner, he has performed with a who's who of jazz including Herbie Hancock, Ron Carter, Abdullah Ibrahim, Al Foster, Billy Hart, Eddie Henderson, Wallace Roney and others. He has been a member of the Mingus Dynasty, Big Band and Orchestra since 2000 and toured and recorded with Tom Harrell for over a decade. In addition to his Quartet, Escoffery co-leads the Black Art Jazz Collective along with other leading voices of his generation and the next.
The Humble Warrior marks Escoffery's leader debut for Smoke Sessions Records, where he's previously recorded with the trombonist Steve Davis. The album features the return of Escoffery's stellar quartet featuring pianist David Kikoski, bassist Ugonna Okegwo and drummer Ralph Peterson. Trumpet great Randy Brecker and guitarist David Gilmore supplement the band for Escoffery's breathtaking arrangement of Benjamin Britten's Missa Brevis in D.
That piece of unexpected repertoire is a way of bringing Escoffery's own story full circle. As influential as the "Humble Warriors" to whom the album is dedicated have been on the saxophonist's musical life, he looks back at his early experience as a member of the Trinity Boys Choir in New Haven, Connecticut as foundational to that existence. A native of London, England, Escoffery and his mother had moved often immigrating to the United States before finally settling in New Haven where she took a job at Yale University.
Since 2016, Escoffery accepted a position at the prestigious institution as Lecturer of Jazz Improvisation and ensemble coach, teaching in the same room where he took his first saxophone lesson. But his love of music was born from singing with the city's renowned choir and contributed to the lyrical and singing quality that always accompany his sterling virtuosity. It also introduced him to an aural tradition of musical education that carried through into his studies with the legendary Jackie McLean. The Britten piece was one of his favorites, and now represents a time when he was discovering himself as a person and as a musician.
"The Missa Brevis was one of the most beautiful pieces that we performed," he recalls. "Those beautiful but intricate melodies always stuck with me."
To parallel the three-part harmony of the original, Escoffery enlisted Brecker and Gilmore to add their voices to the mix, while his 11-year old son Vaughn provides angelic vocals for the "Benedictus" – significantly, Escoffery was the same age when he joined the Trinity Boys Choir.
The Humble Warrior opens with one of two Escoffery originals on the album, which was inspired by his return to Yale. Born from his interactions with his students, "Chain Gang" is the saxophonist's imagining of a modern-day work song. To trace the roots of jazz and the blues back to their origins, he plays students samples of work songs and field hollers sung by enslaved people and incarcerated field workers. "Chain Gang" was inspired by musicologist Alan Lomax's recording of the work song "I Be So Glad When the Sun Goes Down," sung by Ed Lewis and a group of prisoners at the infamous Parchman Farm.
It's telling that on an album that stretches out in so many bold directions, Escoffery chooses to dedicate the date to those who have gone before. As inspiration, he cites such personal mentors as Mulgrew Miller, James Williams and Jackie McLean, but also those peers and forebears who have passed on – many far too soon – in recent years.
"We lost a lot of really great musicians in 2018 and 2019," he says. "People like Roy Hargrove, Harold Mabern, Larry Willis, Richard Wyands, Lawrence Leathers, and, most recently, Jimmy Heath. I would describe all of those musicians as Humble Warriors. I have a lot of admiration and respect for them; they were all great warriors of the music but always allowed the music to keep them humble. They all exemplified the utmost humility and integrity despite their superior abilities. I hope to maintain those same traits in my musical endeavors."
The title track, Escoffery's other composition for the album, amply illustrates that concept, simmering with a latent strength but shot through with a steely nobility. It also showcases, as does The Humble Warrioras a whole, the profound cohesiveness and depth of feeling shared by Escoffery with his bandmates. While he shares relationships stretching back at least two decades with each of them, the quartet came together in 2016, when Escoffery decided that his 40th birthday would be the occasion to form his ideal band, one that he could evolve with in the years to come.
"We're a strong unit," he says. "We know each other's playing backwards and forwards because we've played together in so many different contexts. It's a real band, and one that pushes me to different places. I like strong personalities with a lot of power, but I also like maturity."
The quartet certainly embodies those factors, as Escoffery purposely chose collaborators who all have more years of experience than his own. He and Okegwo toured the world with the brilliant trumpeter Tom Harrell for a decade, and both have performed in bands led by Peterson. Kikoski and Escoffery have shared the stage countless times under the auspices of the Mingus Big Band.
The band is at its most elegant on the little-known ballad "Quarter Moon," a composition by pianist Gildo Mahones originally recorded by saxophonist Charlie Rouse. Familiar from his indelible association with Thelonious Monk, Rouse remains an under-sung pioneer but one that Escoffery cites as a primary influence. Another hero, George Cables, is responsible for the laid-back "AKA Reggie," which Escoffery and Okegwo performed with the pianist as a trio. Okegwo composed the airy, sinuous "Undefined," which features some of the band's most dazzling playing, while Kikoski offers the blistering finale, "Back to Square One."
The Humble Warrior finds Wayne Escoffery coming full circle, returning to where his musical life began, and fulfilling the promise of the talented young boy who got his start in New Haven and at Yale. He's the teacher now, instead of the student, guiding a new generation of musicians to become stronger improvisers with a deeper appreciation of the art, while setting a new artistic standard for himself with the powerful set of music contained herein.
Wayne Escoffery | "Like Minds" | Available Today via Smoke Sessions Records

-

Saxophonist/Composer Wayne Escoffery Celebrates the Chemistry Shared by His Closest Musical Collaborators on Like Minds Available Today on Smoke Sessions Records, Like Minds Features Gregory Porter, Tom Harrell and Mike Moreno Joining Escoffery's Quartet with David Kikoski, Ugonna Okegwo and Mark Whitfield, Jr. Album-Release Shows at Smoke Jazz Club Thursday, April 20 Through Sunday, April 23 "Like…

Wayne Escoffery | "Like Minds"

-

Saxophonist/Composer Wayne Escoffery Celebrates the Chemistry Shared by His Closest Musical Collaborators on Like Minds Due Out April 14, 2023, on Smoke Sessions Records, the Album Features Gregory Porter, Tom Harrell and Mike Moreno Joining Escoffery's Quartet with David Kikoski, Ugonna Okegwo and Mark Whitfield, Jr. It's often said that great minds think alike, but…

Smoke Sessions Records Celebrates Great Artistry in 2020

-

Smoke Sessions Records Celebrates Great Artistry in 2020 with Releases by Late Harold Mabern, Wayne Escoffery, Orrin Evans Captain Black Big Band, Bobby Watson, Eddie Henderson, Joe Farnsworth, Peter Bernstein, and Eric Reed 2021 Kicks Off with Albums From Greg Skaff with Ron Carter and Tootie Heath; Vincent Herring with Cyrus Chestnut, Johnathan Blake, Yasushi Nakamura…