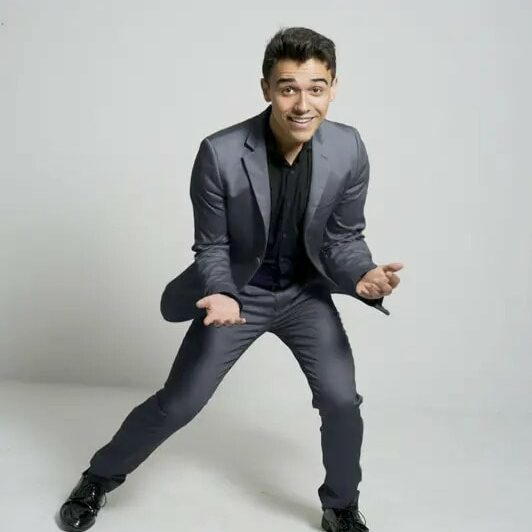 At just 25 years old, singer Tommy Ward is already a veteran entertainer. Born in Houston and raised in Las Vegas, he found himself working alongside seasoned performers by the time he was 16, while at 17 he and his band became one of the youngest opening acts in Vegas history. He's also garnered more than 10 million views on social media, finding a modern audience for his vintage sound. No less a music industry icon than Quincy Jones took the young singer under his wing, hailing Ward as "the epitome of great music."
With his new EP, From This Moment On, Ward sets forth on a new chapter. Due out July 16 via Le Coq Records, the vocalist that many have compared to Frank Sinatra and Michael Bublé asserts himself as a torchbearer for the legendary crooners and musicians who have inspired him, while carrying their timeless sound forward for a new generation of listeners.
"This EP feels like the first real statement piece that I'll be able to share with people without any limitations whatsoever," Ward says. "It's a great first step that opens a new doorway. This is who I am and where I am in my life at this moment, and everything that follows after this is going to be different. I think it's optimistic, it's hopeful, and it's a wonderful marker in my evolution."
From This Moment On features five classic songs given new life by Ward's heartfelt interpretations. He's aided by the stellar contributions of an ensemble of master musicians – many of whom have become key members of the Le Coq Records family since the label's recent launch – including bassists John Patitucci and Chris Colangelo, drummers Marvin "Smitty" Smith and Ray Brinker, guitarists Larry Koonse and Jake Langley, and pianist Bill Cunliffe, who also penned a tender arrangement of "Bewitched, Bothered and Bewildered" featuring Ward himself at the keyboard.
"Le Coq is one of the few labels out there who are truly passionate about the music," says Ward, now based in Atlanta, GA. "It's been an incredible collaborative effort to work with them. They're making the next generation of jazz records, so to be on that cutting edge with them is more than alluring, it's an honor. I think they're going to be a huge game changer in the business and I couldn't be happier to be a part of it."
Though only one of the album's songs was released in Ward's lifetime (Bob Dylan's "Make You Feel My Love" came out in 1997, when Ward was two years old), his strong connection to these vintage standards shines through in his performances. The music of classic crooners like Sinatra, Tony Bennett and Dean Martin provided the soundtrack to his childhood, both at home and via their vital role in establishing Las Vegas as one of the country's entertainment capitals. His love for the music was ultimately cemented through the influence of Michael Bublé.
The Cole Porter tune that gives the EP its name, " From This Moment On," opens the proceedings with that powerhouse big band sound, transporting listeners to the Vegas Strip with its exhilarating blend of virtuoso musicianship and neon-lit glamour. Another Porter classic, "Just One of Those Things" opens at a pulse-quickening simmer before exploding into a lively big band swing propelled by Smith's muscular drumming. The finale, "The Way You Look Tonight," strips away the orchestral glitz to reveal Ward alone at the piano, captivating with just his sultry vocal.
Growing up in Vegas, show business never seemed like an unattainable goal for Ward as it does for so many nascent artists; it's simply his home city's local industry. "It's pretty surreal," he laughs. "Vegas is definitely all that you think it is, but it's so much more." 
As much as Ward looks back with respect and admiration at the forebears who have set him on this path, From This Moment On is essentially a forward-looking collection of music. Which is perfect for a point in time when we all hope to move on into a brighter future. "Everything about this music feels right and positive, and I'm excited to share that with people. The artist's job is to convey emotion and make an audience feel something, hopefully this EP helps turn the page past this crazy year on to something a lot more positive and productive and hopeful." Tommy Ward concludes
Tommy Ward | From This Moment On | Available July 16th via Le Coq Records

-

Le Coq Records Presents the New EP by Acclaimed 25 year-old Vocalist and  Next-Generation Crooner Tommy Ward From This Moment On, Features Classic Standards Given New Life by Ward's Enticing Vocals  and an All-Star ensemble including John Patitucci, Bill Cunliffe and Marvin "Smitty" Smith At just 25 years old, singer Tommy Ward is already a veteran…