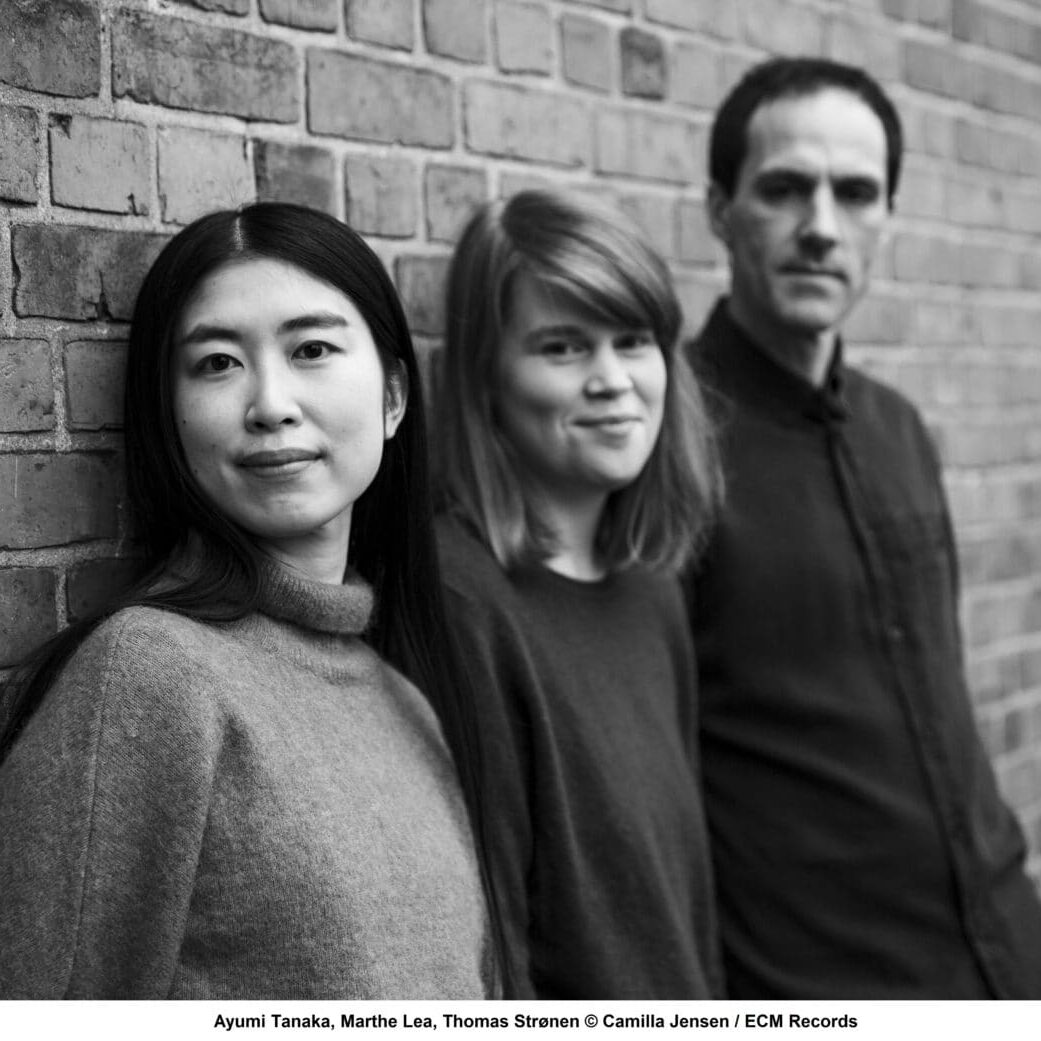 A fresh and open music – delicate, space-conscious and adventurous – is shaped as drummer Thomas Strønen and pianist Ayumi Tanaka, previously heard together in the ensemble Time Is A Blind Guide, resurface in a trio with clarinettist/singer/percussionist Marthe Lea.
Openness is the watchword here. The album came into being after Thomas Strønen visited Munich to finalize aspect of his Lucus project with Time Is A Blind Guide. "I played Manfred Eicher part of the very first concert with Ayumi and Marthe which I happened to have on my laptop – just a rough document that I'd made with one microphone. He caught the special tension and stylistic freedom in this trio and said we should do a studio recording – which was a welcome surprise."
The trio had been conceived primarily as an open-form rehearsal and sound research project, "drifting between elements of contemporary classical music, folk music, jazz, whatever we were inspired by. Sometimes the music was very quiet and minimalistic, and sometimes it was the opposite. Playing together generated some special experiences."
That spontaneous spirit is reflected in the trio's debut recording. With the exception of the title piece, based on a traditional Norwegian tune, the music on Bayou was created collectively, in the moment, drawing upon the individual and shared histories of the musicians. The improvisations here are named for diverse waterways, rivers and lakes, as fitting metaphor for the glistening fluidity of the music, and also in acknowledgement of the recording location, in Lugano, Switzerland
Lea's beautifully phrased vocal performances on the two versions of the title piece mark the first time that she had sung with the trio. She had however sung a lot of folk songs in childhood, latterly reclaiming this resource as part of a wide palette that also includes free improvising. Since the recording, Marthe has sung on most of the trio's gigs. "It's always a highlight," says Strønen, "and it's always different." She has also gone on to participate in and win prizes at competitions for traditional unaccompanied singing. As an improvising reed player, she often embraces diverse flutes and tenor sax in concert. The focus on clarinet on the present recording suggests lines of influence that stretch back to Jimmy Giuffre (an association underlined by Tanaka's sometimes Bley-ish piano) as well as to contemporary freer players such as Fredrik Ljungkvist.
Ayumi Tanaka, born into a musical family in Japan, was schooled in classical music from the age of three. At college, while studying contemporary composition, she also began to explore improvisation, a study that intensified with her moving first to Sweden and then to Norway. Strønen praises her commitment to any project of which she is a part. "I think Ayumi's become a really strong player in the last few years, able in her improvisations to bring in something from her background – both the contemporary classical experiences and the culture she comes from." Tanaka's own projects have included a three pianos ensemble with Christian Wallumrød and Johan Lindvall, and a trio with bassist Christian Meaas Svendsen and drummer Per Oddvar Johansen. An ECM recording with the Ayumi Tanaka Trio will be released later this year.
Thomas Strønen's groups have each had clearly demarcated characters. Food, his collaboration with saxophonist Iain Ballamy, increasingly emphasized electronics over the course of its recordings while Time Is A Blind Guide has developed as an acoustic chamber ensemble playing Thomas's compositions. The trio heard on Bayou is very different again, distinctive in its sense of borderless inquiry and musical interplay, and freely improvisational.
The group first convened at the Norwegian Academy of Music in Oslo, where Strønen has an associate professorship and where Tanaka and Lea were studying, the players meeting regularly for exploratory music making.
AVAILABLE NOW: Sinikka Langeland and Thomas Stronen | ECM

-

Available Now via ECM: Sinikka Langeland's Wolf Rune and Thomas Strønen's Bayou   Wolf Rune, the first solo recording in Sinikka Langeland's ECM discography, sheds new light on the multifaceted work of the Norwegian folk singer and kantele player. Few artists embody the spirit of place as resolutely as Sinikka and her songs, compositions, poem settings and arrangements reflect,…