Vocalist THANA ALEXA to Perform at Jazz Standard
with Special Guests Antonio Sanchez & Kevin Hays
in Support of Debut Album, Ode to Heroes –
Wednesday, March 16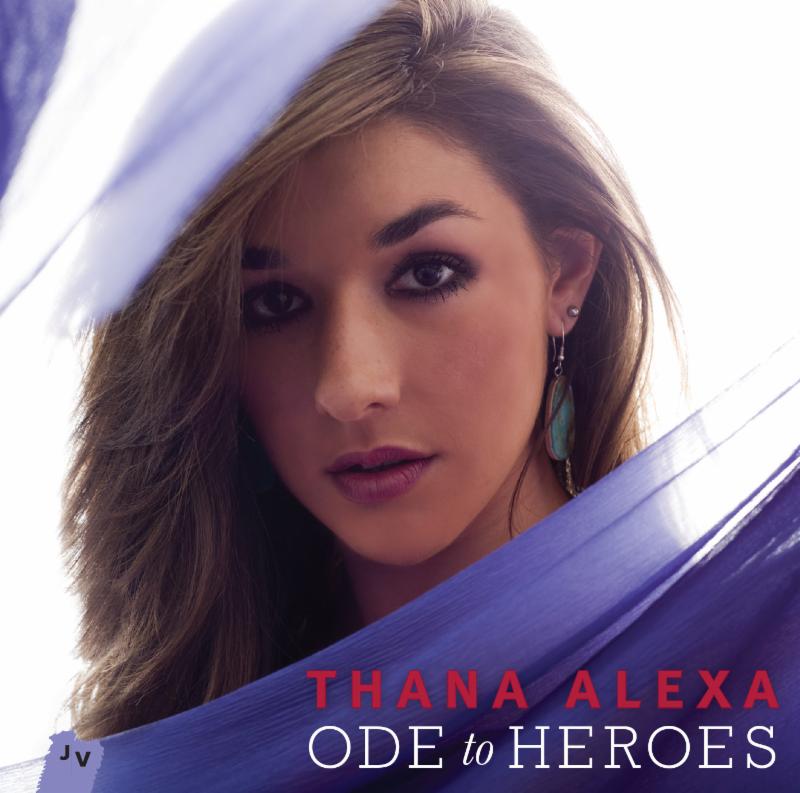 Ben Flocks / tenor saxophone
Kevin Hays / keyboards
Noam Wiesenberg / bass
Wednesday, March 16
Sets at 7:30PM & 9:30PM
Jazz Standard
"…a jazz singer with a global perspective…"
– The New York Times
"Thana's voice…Good Lord. She is enchanting." – JazzTimes
"What Alexa effectively does is veer the evolution of vocalese
into a completely different musical orbit, one where she rules
with precision and brilliance." – All About Jazz
Vocalist Thana Alexa is set to perform in New York at Jazz Standard on Wednesday, March 16 with sets at 7:30pm and 9:30pm in celebration of her debut album, Ode to Heroes. Alexa will be joined by
special guests
drummer Antonio Sanchez and pianist Kevin
Hays
, as well as tenor saxophonist Ben Flocks and bassist Noam Wiesenberg.
On her debut album,
Ode To Heroes
, vocalist
/composer
Thana Alexa
pays tribute to the personalities both personal and musical who have impacted her on the path to forging her own distinctively individual voice. It's a telling list that encompasses her own family; jazz giants like Wayne Shorter, Charles Mingus, and Paul Desmond; and the stellar musicians who collaborate with her on the album,
including drummer and album co-producer Antonio Sanchez, the music composer for the 2014 film Birdman;
saxophonists Donny McCaslin,
who led the band for the last David Bowie album Backstar,
and Lenart Krecic, bassists Jorge Roeder and Scott Colley, pianist Sergio Salvatore and vibraphonist Christos Rafalides.
Most importantly, it spotlights Alexa's ability to engage in rewarding and illuminating conversation with some of the music's most renowned and forward-thinking players.
Alexa is an active member of Antonio Sanchez' touring ensemble Migration (John Escreet, Seamus Blake, Matt Brewer) and has recorded two critically acclaimed albums with the group (New Life and The Meridian Suite). They have toured all over the United States (including Rochester Jazz Festival, SF Jazz, Jazz Bakery's Moveable Feast and Dizzy's Coca-Cola Club), Canada, Mexico and Costa-Rica. Alexa is set to tour the West Coast with her own group later this summer after returning from an international tour with Migration in July.
Alexa also appears on guitarist Gene Ess's albums Eternal Monomyth (John Escreet, Thomson Kneeland and Clarence Penn) and Fractal Attraction (David Berkman, Thomson Kneeland, Gene Jackson). The records, for which Alexa contributed vocals, compositions and lyrics, won the SESAC Jazz Award in 2015 and 2016. The group will be returning with another album when they record in March 2016.
Alexa came in 2nd place in the 2014 Made in New York Jazz Competition and won the 2011 Jazzon Alpe-Andria International Competition for "Ode To Heroes," while her composition "Siena" was nominated for a Best Jazz Composition award by PORIN, the Croatian Music Academy, an honor equivalent to the Grammy
®
Awards in America.
Thana Alexa · Ode to Heroes
Jazz Village
·
Release Date:
March 10
, 2015
For media information, please contact:
Serving the Finest in Jazz Since 1988

Information and press materials (including album covers, promotional photos