AVAILABLE TODAY via Reddy Music:
Composer/Saxophonist Rob Reddy Honors Sidney Bechet's
Place In History on Bechet: Our Contemporary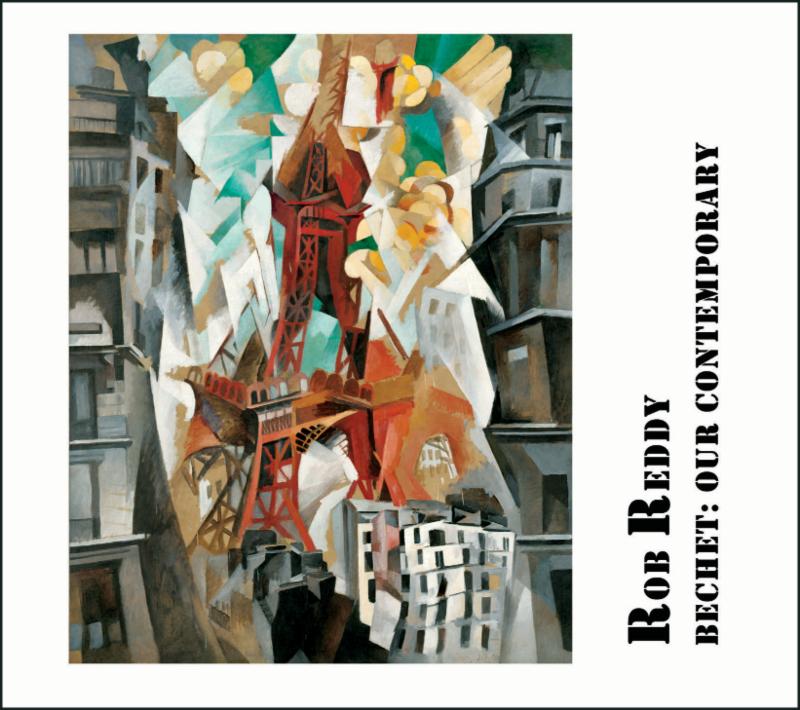 Mr. Reddy…is no rabble-rouser by temperament:

his music emanates from the hurricane's placid eye. – The New York Times
Rob Reddy plays the saxophone, but he seems most at home as a composer
and conductor, helming ambitious projects that combine classical sweep
with avant-jazz abandon. – Time Out New York
In recent years, a well-done tribute album has almost become its own form of release. But to truly pay proper homage to its subject, it must only be a point of departure. The ultimate purpose must be to create an entirely new musical journey that only looks back to move forward. Composer and saxophonist
Rob Reddy
's stunning new album
Bechet: Our Contemporary
does exactly that – and a good deal more. Intertwining Sidney Bechet's music with original works inspired by him, Reddy has not simply updated the legendary icon's image, but presents him as the truly avant-garde and innovative giant that he still is today.
"I see this project as an honest and respectful attempt at honoring Bechet's place in history as a seriously forward-thinking, avant-garde artist of his time, while also putting his work into conversation with our own present-day sociopolitical landscape," comments Reddy.
The fact that Reddy is also a soprano saxophonist must only be viewed as coincidental here. Every player of that instrument owes an inspirational debt to its father; and Reddy's full-bodied, vibrant and sinuously impassioned sound certainly amplifies the context of this music. Since his emergence on the scene in the late 1980s, he has virtually always been a leader and conceptualist, and for the past 20 years has been a visionary, heavily acclaimed and an often commissioned composer for a wide variety of ensembles ranging from five to nineteen musicians.
On Bechet: Our Contemporary, Reddy has assembled some of New York's most outstanding contemporary musicians to join him in this brilliant ensemble. In the classic traditions of Ellington, Mingus, George Russell and Gil Evans, Reddy's composing is dialed directly into the distinctive sounds of his musicians; most of whom have been frequent participants in his music, some for over 20 years.John Carlson on trumpet and Curtis Fowlkes on trombone join Reddy on the horn line, violinist Charlie Burnham, cellist Marika Hughes, guitarist Marvin Sewell, and Reddy's longtime bass/drums collaborators Dom Richards and Pheeroan akLaff round out this sterling group. Despite Reddy sharing Bechet's primary focus upon the same instrument, this is not a showcase for his soprano playing, but rather his profound vision.
The depth and scope of the compositions and arrangements require an intense focus, an urgency and unfettered creativity, and a release of the inner spirit in both virtuosity and abandon to spawn the synergy required to bring this music to its highest level. The challenging discipline of freedom is fully realized, keeping the music spontaneous and visceral, but totally within the intent of the Reddy's vision. The result is music that meets the seemingly contradictory goals of being powerfully earthy, yet utterly transcendent. The exhilaration, joy, wit, beauty and sheer fun of Sidney Bechet are in radiant presence, translated and re-imagined by Reddy.
"The idea was to approach Bechet as a composer and intertwine his original compositions with those of my own, making a narrative between the two that made sense; and have my musicians play and improvise on his compositions just as I ask them to do with my own, seeking the same openness, energy, commitment and wisdom," explains Reddy.
This is Reddy's seventh album-his third for his own Reddy Music label that he founded in 2006-and the first time that he has ever incorporated another composer's work into his music, but it's eminently clear that this extraordinary music is his own as well as another major step in the legacy of one of today's most important composers.
Rob Reddy · Bechet: Our Contemporary
Reddy Music
·
Release Date:
September 11
, 2015
For more information on Rob Reddy, please visit: RobReddy.com
For media information, please contact:
DL Media · 610-667-0501
Serving the Finest in Jazz Since 1988
Information and press materials (including album covers, promotional photos